Was German Prodigy Marco Reus Right to Snub Bayern Munich and Arsenal?
January 6, 2012
Yup, it's official, folks. Marco Reus, the brilliant German attacking midfielder-cum-striker, who was linked with so many of the world's biggest clubs—and especially Bayern Munich and Arsenal—has snubbed them all to move to Borussia Dortmund, according to goal.com.
As Reus explains, he believes the move, which will only be completed in the summer, will give him the proverbial best of both worlds.
In addition to being his hometown club, Reus also believes that playing for Dortmund will provide with the opportunity to "play for a club that contends for the championship and gives [him] the guarantee to play in the Champions League."
While it all sounds great that Reus is getting the opportunity to return to his hometown, contend for the championship and play in the Champions League, there is a sense that Reus is forgoing some great opportunities.
Borussia Dortmund may have won the Bundesliga last year, but they are by no means regarded as heavyweights in the modern world football arena.
They had Nuri Sahin plucked from them for a cool £10 million this summer by Real Madrid, and many expect that Mats Hummels and Mario Gotze, the two biggest superstars of the team, will move on to greener pastures as well in due time.
If that happens, Borussia Dortmund will likely slip back into fighting for a spot in the top four, rather than fighting for the title.
Furthermore, Borussia Dortmund have been awfully poor in European competition during their rise from mediocrity to being domestic title contenders.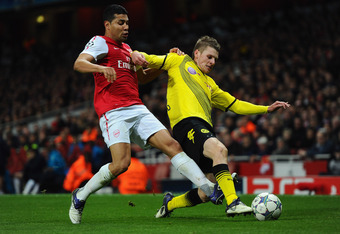 Mike Hewitt/Getty Images
In 2010-11, Dortmund failed to emerge from their Europa League group despite being overwhelming favorites to qualify for the knockout rounds, and this season, Dortmund finished bottom in a Champions League group they were expected to at least finish second in.
Reus may participate in the Champions League each season with Borussia Dortmund if they're able to maintain their momentum and hold onto their best players, but there is a sense that Dortmund are simply neither experienced nor deep enough to contend in European competition as well as in the Bundesliga.
Contrast the future that Reus faces at Dortmund with what he could have had at Arsenal and Bayern Munich, and there is a case to be made that he's given up quite a lot.
For one, both Arsenal and Bayern Munich would have offered Reus far greater exposure as a player.
Even if Arsenal are not in one of their best spell as a club, they are still one of the bigger and better supported clubs in the EPL's "Big Six" and receive a great deal of media exposure for that reason.
As for Bayern Munich, they're not known as FC Hollywood for nothing. Bayern Munich players are better known and more recognized than any of the other players in the Bundesliga.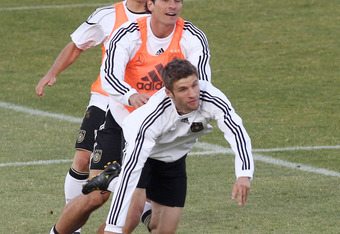 Joern Pollex/Getty Images
And as we know very well, with exposure comes money.
Even at Arsenal, who are notorious for adhering to their strict wage structure, Reus would likely have had a slightly larger wage packet offered to him than the one he'll be making at Dortmund. But, more importantly, he would likely have all sorts of endorsements and sponsorship offers thrown at him as well.
There's also an argument to be made that greater prestige would have been available to Reus at either club.
While Arsenal arguably have a much harder fight on their hands to make the top four in the EPL than Dortmund have to make the top four in the Bundesliga, Arsenal are viewed as serious competitors whenever they do compete in the Champions League.
They almost always make it out of the group stage, and most teams look to avoid Arsenal in the knockout rounds. Contrast that with Borussia Dortmund, who haven't even made it into the knockout rounds of the Champions League since the turn of the century.
With Bayern Munich, Champions League qualification and contention in the knockout rounds is practically a guarantee every year.
Whenever Bayern Munich actually fail to make it past the group stage, it comes as a shock, and only once in a blue moon (and by blue moon, I mean 10-plus years) does the club actually fail to qualify for the Champions League.
And like Arsenal, Bayern Munich are a side feared and respected in the Champions League. This year, they are considered one of the few teams capable of overthrowing Barcelona in the competition and are expected to go very far in the knockout rounds.
On the other hand, however, it's hard to imagine that Marco Reus won't become a regular starter for Borussia Dortmund once he completes his move to Borussia Dortmund, whereas Reus would surely have struggled to start at Bayern Munich ahead of Thomas Muller and Mario Gomez.
He could very likely have faced the same struggles that Lukas Podolski faced at Bayern Munich, which is why Bastian Shweinsteiger discouraged the club from signing Reus.
At Arsenal, Reus would've likely started, but with the club locked into a tight race with Chelsea and Liverpool for the fourth Champions League spot, it's not guaranteed that Arsenal would find themselves in the Champions League when he completed his move in the summer. 
Every player has his own priorities and goals in his own professional career and has the right to rank those priorities in whatever manner he wishes.
Journalists always expect players to go to the teams that can give them the biggest contracts and most exposure, but sometimes that's not all that matters to a player.
Reus' move to Dortmund gives him many of the things that Arsenal and Bayern Munich can't, like playing in his hometown. And the combination of that plus semi-guaranteed Champions League participation and title contention upon his arrival, as well as regular playing time, won out in the end for Reus.
And who knows?
Reus will only be 28 when his contract expires at Borussia Dortmund in July 2017, if he does stay at the club for the entire duration of his contract. He may still decide, after all, to try his hand with a move abroad or with Bayern Munich.