Dave Duncan: Cardinals Pitching Coach Taking Leave of Absence
April 9, 2017
Ronald Martinez/Getty Images
The St. Louis Cardinals have lost yet another key part of their 2011 World Series championship team.
Pitching coach Dave Duncan, 66, has announced he'll be taking a leave of absence from the St. Louis Cardinals according to general manager John Mozeliak.
Fox Sports Ken Rosenthal is reporting that he's doing so to spend time with his wife, Jeanine, who underwent surgery to remove a brain tumor back in August.
How long will he be gone? Not even Mozeliak is quite sure: "As far as how long he'll be gone, no one knows," he said.
The formal announcement will be made on Friday, with the potential for Duncan to come back still in the realm of possibilities.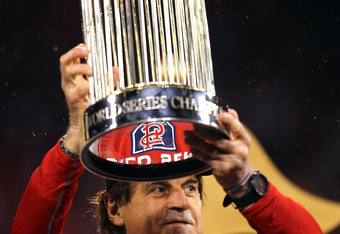 Dilip Vishwanat/Getty Images
Bullpen coach Derek Lilliquist served as the pitching coach while Duncan missed over a month last season after his wife's surgery, and is the likely replacement this year as well. However an official announcement has yet to be made.
The decision is complicated now that Duncan's longtime good friend Tony La Russa has retired and rookie manager Mike Maheny is now in charge.
Duncan worked with La Russa for 28 seasons spanning three different teams (Chicago White Sox, Oakland Athletics and Cardinals).
Duncan's contract is through the end of the 2012 season with a team option for the 2013 season.
After the World Series in November, Duncan told a St. Louis radio station he planned to return…depending on his family situation and the new manager. Here was his statement:
My intentions are to be with the Cardinals and to be the pitching coach of the Cardinals. That's going to be determined by a couple of things. I think I could get along with just about any manager assuming he lets me take the responsibilities that I'm accustomed to taking.
Expect the interim coach to be named on Friday.