Baseball Hall of Fame: 11 Current Superstar Hitters Who Are Already HOF Shoo-Ins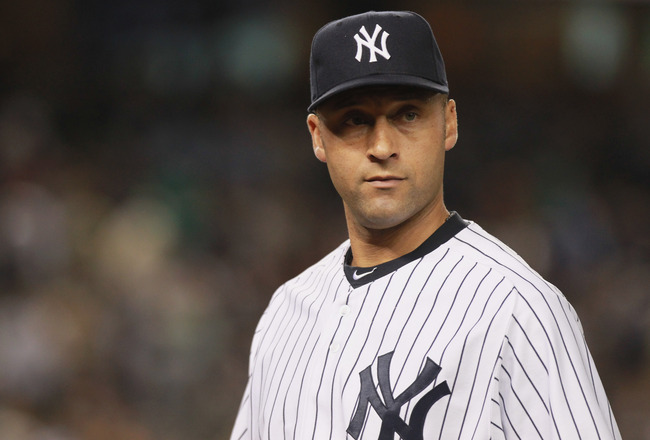 Nick Laham/Getty Images
On Monday, January 9, a group of accomplished, retired Major League Baseball players—including Jeff Bagwell, Barry Larkin, Tim Raines and Bernie Williams—will find out if they will get the call to the Hall, the Baseball Hall of Fame in Cooperstown, New York.
Their candidacies will be debated here and elsewhere, but what about those special, active players who seem to already have earned their places in the Hall?
In other words, which current superstars—even if they produce nothing of value for the rest of their careers—can count on achieving baseball's highest honor?
This slideshow identifies 11 active players who I would consider to be shoe-ins for the Hall, if I were to cast the deciding vote. Please note that I have not considered the use of proven or suspected performance enhancing drugs (PEDs) in this analysis. While that is certainly worthy of a separate discussion, I have confined my own analysis and judgment to their on-the-field statistics and intangibles.
Before examining these lucky 11 individuals, I have also listed: a) several players at the twilight of their careers who appear to be just short of being enshrinement-worthy; and b) a group of players who appear to be on pace, but have not yet done enough to merit a plaque and ceremony.
Please take a look and, as always, feel free to weigh in with your own nominations and comments on my inclusions and (apparent) exclusions.
Close, but Not Yet Shoo-Ins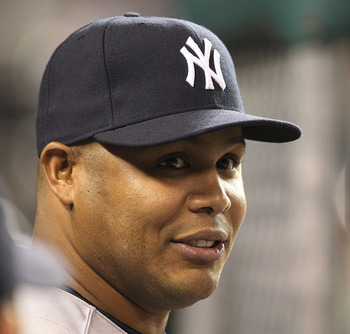 Leon Halip/Getty Images
Andruw Jones (pictured)—impossibly, only 34 years old— once won 10 consecutive Gold Gloves for the Atlanta Braves. He is a five-time All-Star who has slugged 420 homers and scored and driven in a slew of runs, mostly for contending teams.
The counter argument is that his career batting average is only .257 and his career OPS stands at 827. He has not been a great player the last four or five years, and it's questionable as to whether he has achieved enough already.
Four other players who appear to be close but certainly not shoe-ins include, alphabetically:
Lance Berkman (35) has a terrific career slash line of .296/.409/.545 and has slugged 358 homers and driven in 1293 runs. We still need more.
Johnny Damon (38) has slashed 2723 hits, scored a ton of runs, and has stolen a bunch of bases, He's been a very good player for a number of years, but also has only two All-Star appearances to his credit and has never done much in MVP balloting. I realize that those two categories can be written off by some as popularity contests, but even so. If/when he joins the coveted 3,000-hit club, his name will draw lots of debate.
Paul Konerko (35)—due to this era of great, and flashier, slugging first basemen—often gets overlooked, but he also seems to be aging like a fine wine. He has topped 30 homers seven times and eclipsed 100 RBI another six. His career production includes 396 homers and 1261 RBI. He has a chance.
Scott Rolen (36) once looked like a sure thing and he certainly has a chance if he can produce three or so more strong years. He has earned eight Gold Gloves, notched seven All-Star appearances, and has slugged 308 homers with 1248 RBI and 1185 Runs.
6 Players Who Are on Pace for Cooperstown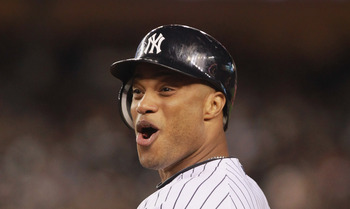 Nick Laham/Getty Images
Ryan Braun is only 28 and has a Rookie of the Year, an MVP and four All-Star appearances in only four-and-a-half seasons. (While not the main consideration for this list, we also hope that he somehow gets exonerated by MLB for apparently violating the league's substance abuse policy.)
Miguel Cabrera, also just 28, has been damaging baseballs since he arrived in Florida as a skinny (not really...skinnier?), 20-year-old outfielder/first baseman. He has six All-Star appearances, three Silver Sluggers and is about to surpass 300 homers and 1,000 RBI.
Sweet-swinging Robinson Cano (pictured), 29, boasts a .308 career batting average and has been knocking on the 30-homer door the last two seasons. With three All-Star nods, three Silver Sluggers and a Gold Glove, he has the look of a Hall of a Famer.
Adrian Gonzalez, 29, left the hostile confines of Petco Park in San Diego for thew friendlier ones of Fenway Park, and proved that he could also wreck AL pitching. To his credit are four 30-plus homer seasons, three Gold Gloves and four consecutive All-Star appearances.
Joe Mauer is only 28, which is easy to forget. He almost made my shoe-in list, as he has already earned an MVP, three Gold Gloves, four Silver Sluggers and four All-Star appearances. Oh yes, he has three batting crowns: as a catcher! Injuries limited Mauer to only 82 games, with just 52 behind the dish last year. Only severe injuries can keep him out of Cooperstown.
Brian McCann—the Joe Mauer of the NL, if you will—is off to an amazing start. While not yet a celebrated defensive catcher, at age 27, he has made six consecutive All-Star teams, winning the Silver Slugger in five of those campaigns.
Now, let's continue, to meet the 11 Superstar Hitters Who are Shoo-Ins for the Hall of Fame.

Vladimir Guerrero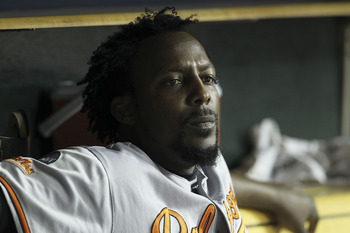 Leon Halip/Getty Images
Vladimir Guerrero, 36, boasts a career slash line of .318/.379/.553 for an OPS of .931—not too shabby for a man who swings at everything.
With 449 homers, 1496 RBI, 1328 runs, an MVP, nine All-star appearances and eight Silver Sluggers, the Man from Vlad would be a shoo-in on my ballot.
One may forget that Guerrero used to be a legitimate five-tool player. Of course, he hit for average and power, and had a cannon for an arm, but he also used to possess terrific speed. Guerrero stole 37 and 40 bases, respectively, in 2001 and 2002. Some may quibble and call him a four-tool player. He was always somewhat erratic defensively.
Todd Helton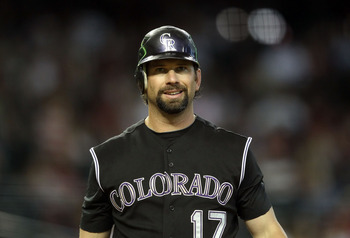 Christian Petersen/Getty Images
If there is such a thing as a close shoo-in (oxymoron alert), it may be Todd Helton. Obviously, I think that Helton has done enough to merit a plaque in Cooperstown, but I can foresee him needing several ballots to get in, and would not kill any writers for not agreeing, as his career stands.
The Toddfather has slashed his way to the tune of .323/.421/.550/.971. His career on-base percentage ranks first among active players, and his OPS ranks third.
Helton has not topped 30 homers since 2004, but he has hit over .300 in five of these last seven seasons. From 2000-2004, he was the dominant first baseman, compiling five All-Star game appearances,three Gold Gloves and four Silver Sluggers in that span.
The darkly bearded career Colorado Rockie has knocked 347 balls out of the yard and driven in 1308 runners.
Derek Jeter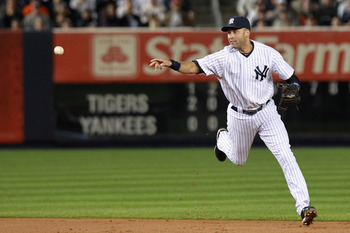 Nick Laham/Getty Images
Even Derek Jeter's biggest detractors would not deny that he is a shoo-in. Would they?
Jeter has taken the most grief for being awarded five Gold Gloves at shortstop. By most metrics, at least two of them were suspect. He is not rangy anymore, but even now, he is as fundamentally sound and sure-handed as they come.
Of course, everyone knows that he joined the 3,000 hit club in 2011, has captained the New York Yankees to five world championships, and is a perennial All-Star (12, and counting, in his first 16 seasons). Throw in a Rookie of the Year, a career .313 bating average, a 20th place ranking in career hits and 1,769 runs (21st all time), and the 37-year-old Jeter is the very definition of a first-ballot Hall of Famer.
Chipper Jones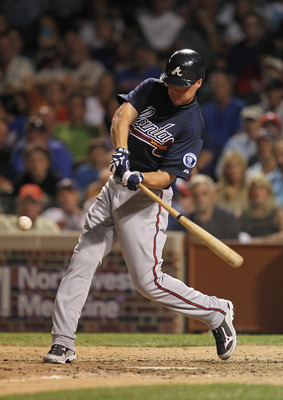 Jonathan Daniel/Getty Images
Here's a cool stat for this 39-year-old career Atlanta Brave.
In his illustrious 17-year MLB career, Chipper Jones has both scored and driven home 1561 runs.
Jones has also popped 454 homers,, slashed to the sweet tune of .304/.402/.533/.935, won a batting title and a league MVP.
He has been the offensive cornerstone for a franchise that has had great success (not coincidentally so) during his Hall of Fame-caliber career.
Albert Pujols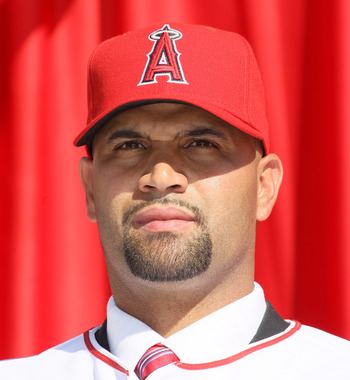 Stephen Dunn/Getty Images
No, it still hasn't registered with me that Albert Pujols—almost universally acclaimed as the best player in the game for the last several seasons—is not a Saint Louis Cardinal anymore. At least, he's still wearing red.
It would be easy to write a book on Pujols, so I thought it would be best to list his career rankings among all active players. Please keep in mind that he does not turn 32 until January 16. For all stats, I utilized baseball-reference.com.
MVP Shares - 1
WAR - 2
Runs - 12
HR - 6
IBB - 1
Defensive WAR (9th, but first among all active first basemen).
For stats that are average-based (and not dependent upon longevity), Pujols is first in batting average, slugging and OPS, and second in OBP.
Manny Ramirez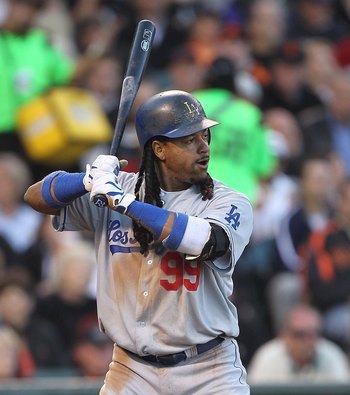 Jed Jacobsohn/Getty Images
Please recall the qualifier that I am not considering substance abuse violations; that's too lengthy a debate for the purpose of this article (please also remember this qualifier in a couple slides).
Never much of a fielder, Ramirez is among the most pure and productive hitters of his generation.
The 12-time All-Star selection and winner of nine Silver Sluggers is ninth among all active players in BA (.312), fourth in offensive WAR, second in OPS (.996), third in homers (555), second in RBI (1,831) and sixth in runs (1,544).

Ramirez has also been a very productive and highly feared hitter in postseason play.
Ivan Rodriguez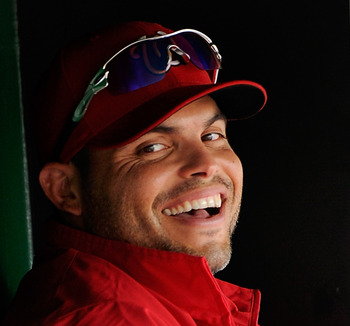 Greg Fiume/Getty Images
At age 39, I-Rod (or Pudge, if you prefer) still managed to catch 37 games last year. You may want to keep in mind that Rodriguez—who has caught more games, by far, than anybody in MLB history—won his first of a record 13 Gold Gloves at age 20. In 1992.
One can make a case that the rifle-armed receiver is the best defensive catcher in the history of the game.
When you consider his .296 lifetime batting average, his AL MVP trophy and his 311 homers, 1,332 RBI and 1,354 Runs, you also know that Cooperstown will be calling.
Alex Rodriguez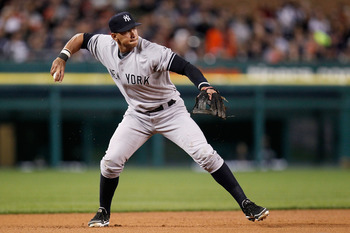 Gregory Shamus/Getty Images
Is A-Rod one of the very best players to ever step on a MLB diamond? Yes.
Is he one of the most controversial, for a variety of reasons? Certainly.
Rodriguez's achievements are monumental. Among other things, he has accumulated three league MVP awards, 10 Silver Sluggers and 14 All-Star Game appearances. You may remember that he won Gold Gloves at shortstop in both of his final two seasons with Texas before joining the Yankees and moving to third base.
A-Rod, just 36, is the active leader in homers (629), RBI (1,893) and runs (1824); he ranks third, 11th and 15th respectively on the all-time lists in these categories.
Ichiro Suzuki
Brandon Wade/Getty Images
The 38-year-old Japanese sensation started his MLB career on the highest of notes in 2011, winning a batting title (.350), a Rookie of the Year and an AL MVP.
The 2011 campaign was the first year in which the slashing right fielder did not top the .300 plateau. In each of his previous 10 seasons, Ichiro was an All-Star, stroked more than 200 hits and won a Gold Glove Award.
With 2,428 hits (not counting what he amassed in Japan), Ichiro may not continue to play long enough (or well enough) to reach the 3,000-hit plateau, but his current body of work and status as the first Japanese superstar (in MLB) should be enough for him to gain entry into Cooperstown.
Jim Thome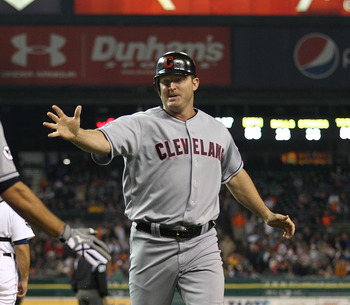 Dave Reginek/Getty Images
Praised as one of the real gentlemen of the game, Thome has always harbored more malevolent intentions when he has stepped into the batter's box. He is the active leader in both strikeouts and walks. When pitchers do decide to pitch to him, this blue-collar native of Peoria, Illinois does not get cheated.
Thome's game is a bit one-dimensional, although he once was an adequate first sacker. The man has been paid well to pop the ball out of the park, and he has been one of the best of his era in doing so. Thome's 600th blast—achieved in 2011 as a Minnesota Twin—should have punched his free ticket to the Hall.
Thome ranks eight all-time in homers (604), 26th in RBI (1,674) and 17th in OPS (.959).
Omar Vizquel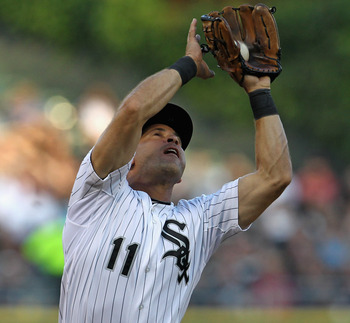 Jonathan Daniel/Getty Images
Omar Vizquel should get into the Hall on style points and longevity alone.
The man is 44, and still hit a respectable .251 at the plate last season. For his career, the slightly-built Venezuelan is hitting .272 with 1,432 runs and 401 stolen bases.
But, as respectable as those numbers are for a shortstop, Vizquel should merit strong consideration for the wizardry with which he has fielded his position. Only Ozzie Smith (13) has won more Gold Gloves at short than Vizquel.
As more of a National League fan, I saw more of Smith and would not disagree with anybody who rated him as the best defensive shortstop in the history of the game. I also would not vehemently disagree with any baseball pundit who exclaimed that Vizquel was every bit as good with the leather.
And "Little O" was even more magical with his bare hand.
That completes this list of 11 active position players who are shoo-ins for the Baseball Hall of Fame. You are invited to share your pleasure or vent your displeasure below.
As always, thank you for reading. Please check out my site tipofthegoldberg.com, and new fan page for more info.
Keep Reading

New York Yankees: Like this team?