NFL Playoff Predictions: Ranking the 12 Defenses in the Playoffs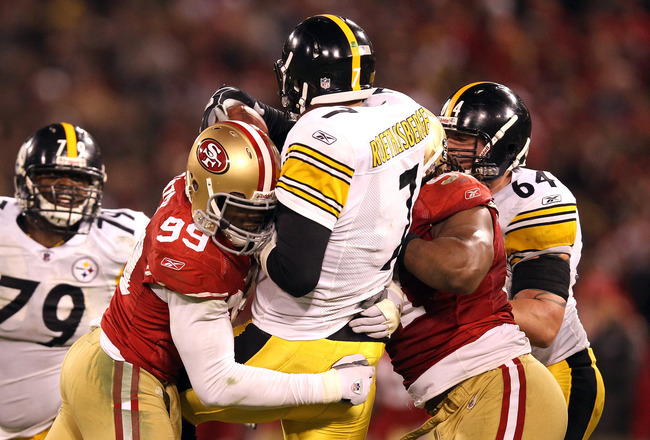 Ezra Shaw/Getty Images
Drew Brees broke Dan Marino's single-season passing record, Calvin Johnson caught more touchdowns than the entire Jacksonville Jaguars receiving corps and Tim Tebow is resurrecting the Rocky Mountain State's faith in its football team.
But lost among the offensive fireworks is the fact that there are some pretty good defenses in this year's NFL playoffs—and defenses can either hold on to a close win or drop a sure victory, no matter how good an offense you have.
Just ask the New England Patriots.
It's the quarterbacks and wide receivers that are going to get a bulk of the accolades, but it doesn't matter if Aaron Rodgers throws 10 touchdowns to Jordy Nelson if Green Bay's defense gives up 11.
The NFL has slowly progressed toward a glorified Arena Football game, but unlike the basketball on grass that the AFL offers, defense still matters.
With that said I give you my ranking, from last to first, of all 12 defenses in this year's NFL playoffs.
12. Green Bay Packers, Giving Up More Yards Than They Gained
Elsa/Getty Images
The headline's not a joke—the Green Bay Packers defense is so bad it actually gave up more yards than Aaron Rodgers and Co. managed to compile in its record-setting season.
Don't believe me?
The Green Bay offense gained 6,482 total yards (4,924 through the air and 1,558 on the ground).
The Green Bay defense gave up 6,585 total yards (4,796 through the air and 1,789 on the ground).
The Packers aren't sacking the quarterback (29.0 sacks, fifth-worst in the league) but they are piling on the penalty yards (59.3 yards per game, worst in the league).
Cheeseheads everywhere will point to the fact that their beloved Green Bay Packers have intercepted 31 passes—best in the league. But that's what happens when teams are attempting 39.8 passes per game (worst in the league) and getting 7.8 yards per attempt (sixth-worst in the league).
And that's just the pass defense!
They gave up 4.7 yards per rush attempt (tied for fifth-worst in the league) and allowed first down conversions with 25.1 percent efficiency on the ground (tied for fourth-worst in the league).
Is there a way to rank them 13th?
11. New York Giants, Most Points Allowed in Playoffs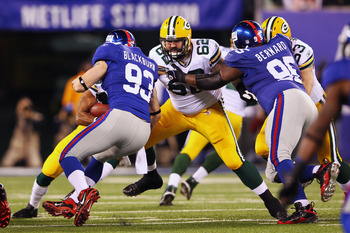 Al Bello/Getty Images
That's right. Somehow a team coached by Tom Coughlin has given up the most points of any team in the playoffs—400, to be exact.
For all you non-math majors, that's an even 25 points a game.
How did the New York Giants do it? Well, the offense sure didn't do its part, handicapping its defense by allowing them to see 67 plays per game (third-most in the league).
They're giving up 4.6 yards per rush attempt and 121.2 yards on the ground per game.
Doesn't sound like it will bode well for a Wild Card match up against an Atlanta team that has a running back in Michael Turner who rushed for more yards than anyone else in the NFC.
10. New Orleans Saints, Forcing Very Few Third Downs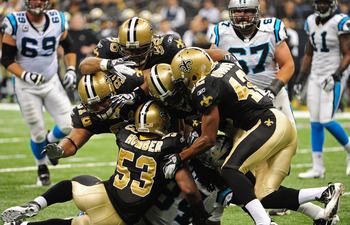 Scott Cunningham/Getty Images
New Orleans may have earned a perfect 8-0 at home, but their performance on the road this season was a different story.
Check out these stats—the Saints allowed 149 points at home (18.6 points per game) and 190 points away from home (23.8 points per game). That won't bode well for a team whose only home game will be in the Wild Card.
Also, opposing quarterbacks have thrown 24 touchdowns and nine interceptions. That's a plus-15 ratio and third-worst in the league.
Not only, but they've only forced 202 third downs, second-worst in the playoffs behind only Green Bay. Sure, they've only allowed opposing offenses to convert 33 percent for first downs, but why convert on third, when you can get the yards on first and second?
9. New England Patriots, Frustrating Tom Brady Since 2000
I could tell you that New England allowed 293.3 yards per game through the air (worst in the AFC) or 4.6 yards per rush attempt (again, worst in the AFC) but instead I'm going to show you just how angry the Patriots defense makes quarterback Tom Brady.
Enjoy!
8. Detroit Lions, Giving out Big Plays Like They're Candy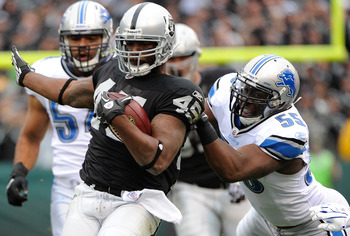 Thearon W. Henderson/Getty Images
There's no denying that Detroit got into the playoffs based on its offense—a unit that scored 474 points, third-best in the NFL.
But the Lions defense has a habit of giving up big plays fairly frequently.
In 2011, Detroit gave up 62 plays of 20 yards or more. They also allowed 15 plays of 40 yards or more. That's an average of five explosive plays a game.
In an NFC where five of the six playoff quarterbacks threw for at least 4,100 yards (one of them threw for more yards than anyone ever has), Detroit needs to shore up its defense and do it quickly.
7. Atlanta Falcons, Second-Best Among the Worst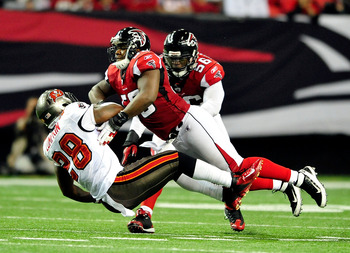 Grant Halverson/Getty Images
The race for best defense in the NFC is like one guy (we'll call him San Francisco) getting a 50-yard head start and then the seven other guys having to run with both of their feet tied together.
Just kidding—it's actually a little more pathetic than that.
Atlanta may have "only" let teams score 21.8 points per game but everything else is woefully below average.
They only got to the quarterback 33 times this season (19th in the league), allowed 333.6 total yards per game (12th best in the league), let opponents convert a laughable 44.1 percent of third downs (worst in the playoffs) and forced only 23 turnovers (again, worst in the playoffs).
So why are they better than Detroit or New Orleans?
Because at least Atlanta is forcing third downs.
The Falcons stopped opponents on first- and second-down 13.1 times per game in 2011. Detroit did it only 12.7 times. New Orleans only did it 12.6 times.
Also, Detroit gave up a total of 367.8 yards per game and New Orleans gave up 368.4 yards per game. Atlanta did better, giving up just 333.4 total yards per game.
In short, Atlanta gave up fewer yards for a few less points than Detroit or New Orleans, but it's still not that good.
6. Cincinnati Bengals, The Cardiac Cats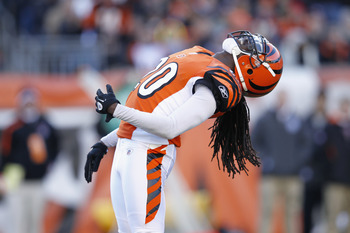 Joe Robbins/Getty Images
Who would have thought that the AFC North would produce three playoff teams? Not the Cincinnati Bengals, that's for sure.
But that's exactly what happened and now rookies Andy Dalton and A.J. Green will be leading the charge for a team whose playoff chances came down to the wire (or rather, an implosion in the AFC West).
Cincinnati's defense is good (and certainly better than all but one in the NFC) but why are they ranked as low as sixth?
In a playoff race that includes such powerhouses as Pittsburgh, Baltimore and San Francisco, it's hard for even above average defenses to rise out of the middle of the pack.
The Bengals allowed just 104.7 yards on the ground per game (a feat in itself when half of their schedule was either Pittsburgh, Baltimore, Houston, San Francisco, Jacksonville or Denver).
The team also only allowed 211.6 passing yards per game (ninth-best in the league) but that was cushioned by an AFC North schedule that is notoriously anti-air.
5. Denver Broncos, Best Scoring Defense of 2011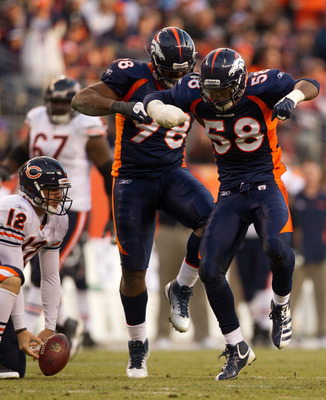 Justin Edmonds/Getty Images
Tim Tebow is not the biggest reason why the Denver Broncos are in the playoffs.
I know—blasphemy, right?
Well, it's true, and even Tebow would tell you that his defense has carried him in the team's late-season playoff push.
It's not the defense's fault that Tebow and Co. could score more than three points against Kansas City in Week 17. Or that Tebow threw three pick-six interceptions against Buffalo the week before.
Nope. Denver's defense, a unit that has scored six touchdowns this season (best in the playoffs)
4. Houston Texans, The Reason a Team with T.J. Yates at QB Wins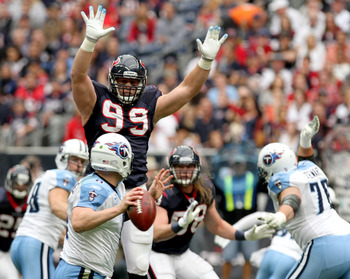 Thomas B. Shea/Getty Images
Probably the most overlooked and underestimated team in the postseason, the Houston Texans are hosting their very first playoff game in franchise history and are underdogs to a Cincinnati Bengals team that has a rookie quarterback throwing to a rookie wide receiver.
When you're on your third-string quarterback, these things tend to happen.
But even with T.J. Yates under center, the Texans defense has continued to dominate, holding opponents to only 16.6 points per game (bested only by Pittsburgh and Baltimore) and given up just 4.0 yards per attempt—a remarkable feat when you consider that a quarter of their schedule consisted of Maurice Jones-Drew, Ray Rice and Michael Turner, the top three running backs in 2011.
They're also holding opponents to 189.7 yards through the air—third best in the league.
If Houston's to win against visiting Cincinnati, it'll be largely on the backs of J.J. Watt and Co., a unit that sacked the quarterback a franchise record 44 times this season.
3. Baltimore Ravens, Best 3rd-Down Defense in the AFC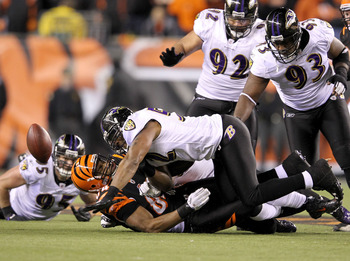 Andy Lyons/Getty Images
An underrated statistic in evaluating NFL defenses is their third-down conversion rate. The average this season was 39 percent—pretty good considering how explosive offenses have been in 2011.
Now consider that the Baltimore Ravens forced 221 third downs this season (third-most in the league) and allowed them to convert a paltry 32 percent of the time. That's the best third-down defense in the AFC and the best one in the playoffs.
Also factor in that the team had 48 sacks in 2011 (with five players earning 4.5 or more) and you've got a defense with depth that could carry Baltimore to its first Super Bowl since the days of Trent Dilfer.
Pittsburgh Steelers, AFC's Cream of the Crop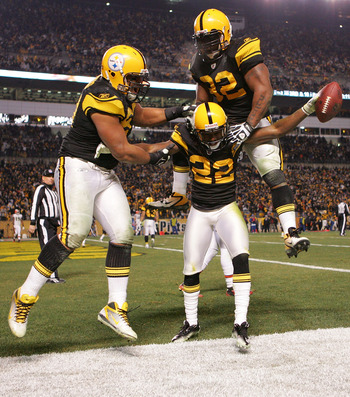 Jared Wickerham/Getty Images
Is there any surprise the Pittsburgh Steelers are ranked as the best in the AFC?
It shouldn't be. Pittsburgh allowed only 227 points this season, best in the league. They've got the best pass defense in the league, allowing only 171.9 yards per game and they allowed a team to get more than 20 more points this season only twice this season—both times to the Baltimore Ravens.
So why only second place? Well, their run defense was the reason for three of their four losses this season. They allowed 107 yards to Baltimore's Ray Rice in Week 1, 180 yards to Houston's Arian Foster in Week 4 and 100 yards to San Francisco in Week 15.
In an AFC where Pittsburgh will have to go through Denver and Baltimore—two of the best rushing offenses in the league—I don't see their defense matching up well.
1. San Francisco 49ers, That's Right—Better Than Pittsburgh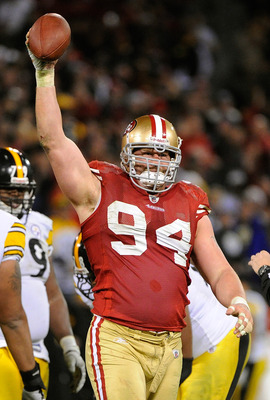 Thearon W. Henderson/Getty Images
This was a tough one as San Francisco and Pittsburgh had nearly identical stats in terms of points allowed per game (14.2 to 14.1), first downs allowed per game (16.7 to 16.5) and third down conversions allowed per game (35% to 38%).
But in my mind, the head-to-head match up is the greatest statistic out there—and San Francisco dominated, holding Rashard Mendenhall to 64 yards, intercepting an ailing Ben Roethlisberger three times and sacking him thrice more.
Add to that the best run defense in the league (a stellar 77.3 yards per game) and you've got a defense in San Francisco that could challenge Tom Brady or Aaron Rodgers. After all, they did hold Matt Stafford and Co. to a measly 19 points.
Keep Reading