Everton's Tim Howard Joins the List of Goal-Scoring Goalkeepers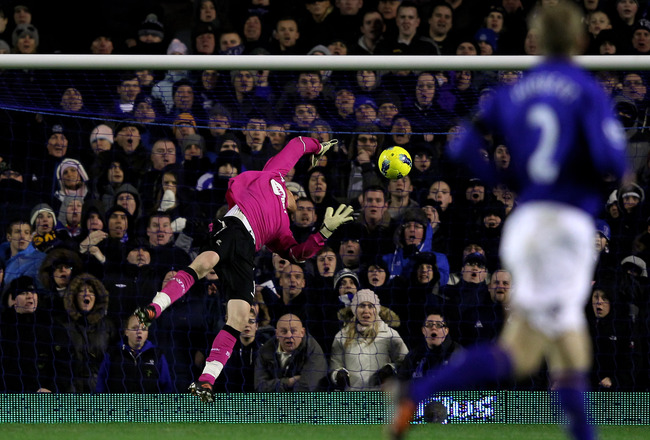 Tim Howard scores for Everton
Alex Livesey/Getty Images
Congratulations are in order for Everton goalkeeper Tim Howard. His goal against Bolton has made English football history and has put him on the list of goalkeepers to have scored.
Adding to Howard's accomplishment was his amazing act of sportsmanship. Out of respect for Bolton keeper Adam Bogdan, Howard did not celebrate his goal.
Most goals scored by keepers have been on penalty kicks. Goals such as Howard's, that come from open play, are much rarer and generally more special.
Manchester City's Charlie Williams is credited with scoring the first goal by a goalkeeper in league history. During an April 1900 match at Sunderland's Roker Park, Williams scored with a deep clearance that found the back of the net.
While Williams' goal is not available on video, there are a number of special goals that can be seen. Here are just a few of the best.
Pat Jennings for Tottenham

Pat Jennings goal

Tottenham's Pat Jennings scored from a goal kick during the 1967 Charity Shield match at Old Trafford.
The trophy was shared that season, as the match ended in a 3-3 draw.
Peter Schmeichel for Aston Villa

Peter Schmeichel scores for Aston Villa

Peter Schmeichel is of course best known for his years with Manchester United. Following the team's 1999 treble-winning campaign, Schmeichel moved on to Portugal for two seasons before returning to English football with Aston Villa.
On October 20, 2001, Schmeichel scored on a header from a free kick in a 3-2 defeat to Everton at Goodison Park.
Jimmy Glass for Carlisle United
Jimmy Glass achieved fame on May 8, 1999 while on loan to Carlisle United. Carlisle were facing relegation and needed to win their last match of the season in order to avoid the drop.
Tied with Plymouth Argyle at 1-1, Glass scored from a corner kick in the final minute of added time to secure Carlisle's safety and etch his name in the record books.
Peter Keen for Carlisle United

Peter Keen scores from a goal kick

For the second straight year, Carlisle United had a keeper net a goal.
This one occurred on October 24, 2000, as Peter Keen scored on a goal kick in a 3-2 loss away to Blackpool.
Mart Poom for Sunderland

Mart Poom scores a header

Mart Poom was in net for Sunderland at Derby's Pride Park on September 20, 2003.
In the 90th minute, the Estonian keeper came forward for a corner kick and scored on a powerful header to earn Sunderland a 1-1 draw with Poom's former club.
Brad Friedel for Blackburn

Brad Friedel nets one for Blackburn

Brad Friedel was the first American goalkeeper to score in the EPL.
While playing for Blackburn in a match away to Charlton, Friedel scored a goal from open play in the 90th minute to tie the match 2-2.
Unfortunately for Friedel and Blackburn, Charlton pulled one back to earn a 3-2 victory.
Andy Lonergan for Preston North End

Andy Lonergan scores from his own goal

Current Leeds United keeper Andrew Lonergan scored a goal very similar to Tim Howard's in October 2004.
In the net for Preston North End, Lonergan took a goal kick, which went the distance of the pitch and bounced over Leicester's keeper.
The match ended in a 1-1 draw.
Mark Crossley for Sheffield Wednesday

Mark Crossley scores on a corner kick

In December 2006, Mark Crossley was in goal for Sheffield Wednesday.
With time running out and his team down 3-2 to Southampton, Crossley came forward for a penalty kick.
The keeper got high enough to head the ball in to the back of the Southampton net for a 3-3 draw.
Adam Federici for Reading

Adam Federici scores for Reading

On Boxing Day 2006, Reading were down by one at home to Cardiff City deep into stoppage time.
In the 96th minute, backup keeper Adam Federici scored an equalizer after a corner kick resulted in a goal-line scramble.
Jason Matthews for Weymouth

Jason Matthews puts one by Southport

Another goal kick that resulted in a goal took place on March 17, 2007.
Weymouth were facing Stockport in a Football Conference match and were level with time running out.
Goalkeeper Jason Matthews wanted to kick the ball deep in order to set his teammates up for a match-winning goal. Instead, Matthews' shot bounced in front of the Stockport goal, up and over the keeper and into the net.
Paul Robinson for Tottenham

Paul Robinson shows how it's done

Something must have been in the air on St. Patrick's Day 2007, as Tottenham's Paul Robinson was the second goalkeeper in England to score on that day.
In the 63rd minute of a home match with Watford, Paul Robinson sent the ball 80 yards down the pitch from his own end. It bounced over the head of Ben Foster and into the net.
Tottenham went on to win the match, 3-1.
Paul Smith for Nottingham Forest

A truly remarkable show of sportsmanship

This one is truly amazing. Not so much for the actual goal itself, but for the way it came about.
In September of 2007, a League Cup fixture between Nottingham Forest and Leicester City was abandoned at halftime due to the collapse of Leicester player Clive Clarke. (Clarke would be okay.) Forest were leading 1-0 at the time.
At the start of the rescheduled match, Leicester allowed Forest goalkeeper Smith to take the opening kickoff and immediately slot it into the Leicester goal unimpeded.
As the previous match had been abandoned with Forest up 1-0, it was a classy show of sportsmanship. At just 23 seconds, Smith is in the books as the goalkeeper to score the fastest goal.
Despite the gesture, Leicester went on to win 2-3.
Chris Weale for Yeovil Town

Chris Weale of Yeovil Town scores from a corner

In an April 2009 match featuring Hereford at Yeovil Town, on-loan keeper Chris Weale scored a late header to earn Yeovil Town a 2-2 draw.
Sam Ashton for FC United

A howler for Sam Ashton

While playing in goal for FC United of Manchester (a team formed by anti-Glazer Manchester United supporters), Sam Ashton scored what can only be called a howler.
FC United play in the Northern Premier League Premier Division.
In a match at Retford United in January of 2011, Ashton sent a ball deep, and it got caught up in the wind. The ball bounced high and then bounced a few more times before it slowly slid into the Retford goal untouched.
Iain Turner for Preston North End

Iain Turner scores for Preston North End

In a home match this past August, Preston North End keeper Iain Turner scored in the 86th minute.
Turner sent a ball deep up the pitch and watched as it bounced perfectly over the head of the Notts County keeper and into the net.
Preston North End won the match, 2-0.
Tim Howard for Everton

Tim Howard joins the list

It's only right to end this slide show with the most recent goalkeeper to score from open play.
Here's Tim Howard's goal for Everton.
Keep Reading