Jon Jones vs. Dan Henderson and Other MMA Fights We Need to See in 2012
January 5, 2012
Valerie Macon/Getty Images
The past year has left us with some great fights to remember. 2011 gave us instant classics such as Shogun vs. Henderson, Edgar vs. Maynard 2 and 3 and Alvarez vs. Chandler.
Now those fights are behind us. It is time to look into the New Year and hopefully see some great matchups that will have the potential of besting some of the fights in previous years. Let's get started.
Gilbert Melendez vs. Edgar/Ben Henderson Winner
There is no doubt that Gilbert Melendez is one of the top lightweights in the world. He has shown it by tearing through the Strikeforce lightweight division.
Strikeforce even brought Dream imports in Ishida, Aoki and Kawajiri—all who failed to stop Melendez.
Melendez has been hinting he wants to join the ranks of the UFC and challenge for the title to establish himself as the No. 1 lightweight. He has literary cleared out his division and is a large fish in a very small pond.
ZUFFA will have to bring him over to challenge the winner of Feb. 25 showdown between Frankie Edgar and Ben Henderson.
Nick Diaz already made the jump to the UFC. Melendez should also be in there fighting the best in the world—not only to establish an undisputed champion, but to also give the fans a super fight of champions.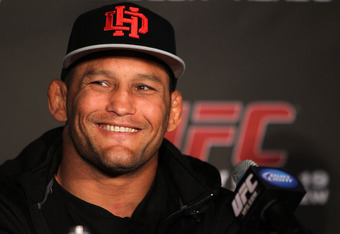 We were already deprived of this matter this year. Injury forced GSP to pull out of his fight with Diaz, so why not make it up to the fans and make this fight happen? Fireworks are sure to be the result.
It could possibly be a showdown for the summer—perfect for 4th of July weekend. This could have fight of the year written all over it. Regardless of who is the UFC champ at the time, they both bring it.
Jon Jones vs. Dan Henderson
Dan Henderson is at a career high at the moment at the tender age of 41. That's after capturing the Strikeforce light-heavyweight title from Feijao and beating two fellow Pride legends in Fedor and Shogun.
Jon Jones is also enjoying the same momentum as Henderson, but he is only 24 years old. He has had a phenomenal year 2011. He captured the title from the aforementioned Shogun Rua and defended it twice against Rampage and Lyoto Machida.
If Rashad wins his fight this month, he might get the first crack. I say let Henderson fight. His time in the sport is diminishing and the bout might never come to fruition if he fights another opponent or Jones falls to Evans.
This is an interesting fight for one reason: Henderson's patented H-Bomb. He has shown in his recent outings that the only fighter who can survive it, barely, is Shogun.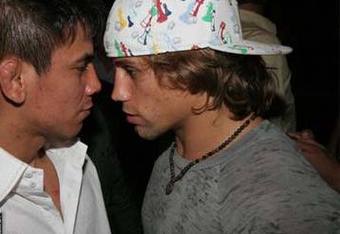 Everyone has a puncher's chance and that rings true for Dan Henderson. Should he land on Jones, it quite possible he going to sleep. Machida proved Jones' chin can be checked.
Henderson poses the biggest threat at the moment to Jones. Rashad will probably come up short against Jones as his chin won't last when he tries to close the distance. Henderson, on the other hand, can take a punch to give a punch.
This fight could serve as the old lion taking on the young one. It would be interesting to see how Jones will react if Henderson lands a punch on him.
Miguel Torres vs. Loser of Faber/Cruz
Another fight that would be great for fans in 2012 is between former bantamweight kingpin and the loser of the upcoming Faber vs. Cruz title fight.
Torres had a scare in 2011 when he was cut from the UFC, due to a tweet on rape vans. Now, after some apologizing, donations, and counseling, he is back.
A fight with either man will help put Torres back on the map. A win would put him in position for a shot at the title.
This will also lead to two mega fights we have been hoping for. A showdown with Faber and Cruz has been discussed quite a bit.
A win for Torres can lead to both dream fights happening. Torres also is one of the few bantamweights in the UFC that can give Dominick Cruz a run for his money.
It would be nice if Cruz beats Faber. A Torres and Faber fight, with a Torres win, would warrant a title. Cruz could defend his belt against Renan Pegado, if he wins his fight in February.
At the end of the day, the bantamweight division needs more exposure. It will get it with the new The Ultimate Fighter, which has Cruz and Faber as coaches.
Fights between the three biggest stars will help establish the division and will show people just how great this UFC division really is.
We can safely assume Joe Silva will put forward some incredible fights in 2012 for the fans to enjoy. Let's hope that the fights discussed become a reality. They need to happen in MMA this year.
This article originally featured at Hurtsbad MMA. Follow us on Twitter @HurtsBad