Alabama vs. LSU: T-Shirt Shows Bigotry Still Alive in College Football
January 5, 2012
Kevin C. Cox/Getty Images
Congratulations to the Alabama Crimson Tide.
After all the controversy about the SEC West runners-up earning a rematch with LSU for the BCS National Championship, some of the team's fans had to ruin it for the town of Tuscaloosa, and perhaps the South as a whole, by putting out this blatantly homophobic T-shirt, according to the Huffington Post: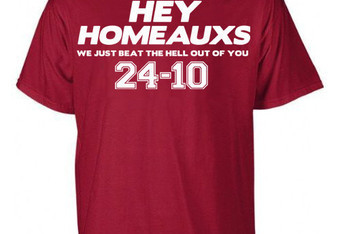 Sorry, folks, but stuff like this just isn't going to cut it, regardless of the intention. Last I checked, it's 2012 and gay bashing isn't acceptable.
Not even in the rural South and especially not on a stage as big as the national championship game.
Whoever thought selling memorabilia that discusses or advocates for the physical abuse of homosexuals in any way, shape or form, would be wise to apologize, first and foremost, to the gay community, then to representatives of both schools for putting such hateful dreck up for sale and disgracing 'Bama and LSU in the process.
Unfortunately, nobody should be all too surprised by something like this.
This now-defunct T-shirt design serves as a despicable intersection between the latent homophobia and overzealous fanaticism that too often makes it difficult to truly enjoy sports in this or any country.
It's one thing for fans to come out in support of their teams, cheering on their favorite players in the arena of competition and jibing the opposition in a good-natured, non-violent way.
It's another entirely for some to go above and beyond sane fandom, to use sport as a vehicle for bigotry and threatening violence against anyone for any reason, regardless of race, creed or sexual orientation.
The masterminds of this hateful scheme should be ashamed. The rest of the Alabama community should be embarrassed. The gay community, LSU and those of us who value sports and tolerance should be angry.
And this whole fiasco should be a lesson to all that hatred and bigotry in America are not dead, and that they are, in fact, alive and all too well.