Mark McGwire Hall of Fame: Why He Belongs in Hall of Fame Even After PED
January 5, 2012
Tom Pennington/Getty Images
In 1998, Mark McGwire spearheaded a movement that saved baseball from irrelevancy. If that doesn't ensure him a guaranteed seat in the Hall of Fame, I don't know what would.
Following the 1994 MLB strike, baseball had its lowest approval rate in the contemporary age. The game, which was losing out to the fast-paced excitement of basketball and the hard hits of football, had very few favorable draws tied to the sport and it was in vast danger of losing its mainstream relevancy. The 1994 strike was the fourth time baseball had stopped play midseason in two decades and ultimately ended with the first cancellation of the World Series since 1904.
Sports historians cite the 1994 MLB strike as the "worst in sports history" and left more fans sickened by the actions of the league than ever before. Fans were unwilling to go to games, uninterested in supporting their organizations and uninspired by the style of play that the games exhibited over the course of a long season.
The game faced a terrible ethical question: The 1990s, which have since become famous for the prevalence of juicers like Jose Conseco, were an age in which cheating had become mainstream for baseball. Ownership realized the performance-enhancing drugs were making their product better, and while the drugs themselves were very illegal, there were yet to be concrete rules in place for the sport.
If management turned their heads just a little while—enough to allow the game to get back to relevancy with jumbo-sized athletes and balls that were hit 500-feet away from home plate—then just maybe the game would be a watchable sport for a younger generation and a television audience.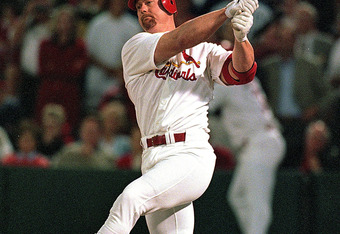 Jonathan Daniel/Getty Images
The unspoken plan for the MLB worked better than they ever could have imagined, as in just a few short years the MLB fanbase had rallied back as strong as ever. If there's one thing that sells in baseball, it's history.
For baseball fans, 1998 was a crown jewel for sports history.
The 1998 MLB season, known now as the "race to break the record," was a three-way showdown between Ken Griffey, Jr., Sammy Sosa and Mark McGwire. As the season neared its close, each had a legitimate run to break Roger Maris' 1961 record of 61 home runs in a season.
I understand the controversy of PEDs, and I accept whatever backlash may come with the following statement, but I believe Mark McGwire belongs in the Hall of Fame.
See, I grew up a baseball junkie. I was addicted to watching baseball games with my father. As a first baseman with bright red hair like McGwire, I had always had a strong affinity to the star slugger.
At the end of the 1998 season, when the Cardinals played the Cubs and Steve Traschel was on the mound, my father called me in from my room. He told me he wanted me to witness sports history. I was five years old—my sister had just turned one—and we had just moved into our new house. I helped break in our new living room by crowding along the floor with my father, mother and infant sister.
And then, at 8:18 p.m. CST, Mark McGwire sent a pitch from Steve Traschel into oblivion, permanently recording his name into history.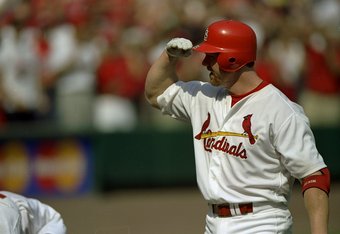 Elsa/Getty Images
I remember going into my room and admiring the large Mark McGwire print poster of the superstar. I was just young enough to think that, when I grew up, I could do anything I put my mind to as well.
Perhaps I wasn't the only one who was just young enough to be inspired by Mark McGwire.
In fact, much of the speculation as to when baseball legend Barry Bonds started using PEDs was when he saw the rampant success of McGwire (as reported by Jeff Pearlman in his 2006 Bonds autobiography). A chauvinistic athlete who could not be upstaged by a rival star, it's whispered that the 1998 postseason is when Bonds began his experimentation with steroids.
Years later, we're a little over a decade past when Bonds broke the history my father thought he was sharing with his young son. We're now in an age with much stronger drug policy, past court dates in front of the grand jury and heavy allegations from books like Game of Shadows or studies like "The Mitchell Report."
We are not in the same age that we once were. In 1998, we celebrated the growing heads and muscles of athletes. In 2012, Ryan Braun is assumed to miss the first 50 games of the next season (after winning the MVP last season) due to a positive test in increased testosterone.
To me, however, the Hall of Fame is a museum that documents the history of baseball.
I've visited Cooperstown, and I took away an increased knowledge of the way my favorite sport grew in popularity over the course of a century and a half. I did as much reading as I could and tried to absorb as much about each room as I humanly knew how. Traveling from exhibit to exhibit was like a time machine of baseball, learning about the pros and cons of the top players of each decade.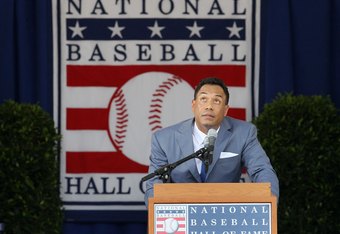 Jim McIsaac/Getty Images
Mark McGwire gained an earned sense of fame. He ended his career with 583 home runs, which was the fifth most in baseball history. He broke 50 home runs for four consecutive seasons, gaining notoriety as the most elite slugger in baseball. His home run-to-at-bat ratio of 10.61 is the best of all time, ahead of Babe Ruth's 11.76. He hit balls over the roof of Tigers Stadium, hit 49 home runs as a rookie (most in MLB that year, most for a rookie ever) and won the 1987 Rookie of the Year Award.
He won the Silver Slugger three different times in the 1990s (1992, 1996, 1998) and won the World Series (1989).
As recently as last year, unlike Barry Bonds, McGwire had admitted to using steroids.
"I wish I had never touched steroids," McGwire said. "It was foolish and it was a mistake. I truly apologize."
The quote from McGwire, I find, to be entirely fascinating. Although he admitted to using steroids in the 1998 season, he still calls the experience a "foolish mistake" he wishes he had never made. While the substance McGwire used was legal at the time and that he had used it to recover from injury, the fact remains that PEDs were still a part of McGwire's playing career.
What I found more interesting, however, is how McGwire continues that same quote.
"Looking back," McGwire said. "I wish I had never played during the steroid era."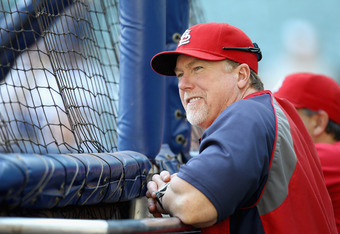 Christian Petersen/Getty Images
I think that is the most telling thing that has ever been said by a player about PEDs. For McGwire and Bonds, they used steroids to stay competitive in an industry that requires you to stay competitive. They cut corners to put their names at the top and were better at using steroids than everyone else was at the time. That advantage is the reason why the two of them have their names in the history books, and not every other one of the hundreds of names transcribed in "The Mitchell Report."
Mark McGwire was one the best in the game at what he did. He was the figure that best represents the 1990s for baseball. I know this because that's when I became a baseball fan. When I think of my early years of baseball, I think of Mark McGwire hitting a home run.
There's no clear definition as to who or what should be in the Hall of Fame. Baseball writers have a tendency to be a little more esoteric—and a little more reluctant to change—than most other sportswriters. They determine who belongs in the Hall of Fame.
But how do they determine who did steroids? There's no way to test everyone by having the players pee in the cup after they retire. If they weren't caught while they played, how do we really know for sure?
The MLB Hall of Fame is a history museum. If we don't allow Mark McGwire into the Hall of Fame, despite the history that he produced for the game and the numbers that he recorded over his career, it would be a twisted form of a travesty.
Since McGwire has been on the ballot, his voting percentage has slipped from 23.5 percent in 2007 to as low as 19.8 percent last year.
But for what reason? Have McGwire's numbers fallen since he's been on the ballot? Has his impact on the game become less important since he's retired? Did he not once hit 70 home runs in one season?
It's not me who decides who gets into the Hall of Fame.
But if it were, Mark McGwire would get a vote from me this year.