Fiesta Bowl 2012: Even with Stanford Loss, a Great Fan Experience
January 5, 2012
Doug Pensinger/Getty Images
It was a great weekend, right up to the final play in regulation in the Fiesta Bowl.
Yes, Jordan Williamson missed the field goal.  It happens.  He's a freshman, and he'll kick lots more field goals before his Stanford career is done.
And, at least for me—a Stanford grad and fan since childhood—the loss did little to spoil a delightful New Year's weekend in the desert.
From what I saw, Stanford put on a hell of a party.  The sold-out, three-hour alumni tailgate, on the south lawn of University of Phoenix Stadium, rocked to the solid sound of an excellent local band called the Groove Merchants.  The sun was warm but not hot, and the admission price covered all the food and drink you could consume. 
In addition to hamburgers, hot dogs, pulled-pork sandwiches, Mexican food and margaritas, they even had chocolate malts, once a staple at the old Stanford Stadium.  They were from a company called Blue Bunny—a Midwestern outfit, I was told—and if anything they were even tastier than the ones I remembered.
At our hotel in Scottsdale, we were a little apprehensive to see the Stanford band checking in.  At my age, I like to sleep.  But the band was surprisingly well-behaved—or at least discreet. My wife, my son and I slept soundly.  And the band—well, maybe they slept, maybe they didn't.
I do have to waggle a gentle forefinger at the Incomparables for one thing.  Although they certainly try hard, they're not very funny.  On the other hand, they are gratuitously insulting.  Memo to LSJUMB:  Jokes about the Dust Bowl are tasteless and insensitive.  I overheard an Oklahoma State fan complaining after the game, and I have to say I agreed with her.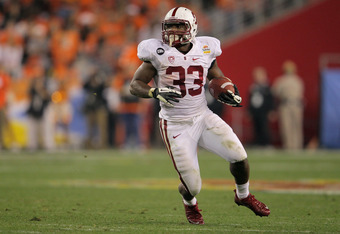 Doug Pensinger/Getty Images
The game itself was a marvel.  I had frankly expected Oklahoma State to run away with it on the strength of Brandon Weeden's arm and Justin Blackmon's hands and feet. 
But what I had hoped would happen, did happen.  Stanford played ball control, with Andrew Luck throwing a near-perfect 27-for-31 and Stepfan Taylor chewing up both yards and clock. 
Blackmon got his scores—three of them—along with a critical fourth-down catch that set up OSU's final, tying touchdown.  But Stanford's last drive, with Luck passing five-for-five, was one of the best-executed two-minute drills I've ever seen.
As for coach David Shaw's call for the field goal attempt:  It was the right one.  Period.
A lot of people are talking about heartbreak.  But I've seen more gut-wrenching Stanford losses than this, mainly at the hands of USC and California.  Put it in perspective:  Two BCS bowls and 23 wins in two years, a clean program and players who graduate.  That's a lot to feel good about.
Speaking of feeling good, there's nothing in the Arizona desert that will make you feel better than a trip to Don and Charlie's, the famous sports-themed restaurant in Scottsdale.  A few football helmets are on display, but mainly it's a baseball place, and a favorite during spring training. 
Celebrating our 31st wedding anniversary, my wife and I took our 19-year-old son there on Tuesday night.  Chris was awestruck at the magnificent collection of autographed photos, bats, balls and jerseys.  It covers virtually every inch of wall and ceiling space, and goes back to the days of Bob Feller and Jackie Robinson.
And the food?  Let's just say that if you ever get to order the rib-eye with the char rub, it's worth the price. 
We flew back to the Bay Area on a packed Southwest flight dotted with Cardinal red shirts and caps.  I'm sure disappointment was also a passenger, but I really didn't notice.
All in all, I thought it was a pretty darn nice way to start the year.