Omar Gonzalez's USA National Team Future Is in Question with Nuremberg Loan
January 5, 2012
Victor Decolongon/Getty Images
Throughout the last several years, Omar Gonzalez has emerged into one of the best defenders in the league.
Gonzalez has played over 2,700 minutes in each of his three seasons with the Los Angeles Galaxy (including the playoffs) and has helped the Galaxy reach the MLS Cup final in two of his three years with the club.
Due to his great form, Gonzalez has long been considered a future starter for the United States national team. Currently, the center of the national team's defense contains Carlos Bocanegra and Oguchi Onyewu, both of whom are not long-term options for the national team.
Being just 23 years old and an emerging player, Gonzalez makes perfect sense to join the national team.
Already, the national team had called up Gonzalez twice for friendlies: against Brazil in August of 2010 and against Chile last January. In both cases, Gonzalez started for the USA.
However, Gonzalez was not called in for the American squad for last summer's Gold Cup or any other friendlies. This has caused Gonzalez to not only miss playing time with the national team, but also it caused his national team future to be put into question.
Gonzalez holds both American and Mexican passports because both of his parents are from Mexico.
Last November, Gonzalez reiterated the possibility of joining the Mexican national team when he told ESPN:
"Mexico is strong right now, very strong. If something were to come along, I'm definitely going to listen."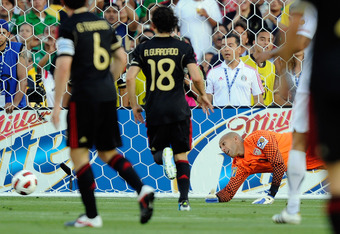 Kevork Djansezian/Getty Images
Not one national team player that ever received a cap had left the national team to join another countries' squad, but Gonzalez certainly could be the first player to do so.
To try to reel him back into the national team ranks, Jurgen Klinsmann recalled Gonzalez to join the national team during this winter's training camp before the USA faced both Venezuela and Panama in friendlies.
It appeared that this would be a smart move, but it was announced today that he and FC Dallas defender George John were leaving the national team's camp in order to deal with their respective club situations.
Shortly afterward, it was announced that Gonzalez will be training with German Bundesliga side Nuremberg in Turkey for the next several weeks. Nuremberg also have fellow American national team member Timmy Chandler among their ranks.
Hypothetically speaking, this is a great move for Gonzalez's career. But shunning the national team's winter camp to play overseas is certainly not a great move for Gonzalez if he wants to play for the United States.
The option to play for Mexico is appealing, but lets not forget that Mexico also have remarkable amount of brilliant young footballers. Last year alone, Mexico won the U-17 World Cup and finished second in the U-20 World Cup.
That of course is not including a young Mexican side that was able to defeat the United States on their home soil to win the 2011 Gold Cup.
But at the same time, Gonzalez could use this time with Nuremberg to improve his resume to play for Mexico. The Mexican defense is still transitioning and Gonzalez is a defender that is talented enough to challenge for a starting spot for Mexico.
No matter what happens from here, the USA will need to get an answer out of Gonzalez to see if he will commit his future to the national team.
That is the only way that all of this speculation over Gonzalez will end and it seems that no one wants to know what his answer will be.
Follow me on Twitter @Andrew_Jordan