NHL Trade Rumors: How Long Can Chicago Blackhawks GM Stan Bowman Wait to Deal?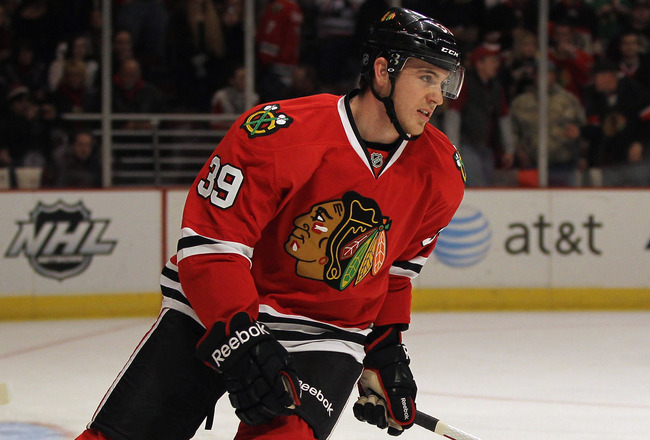 How will a player like Jimmy Hayes factor into Stan Bowman making improvements to the roster?
Jonathan Daniel/Getty Images
Chicago Blackhawks GM Stan Bowman is in an odd situation as the talk of trades begin to pick up steam.
After being pinned down by salary cap restrictions a season ago, Bowman finds himself with some room with which to augment his current roster.
That money is there to reinforce the roster. How close to the Feb. 27 trade deadline can the 'Hawks wait to add some talent?
At this point of the season, Bowman can safely add up to a little over $10 million in salaries according to current figures from capgeek.com.
That figure will increase as the trade deadline approaches, which is why I believe Bowman will wait as long as possible to pull the trigger on a deal.
Recent developments notwithstanding, the 'Hawks should have a pretty clear cut shopping list in mind.
A top six forward, preferably a center, might be of top priority. A solid fifth or sixth defenseman of the stay-at-home variety is also on the radar.
Sounds a lot like last year's needs. The difference is that Bowman set this roster up to be able to make some noise at the deadline.
Chicago has seen a steady stream of Rockford talent coming up for looks in recent weeks. That may be for the benefit of the rest of the league as much as for their own evaluation purposes.
Will Bowman be as likely to pull off a big trade if Viktor Stalberg continues to provide secondary scoring?
Jonathan Daniel/Getty Images
I'd say that when it comes to improving the team for a playoff run, no prospect is off limits.
There may be an exception or two—perhaps Dylan Olsen is safe—in a trade.
If a promising player can be moved to pick up the piece who could secure another Stanley Cup, that's a deal Bowman has to make.
How does Bowman go about improving the team? If he's going to look for one high-salary player, I think he may be barking up the wrong tree.
Bowman needs a couple of upgrades—one to play on one of the top forward lines, and another to stabilize the third defensive pairing.
This past summer, Bowman swung for singles in free agency, hoping to fill some holes cheaply while retaining the ability to make a splash before the trade deadline.
If he can get two impact players on board by the end of next month, one for each side of the blue line, that would be great.
Three, however, would be better. That's where the waiting comes in.
If Bowman waits until just before the deadline, the chances of freeing up enough space to handle another sizable contract goes up substantially.
Of course, waiting too long could result in another team picking up a coveted player. That's why Bowman makes the big bucks—to decide just the right time to pull the trigger.
What is the biggest need for the Chicago Blackhawks?
Should Bowman target a goalie? I don't think so.
Addressing the defense in front of Corey Crawford and Ray Emery should be of higher priority and can be done for less money, allowing other areas to be addressed.
Should Bowman target a superstar? The 'Hawks have superstars. What's needed is a dependable secondary scorer, or perhaps a solid two-way veteran presence for the top six.
Again, no need to spend the entire cap savings on one player.
Keep in mind that any additions will be just that. Bowman isn't at a point where he should completely revamp the roster. A lot of the pieces are in place.
By February, he should know enough to target specifics. If it's going to take much more than two or three wise pickups, Bowman didn't make enough offseason moves.
Don't get me wrong. I know where this team needs help as the playoffs approach. I happen to believe in letting some factors play out before making deals.
Can Viktor Stalberg continue to be a consistent scoring threat?
Can the freshly recalled Olsen handle NHL speed?
Can Andrew Shaw provide energy like he did in Philly and stay in one piece?
Can Jimmy Hayes, who has goals in two of his first three games, stick on the fourth line?
Can Marcus Kruger be counted on to return to the lineup sooner rather than later?
Getting a handle on some of the above situations will give Bowman an idea of how to proceed. That seems to be his plan so far this season.
Will a poor showing in Philadelphia push his timetable up, or will Bowman stay the course?
This article is
What is the duplicate article?
Why is this article offensive?
Where is this article plagiarized from?
Why is this article poorly edited?

Chicago Blackhawks: Like this team?