Liverpool FC Player Ratings vs. Manchester City: Reds Routed by Rampant Blues
January 5, 2012
Clive Brunskill/Getty Images
Liverpool entered their midweek matchup unbeaten in their last five Premier League games, and facing a Manchester City squad that was suffering for form of late.  An early Pepe Reina error and goals from Yaya Touré and James Milner saw Roberto Mancini's men emerge victorious in the end.
Questions abounded about Liverpool from the start, as the club's decision to forgo an appeal of the Luis Suárez eight-game ban saw the Uruguayan striker absent from the lineup.  Also absent was talismanic midfielder Steven Gerrard, still regaining fitness after an injury layoff.
Even with Suárez and Gerrard, the odds would have been poor for Liverpool to secure any points against a City team that is the last remaining team still undefeated at home this season, across all four English divisions.
Dalglish scored more goals against City than any other team in his playing career, according to ESPN's Ian Darke, and Liverpool surely could have used his touch in what was another display of poor finishing by his club on Tuesday against City.
The game began as a disjointed affair, with both teams conceding possession in midfield.  Liverpool had the best early chance when Jordan Henderson slotted through Stewart Downing for a shot on goal in the eighth minute.
Downing should have put Liverpool ahead, but poor finishing and brilliant goalkeeping by Joe Hart conspired to keep Liverpool off the score sheet and Downing in search of his first Liverpool goal.
A minute later it was Edin Dzeko's turn to try and break the tie going in on goal and producing a good save from Reina in return.  A minute later, the brilliant save would be eclipsed by an absolute horror-show performance by the Liverpool custodian to gift City the lead.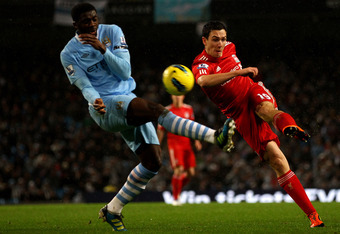 Clive Brunskill/Getty Images
Dirk Kuyt was taken off the ball in his own third, and David Silva slipped the loose ball to Sergio Agüero for a decisive effort on goal.  The ball took the slightest of deflections off Daniel Agger and knuckled a bit before going under Reina, putting City ahead 1-0 in the 10th minute.
Another Agüero shot brought out a stellar save from Reina in 14th minute, but that did little to amend for the earlier gaffe.
The goal brought life to Liverpool, who proceeded to boss things for the next 20-odd minutes, but Downing's inability to put in accurate crosses, combined with Andy Carroll's maddening penchant for strolling about the top of the box waiting for service, conspired to frustrate the Liverpool attack.
Charlie Adam's free kick asked a question of Hart in the 24th minute, forcing him to palm aside and almost into the path of another Liverpool player.  Carroll then nodded down nicely to Adam leading to another 29th-minute free kick, although nothing came of it.
Milner's corner kick brought about a fantastic save by Reina, as Vincent Kompany rose to head near-post.  The reprieve was short-lived, however, as Glen Johnson failed to get between the ball and his man, and Yaya Touré put the resulting corner kick past Reina.
Liverpool kept up the pressure, however, as Downing fed Carroll for an attempt just wide in the 37th minute.  Jose Enrique then crossed for Carroll to knock down for Dirk Kuyt nicely, but the resultant effort was blocked by Kompany in the 42nd, and City went into the half comfortably ahead 2-0.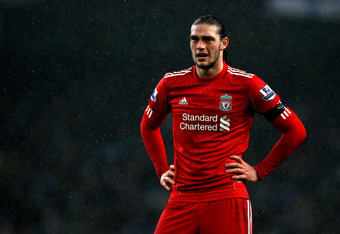 Clive Brunskill/Getty Images
Very little would change for Liverpool after the half, spurring Kenny Dalglish to make an early move by bringing on Steven Gerrard for Charlie Adam, and Craig Bellamy for an ineffective Dirk Kuyt, both in the 57th minute.
Both subs injected a bit of bite to the Liverpool attack down the left side, but City's defense would not be breached.  Great defending by the tall City back line of Kompany, Kolo Touré and Micah Richards snuffed out any opportunity for Carroll, in particular to get under aerial balls.
Liverpool were never really able to muster much more of a threat because of the City defense, not even after Gareth Barry was sent off with his second yellow in the 70th minute for a silly obstruction foul on Daniel Agger.
Minutes later, Yaya Touré went down under minimal contact from Martin Skrtel in the box to earn City a 73rd-minute penalty, which was efficiently dispatched by Milner, past a helpless Reina for the final score.  Maxi Rodriguez would be brought on for Spearing in the 76th minute, but that would be all academic.
Liverpool played better to the eye, but as has been the case all season, just were not clinical with their opportunities.  Credit to the City defense, Hart and Kompany in particular for their efforts, but squandered opportunities continue to plague Dalglish's squad.
As always, player ratings are presented by position (back-to-front) below, along the following guidelines:
10: Exceptional—superlative performances only.
9: Excellent—outstanding performance.
8: Impressive—very influential game.
7: Very good—eye-catching game.
6: Average—good game, but nothing overly impressive.
5: Below Average—decent performance, but with some faults.
4: Poor—many faults, performance stands out for all the wrong reasons.
Additionally, any performance that affects the outcome of the game will increase or decrease a player's rating by half a point (.5).
Reina—the troubling performances continue, with today's display being perhaps his worst gaffe in recent years.  He did redeem himself somewhat by pulling off a stunning save mixed in with a couple other decent stops, but this is far from the steady, sure custodian that we have become used to. Grade 5
Glen Johnson— Johnson was kept busy on the right side in trying to contain Milner and Aguero, and for the most part was successful.  Save for the bookend goals, neither City player featured much during the game and much of that is due to Johnson's influence. Grade 7
Martin Skrtel—this was yet another brilliant performance by the Slovakian center back, whose one blemish was the penalty conceded on Toure.  Even that was harsh upon review as he did a good job of avoiding contact with the City midfielder, who sold the foul to the official. Grade 8
Daniel Agger—much like Skrtel, Agger was aces in breaking up the City attack.  His reading of the game at this point is better than any other Liverpool defender, and he is assertiveness and command of the area in front of Reina is one of the chief reasons for the current cohesiveness of the back four. Grade 7
Enrique—had a decent game, and indeed his recent performances mark a return to his early stellar play.  Where he falters is in his offensive contributions.  He is very good at overlapping off the ball, and his crosses and passing have been a revelation.  One on one he suffers for ideas however, and oftentimes any attempt to take on his man results in possession being conceded.  He has not been reckless however, so don't expect for there to be much complaints with his efforts.   Grade 6 
Jordan Henderson— Jordan Henderson seemed the brightest Liverpool player the first 20 minutes, tracking back to contain the formidable City midfield of Silva and Touré, while trying to be a creative force.  His passing today was exceptional, particularly in springing Stewart Downing early.  Grade 8
Jay Spearing (Maxi Rodriguez 76th) — was a revelation today, a study in tenacity and determination and a welcomed sight for fans still concerned about the absence of Lucas Leiva.  He's still very limited offensively, but his defense in midfield in integral to not only stymieing opposition forays, but also for starting the Liverpool attack. Grade 7
Adam (Steven Gerrard 57th) — had another very nice game, albeit with little to show for it.  Reverted to the "Hollywood" passes on occasion, but for the most part cut back on the range of the passes, and achieved better quality in return.  Defensively he has come into his own quite nicely, and that defensive stability no doubt has been a key component to the  defensive mid and backline's stellar play. Grade 7
Downing — failed to capitalize on Henderson's wonderful pass early on, but for the most part played a good game on the right wing.  Has become a bit predictable in his desire to cut inside onto his left foot when deployed on the right wing, and that played right into City's hands at times.  Grade 6
Dirk Kuyt (Craig Bellamy 57th) — had a disappointing game for Liverpool today in yet another anonymous performance.  Had Liverpool's best chance of the match when his point blank effort was blocked off by the exceptional City captain, Vincent Kompany.  Otherwise there was plenty of the usual activity with hardly any productivity to show for it. Grade 6
Carroll  — his pedestrian approach, on many occasions results in him jumping straight up to try to meet the crosses, rather than continuing to move and run onto the aerial ball as it's sent into the box.  The end result, more often than not, is a weak header, or an attempt just wide of the target, implicating his failure to proactively move off the ball.  Grade 6
Substitutes
Bellamy— had a brief, positive impact when he first came on and indeed terrorized the City right side time after time.  Got good crosses in, even though nothing came of them.Grade 6
Gerrard— along with Bellamy, energized the attack in spurts, and supplied the best crosses for a second straight game.  Very little tangible impact in the end however. Grade 6.5
Maxi Rodriguez— did not make much of an impression after replacing Spearing in the 76thminute. Grade N/A