Charlotte Bobcats Key Matchups vs. Atlanta Hawks and Indiana Pacers
January 5, 2012
Kevin C. Cox/Getty Images
Charlotte Bobcats Key Matchup vs. Atlanta Hawks
Gerald Henderson vs. Joe Johnson
Gerald Henderson is coming off his strongest showing of the season so far, tallying 24 points (10 of 13 shooting) to go with four rebounds and four steals.
He hit some big shots down the stretch to keep the New York Knicks at bay whenever they tried to push their way back into the game, and his athleticism and mid-range jumper will come in handy against Atlanta.
Henderson is the Bobcats' strongest defender, and this will be key in the matchup with the Hawks' Joe Johnson, as much of Atlanta's offense runs through him. Johnson has been the Hawks' assist leader for the past few seasons due to their absence of a true point guard. 
Despite the Hawks' good start to the season, Johnson has had an off-year by his standards, and the Bobcats will look to lock up Henderson for this game.
Johnson (16 PPG, 3.2 RPG, 2.3 APG) is shooting an uncharacteristic 39.8 percent from the field and will be looking to get back on track against Charlotte on Friday night.
These two teams split a home-and-home series in the preseason.

Scouting the Bobcats (2-4)

The Bobcats enter this game against the Hawks after putting together their best performance of the season in New York, beating the Knicks 118-110. Boris Diaw played a great all-around game and led the 'Cats with a season-high 27 points.
D.J. Augustin dictated the pace of the offense to finish with 14 points, ten assists and six rebounds.
Reserve center Byron Mullens continues to bring instant offense off the bench. On Wednesday, he had 16 points on six of eight shooting, and five rebounds. The Bobcats not only won the turnover battle Wednesday (13 to 17), but also moved the ball well en route to a season-high 27 assists. This will be key moving forward.
The team will look to build off their victory over the Knicks, and a home game may help them continue their momentum. The Bobcats face the Indiana Pacers at Conseco Fieldhouse on Saturday at 7:00 p.m. for their second back-to-back of the season.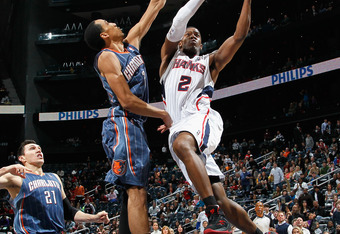 Kevin C. Cox/Getty Images
Scouting the Hawks (4-2, as of January 4)

The Hawks enter this game coming off a home game against the Miami Heat on Thursday night. The Hawks have played well so far this season, and will look to continue that trend against the Bobcats.
The Hawks have Al Horford (13 PPG, 6.8 RPG) and Josh Smith (10.8 PPG, 8.2 RPG) on their front line, and while undersized, that combo could make it hard for the Bobcats to get points in the lane.
Jeff Teague is the Hawks' starting point guard and has played well in that role, averaging 12.3 points and 4.7 assists per game. The Hawks' sixth-man is former All-Star Tracy McGrady, who has embraced his role coming off the bench (10 PPG, 4.5 RPG).
The X-factor in this game could be forward Marvin Williams, who has turned into a great glue guy for this team as they have grown together.
While the Bobcats match up well with this team, the Hawks core has been together for a long time now, and Charlotte will have to play together as they did in New York to come away with a victory.
Key Matchup vs. Pacers
Byron Mullens vs. Roy Hibbert
The Bobcats traded a second-round pick to Oklahoma City to acquire Byron Mullens, and he has turned out to be a solid pickup for the team. Over his last two games, he has beaten his career high each time, scoring 14 against Cleveland, then dropping 16 on the Knicks.
The Bobcats have benefited from Mullens' shooting range off the pine. He has averaged 10.7 points and three boards per game, as his rebounding numbers have improved each game.
Indiana has a solid big man in Roy Hibbert (13.2 PPG, 10 RPG, 1.3 BPG), and the 7'2" center will definitely take up space in the paint. Look for the Bobcats to use the pick-and-pop with Mullens to stretch the floor, and bring Hibbert out to create opportunities for their slashing wing players.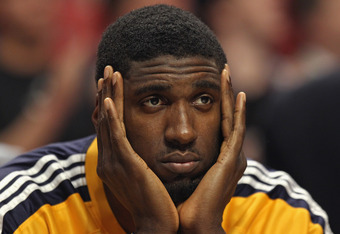 Jonathan Daniel/Getty Images
Scouting the Pacers (4-2 as of January 4)
The Pacers have gotten off to a good start this season and will look to continue that against the Bobcats. Danny Granger is the heart of this Pacers team (15.2 PPG, 5.3 RPG, 2.2 APG), but his shooting has been abysmal this season, only hitting 31.7 percent of his shots.
The team signed former All-Star power forward David West in the offseason, and he is averaging 11.8 points and seven rebounds through his first six games with his new club.
Darren Collison is the team's floor leader and is averaging 10.5 points and 6.2 assists per contest, and Paul George has hit 15 of 24 three-point attempts (62.5 percent) this season.
The Pacers come into this game on the second night of a back-to-back, as do the Bobcats, so expect to see both teams' depth: Indiana's bench starts with Tyler Hansbrough (12.7 PPG, eight RPG) and George Hill (9.2 PPG, 2.5 RPG). 
David W. Walters is an NBA Correspondent and covers the Charlotte Bobcats for Bleacher Report and bobcats.com.  Follow him on Twitter at @Original_DWade.