This year has been one for the record books in terms of the BCS.
A rematch for the national championship between two teams that are not only from the same conference—and the same division—but also have played once before during the regular season, where LSU beat Alabama 9-6 in overtime.
Many people have complained that Alabama should not have been in the championship game because they already lost to LSU. And after beating Stanford, Oklahoma State gave a good case as to why they should have gone to the national championship game.
However, regardless of what the outcomes are or what the fans and analysts say, the system that currently oversees the decision of who is No. 1 and No. 2 is flawed. Until something new is put in place, all we can do is accept their decision, no matter how much we agree or disagree.
Now, with that said, other sports have found a way to maintain a regular season and a playoff system that enables one team to emerge as the champion. There is even a division of NCAA football called "Football Championship Series", so obviously the system works.
If we look at the NFL, the teams play one another in their specific divisions within either the AFC or the NFC. The top team from each division advances, and there are even slots available for wild cards.
My proposal for a playoff system would be to incorporate both playoffs and bowl games. Teams that do not qualify for the playoff system would still play in the lower bowls as they do now—since the other bowls aside from the five BCS bowls do not rely on the BCS to choose their participants.
Do you favor a Playoff System?
In order to have a fair playoff system, there needs to be one method of determining who qualifies and who does not. I propose having an eight-team playoff system and divide the nation into an East and West Division. The four qualifying teams from the West Division would be the PAC-12, Big 12, Big Ten and an at-large. The East would be the SEC, ACC, Big East and an at-large bid.
In order to decide who plays who, you would have one poll to rank the teams. Then wherever the individual conference champion finishes would determine its rank in the playoff. So, looking at the current BCS rankings, the placement would be as follows:
East

LSU - No. 1
Clemson - No. 2
West Virginia - No. 3
Alabama/Arkansas - No. 4 (Since Alabama and Arkansas are the two highest ranked teams, they would have a pre-playoff game to see who gets the No. 4 at large bid)
West

Oklahoma State - No. 1
Oregon - No. 2
Wisconsin - No. 3
Stanford/Boise State - No. 4 (Stanford and Boise State are the highest ranked BCS teams in the West and would therefore play for the at-large bid in the West)
Now, once we have the rankings, we would put the teams in their respective positions similar to the style that basketball does for the first round: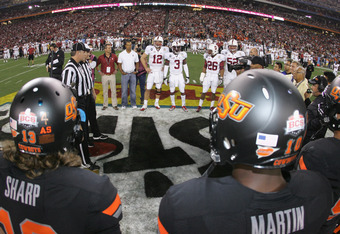 Pool/Getty Images
East

No. 1 vs. No. 4 - LSU vs. Alabama (Since Alabama beat Arkansas during the regular season, we are assuming they'd win again.)
No. 2 vs. No. 3 - Clemson vs. West Virginia
West

No. 1 vs. No. 4 - Oklahoma State vs. Stanford (Sorry, but I'd give the win to Stanford if they played Boise State.)
No. 2 vs. No. 3 - Oregon vs. Wisconsin
As you can see, the first-round matchups mimic the current bowl games we have. Now, since we have seen all four teams play each other, here's how the second round would look:
East
No. 1 vs. No. 3 - LSU vs. West Virginia (I am giving it to LSU since they beat West Virginia earlier in the season.)
West
No. 1 vs. No. 3 - Oklahoma State vs. Oregon
Then, you'd have the winner of these two games play one another in the championship game.
Now, I do know that this system does not incorporate two aspects: conference champions of lower conferences as well as those in the Independents.
I would give a special rule to these two. If there is a conference champion from a lower conference that does not automatically qualify, they earn the at-large bid. Also, if an Independent team can make it into the Top 5 or 10 of the ranking, they earn the other at-large bid.
I know this system isn't perfect, but I tried my best to set up a system that isn't biased to any conference and ensures that two separate conferences play in the BCS National Championship.