Chelsea Transfer News: Gary Cahill Not Worth What He Is Reportedly Seeking
January 5, 2012
Alex Livesey/Getty Images
What had once seemed a done deal has since taken a very interesting turn. For more than a couple days now, the completion of Gary Cahill's transfer to Chelsea has been held up, not over the transfer fee that has been set at £7 million, but by Cahill's transfer demands.
It seems like the papers can't quite agree on what exactly Cahill's demands are, but each report sounds more ridiculous than the next.
Mirror Football claims that Gary Cahill wants a guaranteed spot in Chelsea's starting XI, while Daily Express claims that Gary Cahill is demanding an insane £120,000-a-week contract to put him on par with Chelsea left-back Ashley Cole's salary.
Finally, Goal.com, which ironically may be the most credible of the three sources, claims that Gary Cahill wants a £4-million signing-on fee, as well as a £100,000-a-week contract to complete his move to Chelsea.
If any of these reports are indeed true, then Gary Cahill is simply not worth the money that Chelsea are spending on him.
To start, it's true that Gary Cahill is a less-erratic centre-back than David Luiz. He's struggled this season with Bolton, but as he showed against Everton, he does still possess class and ability that will almost surely shine more frequently at a club that isn't consistently battling relegation.
But at the same time, there are many centre-backs on the market—or even just in the Premier League—that are less erratic than David Luiz. The young Brazilian still has much to learn on how to harness his talent and to make less mistakes.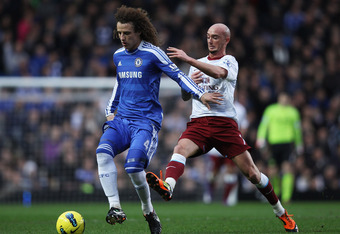 Ian Walton/Getty Images
He does still possess great upside and potential for improvement, however. Chelsea didn't spend £25 million on him simply out of desperation, but because they believed that he was a great talent in-the-making.
With that in mind, it's completely crazy to tell someone like David Luiz that they've been permanently benched behind Gary Cahill simply because his contract states that he must start regularly for the club.
Cahill's motive of wanting to be selected for Euro 2012 is understandable. But using a clause in his contract to ensure his selection not only takes away his motivation to outwork and outperform his competition, but it also will undoubtedly frustrate David Luiz and force him to consider his options in due time.
And aside from all that, it's plainly disrespectful to Andre Villas-Boas, who is in charge of selecting the best and most suitable 11 players for each match that Chelsea participate in. 
Moving along, Gary Cahill's wage demands, whether they be £120,000 a week or £100,000 a week with a £4-million sign-on fee, are outrageous.
Again, to an extent, I can understand where Gary Cahill's coming from. At the age of 26, Gary Cahill is in the prime of his career. And if he's ever going to earn a rich footballer's paycheck, now is the time to do it.
But jumping from wages of £45,000 a week to £100,000 a week or more is ridiculous. Even though many of the players at Chelsea are on insanely high wages, they didn't get there overnight.
John Terry and Frank Lampard, the highest earners at Chelsea at £150,000 a week, got there only after multiple seasons of performing at the highest level for their club. And Fernando Torres only got up to that wage level after establishing himself as one of the world's most fearsome strikers.
Even Ashley Cole, whose controversial move from Arsenal was also motivated to some degree by finances, jumped from the £55,000-a-week offer he was made to stay at Arsenal to move to Chelsea for a £90,000-a-week contract (and some reports even indicate that his wages were less than that). 
Only after three seasons of performing at the highest level was his contract bumped up further to £120,000 a week.
The difference, of course, is that Ashley Cole was one of the best left-backs in the world at the time of his move, so the wage-hike made sense.
Here, Gary Cahill is demanding a bigger wage-hike despite being a far less rated or proven centre-back. I honestly don't understand how him or his representatives can truly believe that he's worth anywhere near that much money yet.
Gary Cahill is a good player with a good future if he plays his cards right. But if he's let a few England caps go to his head, then there are many better names on the market that would accept the healthy £70,000 a week that Chelsea are willing to offer.
Christopher Samba and Jan Vertonghen are two names, for example, that could very possibly do as well as Gary Cahill would for Chelsea.
Ultimately, if negotiations pay off and Gary Cahill backs off from his ridiculous demands for a more reasonable salary—like £75,000 or £80,000 a week—and of course, if he drops his request to be a guaranteed starter, then he can indeed be a good January buy for Chelsea.
But if not, he'll set a bad precedent for Chelsea going forward, and his ego will not mesh with a dressing room that must surely be filled with many other big-headed players.
In other words, he'll be more trouble than he's worth, and he'll only make for one more step backwards for Andre Villas-Boas, who cannot afford to be making any more incorrect decisions at this point in his Chelsea managerial career.