Are the Jacksonville Jaguars Looking in the All the Wrong NFL Places?
January 5, 2012
Al Messerschmidt/Getty Images
There are times when sports writers swallow their pens of keyboards and become fans of the teams they cover. This is one of those times.
As a follower of the Jaguars from the time of their birth in the NFL, I have to speak my peace. The changes we as fans are experiencing are way over due, and therefore, we will suffer for it for the next few years. The irony in all this is the fodder the sports writer in me will have in coverage of a team that is average at best right now with the best runner in the NFL playing behind a subpar quarterback and awful receivers.
I am not spewing anything that is not known here in Jacksonville, just the gospel, and while I may get branded on sports talk radio and in the media for my opinion, it is still my right to express how I have such displeasure for this team right now.
We had an owner in Wayne Weaver who was nice to a fault and held on to management, coaches and support staff way too long. Jack Del Rio should have been "relieved" two seasons ago. I'm not saying another coach could have done better because we don't know that. We also don't know the inner workings of the team.
Maybe we should have hired Tony Dungy all along in 2005, and there would have been a better sense of success within the organization.
We now have a new owner who looks the part, acts the part, speaks the part and wants a championship in Jacksonville. But there is a cloud of fear that if he gets that, he will move the team to a more viable and expansive city. Or, when the city lease is up with the franchise, he will move the team so he can be in a bigger market and then cash in on an NFL championship.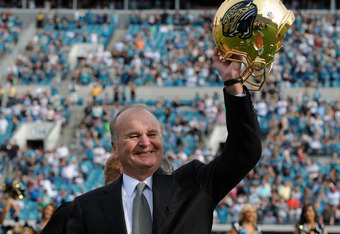 Al Messerschmidt/Getty Images
I guess it is a no win situation.
Before Shahid Khan talks about building an international appeal for this team, let's worry about more pertinent things like quarterback play, a shaky offensive line when it comes to pass protection, crappy receivers and the need to take some pressure off of Maurice Jones-Drew. He accounted for over 46 percent of our offense and he should be the league MVP.
And while the defense was better, much better than last year, there were still holes. We need another safety and a pass rusher. Tyson Alualu and Terrance Knighton did not draw fear in teams like John Henderson and Marcus Stroud used to.
Linebacker play stood out. Dawan Landry was a great free agent signing in the secondary. Dwight Lowery was a great trade with the Jets. And honestly, we did not miss anyone we lost in free agency with the exception of maybe Adam Podlesh.
Funny how a punter is missed on this team.
We need to be aggressive again in free agency. A tackle would be ideal. A backup center and of course RECEIVERS! There are big names to be had, but who could blame them if they ran away when the Jaguars came calling? There needs to be continuity and the prospect of the passing game being average.
It's not.
We won't see Vincent Jackson, or Marques Colston or Stevie Johnson playing here next year and we may have to rely on Harry Douglas or an aging Reggie Wayne or even Earl Bennett. And if we got rid of Marcedes Lewis, it would not make me cry.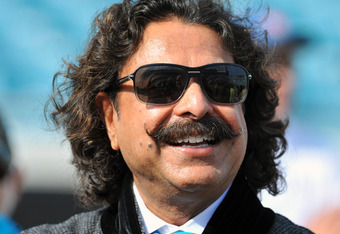 Al Messerschmidt/Getty Images
The draft and finding a coach are our most important obstacles now. Don't just get an offensive coordinator because we need to score points. Go get a name. Mr. Khan, please throw money at him in a big way. Try and get Bill Cowher or Jon Gruden or Les Miles from the college ranks.
Don't choose Brian Schottenheimer or Mike Mularkey or Mike McCoy because they are at the level of which your team has risen to. Look above the median. Look to doing better. Stop the run, and look to pass. Mel Tucker could be a good choice to be given a year to see what he can do with a healthy team and a new offensive coordinator (Mike Martz).
And whatever you do, continue to give us hope. Gene Smith isn't doing that. For all the "well respected" accolades he gets, when it all said and done, he is the one we rely on to put players on the roster and in effect, butts in the seats. Maybe we should bring in a veteran quarterback to compete for the starting job where the two quarterbacks are playing "nice guy" it would stimulate competition. Jason Campbell would look good in teal next season.
All I am saying is before we decide to take the league by storm, let's deal with the inner workings of this team first. If it seems I am pissed by what I write, then yes, I am pissed. But it is only because in this case I am a fan first, and a writer second.