Indiana Hoosier Gameday: An Up-Close Look at the Michigan Wolverines
January 5, 2012
Andy Lyons/Getty Images
Thursday night at Assembly Hall, the No. 12-ranked Indiana Hoosiers (13-1) will try and stay undefeated at home as they welcome the No. 16-ranked Michigan Wolverines (12-2).
The Hoosiers' 1-1 start to the Big Ten season is unexpected, mainly because they had to knock off the No. 2-ranked Ohio State Buckeyes to get there. However, a loss to Michigan at home would halt any momentum they have gained to this point in the season.
Even with their unprecedented struggles, Indiana has fared well at home under Tom Crean against John Beilein's Wolverines. They are 2-1 against Michigan over the last three years at Assembly Hall, with their only loss coming in the six-win season of 2008-09 in a game that was taken into overtime.
Last year's contest in Bloomington, which ended in an 80-61 win, was completely dominated on both ends of the floor by the Hoosiers.
But that was then, this is now.
After Michigan came within one shot of upsetting the No. 1-seeded Duke Blue Devils in the NCAA Tournament to get to the Sweet Sixteen, people were expecting big things for the Wolverines this year. Michigan returned nearly their entire roster heading into this season. Their only departure was of point guard Darius Morris, who unexpectedly declared for the NBA Draft after last season.
Replacing Morris in the lineup was going to be difficult for the Wolverines, as he was the team's leading scorer and distributor, setting a single season Michigan record with 235 assists, but they seem to have found their answer in freshman Trey Burke. The young point guard has been outstanding for Michigan this season, averaging 14 points and five assists a game.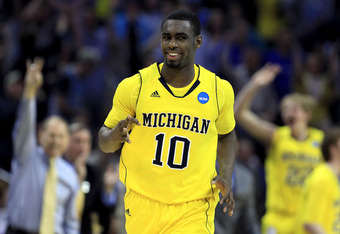 Streeter Lecka/Getty Images
When you look at stopping Michigan's offense, it's all about containing the aforementioned Burke and Tim Hardaway Jr, who leads the team in scoring at 15.6 points per game. This duo makes up roughly 42 percent of the Wolverines' total scoring on the season. More importantly, they are really the only two that can create offense for this team. Both are very quick with the ball, which means they are capable of creating their own shot, as well as getting into the paint and creating open shots for others.
Michigan lacks a strong offensive post presence, so they rely heavily on the three-point shot, and they can be very dangerous in that category.
Players like Zack Novak and Stu Douglass aren't going to consistently beat you off the dribble, but they can kill you if they get hot shooting the ball. Because of this, whoever is guarding them needs to have good discipline in help-defense situations.
(That's why Cody Zeller is down in the paint.)
This will make it especially challenging for the players that have the responsibility of handling Burke and Hardaway Jr. in a man-to-man situation; stopping them from getting into the paint is going to be vital in this game. Assuming that Victor Oladipo draws the assignment on Tim Hardaway Jr. for most of the night, that leaves the responsibility of Trey Burke up to Jordan Hulls or Verdell Jones III.
Hulls is the most likely candidate to start the game on Burke, as Verdell Jones's height and improved defense away from the ball makes him a better matchup for Zach Novak.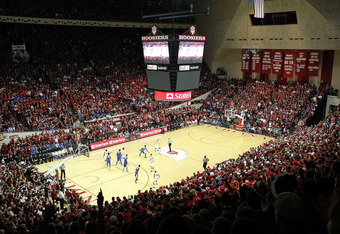 Andy Lyons/Getty Images
One other key player to watch for the Wolverines is sophomore Evan Smotrycz, who has been really impressive this season. The 6'9" forward is averaging 10.9 points and just over seven rebounds a game. He has ability to score on the inside, but has been by far the best three-point shooter on the Michigan roster, hitting 54.5 percent of his three-point attempts on the season.
Christian Watford has been much better defensively for Indiana this season. He has played tough games against the likes of Terrence Jones and Draymond Green, and Smotrycz will provide another test for the Indiana junior on Thursday night.
This is something that has been beaten to death this entire season, but the offensive game plan for Indiana has to be to get the ball to Cody Zeller all night long. Jordan Morgan, at 6'8" and 240 lbs, doesn't have the height or quickness to guard Zeller.
And with sophomore forward Jon Horford being out with a foot injury, Michigan doesn't have a capable body behind Morgan in case of foul trouble.
The Hoosiers' biggest problem this season has been their poor execution in feeding the ball to the post; that needs to improve in this game. So long as they are able to consistently get the ball into Zeller, Indiana isn't going to have much of a problem offensively in this game.
Christian Watford should also be poised to have a big game, as Michigan doesn't have anybody that matches up well against Watford defensively.
Because Michigan doesn't play very good half-court defense, they are going to try and get out in transition and make this a fast-paced game. Indiana hasn't been afraid to run with anyone this season, and this game will be no exception.
Even though Will Sheehey will most likely be on the sidelines again tomorrow night, the Hoosiers have enough bodies to stay fresh if this turns into a track meet.
The winning formula for Indiana has been consistent throughout the season: pressure the ball and create offense off of turnovers.
Michigan has only played one true road game this season—at Virginia in the Big-Ten/ACC challenge, which resulted in a 70-58 loss. And no disrespect to John Paul Jones Arena, but the Wolverines certainly haven't played in an environment like Assembly Hall yet this year.
Freshman Trey Burke has been very sound with the basketball in his hands this year, but hostile environments give young point guards problems. Just ask Ohio State's Aaron Craft, who had an uncharacteristic six turnovers in last Saturday's game in Bloomington.
Indiana has come out of nowhere to make themselves legitimate contenders in the Big Ten this season, and now everyone knows it. This team hasn't been expected to win many Big Ten games in the past three seasons under Tom Crean, but that all changes tomorrow night.
How they handle these new-found expectations is the next big test for this Hoosier team.
This article originally appeared on Hoosier Cafe