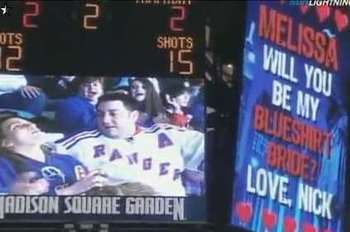 We all have bad days, but for some they can be downright devastating. Asking the love of your life to marry you, and then get rejected in front of thousands? Yeah, it sucks to be them.
Fortunately, its very cheap entertainment for us sports fans. Here are some of the biggest marriage proposal failures in sports history.
Front and Center in Houston
For a second, it looked like she would actually say yes.
But nope, after a brief exchange of words she walks away amidst thousands of boos.
Ouch.
Falling Flat in the Paint
He shoots...and he misses...
At least the coyote mascot is there for comfort, right?
Wizardly Surprise!
Warmer... warmer... warmer... Surprise!!
I wouldn't marry someone in a white blob outfit either.
Denial on the Jumbotron
"Hey honey look up at the screen!"
Maybe deep down she was an Islanders fan and she just couldn't fake it anymore.
Smacked!
...And now he knows not to buy his engagement ring at the dollar store.
Keep Reading
Load More Stories