NASCAR: Can Aric Almirola Find Success in 2nd Stint in Sprint Cup Series?
January 5, 2012
Todd Warshaw/Getty Images
Richard Petty Motorsports has made an official announcement that Aric Almirola will drive the No. 43 car for RPM in the 2012 season.
Almirola was the driver of the No. 88 car for JR Motorsports.  He finished fourth in the 2011 Nationwide Series standings.
After Almirola left JRM, Cole Whitt was signed to drive the No. 88 car for the 2012 Nationwide Series season.
There was no announcement of any sponsors made when Almirola was named the driver.
This is not the first time Almirola drove for RPM.  He drove the final fives races of the 2010 season in the No. 9 car when Kasey Kahne left the team for Red Bull Racing.
I do find it interesting that Almirola was chosen for this ride.
In 35 career Sprint Cup Series races, Almirola only had one top-five and two top-10 finishes.
He only has one Nationwide Series win and two Camping World Truck Series wins in his career. 
For most of Almirola's career in the top three NASCAR divisions, he struggled at times. Although he has had better runs in the last two seasons.  He finished second in the Truck Series standings in 2010 and fourth in the Nationwide Series in 2011.
Watching Almirola run the Nationwide Series last season, he did not show much dominance.  He seemed to struggle to keep up with any Cup drivers racing in the Nationwide races and was never making much of an impact in races.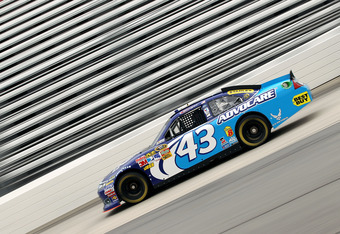 Streeter Lecka/Getty Images
Remember, Sprint Cup drivers can't score any points in the Nationwide Series.  So Almirola was scoring more points, even though he maybe not have finished in the top 10.
I'm not really sure if he'll have much success in 2012.  He is going to have to rely on Greg Erwin to put him in positions to get good finishes.  
I'll be interested to see if that No. 43 team takes a step back without Allmendinger.  RPM's Marcos Ambrose is going to have to step up and improve on his success in 2011.
I am pulling for Almirola to succeed, but he's going to be a work in progress.  I just hope RPM can find sponsors to run the full season with Almirola.
He's definitely going to struggle at first, but we'll see how much improvement he makes throughout the 2012 season.