Jose Aldo and the Weight of the UFC Belt, Is It Changing His Fighting Style?
January 4, 2012
Jose Aldo is a name that strikes terror into the hearts of many featherweights in the world. He is the No.1 ranked featherweight in the world, with a record of 20-1 (12 KOs), and is the former and last WEC champion as well as the current UFC Featherweight champion.
Aldo burst on the scene on June 1, 2008, where he ran through Alexandre Franca Nogueira, a top prospect in the WEC who was debuting at the time. Aldo's beatdown led to Nogueira's release from the WEC and the climb of Aldo continued. Aldo went on a five-fight winning streak, with all fights ending in brutal fashion before challenging the champion at the time, Mike Thomas Brown.
As a fighter with nothing to lose, Aldo went into the fight as a slight underdog against the champ who had beaten Faber twice and arm-triangled Leonard Garcia. Aldo went on to dominate the powerful wrestler as Aldo used his stand-up and Jiu-Jitsu game to take Brown's back and finish him via strikes in the second round. He retained the belt during the remaining lifespan of the WEC.
Before the WEC was merged with the UFC, Aldo successfully defended his belt against Faber and Manny Gamburyan. In the Faber fight Aldo worked a game plan to take Faber's legs out, and it worked incredibly for him as Faber could barely walk after the fourth round.
Aldo seemed hesitant to finish Faber as he could have on several occasions in the final two frames of their fight. He silenced critics about not finishing Faber by turning the lights off of Manny Gamburyan in the second round, thus ending his reign in the WEC and beginning a new run in the UFC.
Aldo was off for a while after the Gamburyan fight with back problems which postponed a fight with Josh Grispi for his first UFC title defense. Number one contenders aren't always guaranteed in this sport as Grispi was bested on New Year's in 2011 by Dustin Poirier.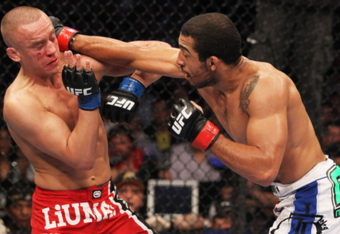 This opened the door for Mark Hominick who, with a victory over George Roop, was given the chance to fight for the belt.
On April 30, 2011 in front of 55,000 fans in Toronto, Canada, Jose Aldo was set to make his UFC debut as he defended his UFC belt in his opponent's backyard. Many fans were expecting to see Aldo make short work of Hominick as Aldo was touted as a top pound-for-pound fighter.
Instead we saw Aldo dominate his opponent with great Muay Thai mixing in his take-downs with precision that would make GSP proud. Aldo's cardio betrayed him as he was completely dominated by Hominick when he was put on his back in the fifth round. Aldo had done enough to win but he revealed a kink in his armor.
Aldo had another defense in 2011; this time was against two-time lightweight contender Kenny Florian who made the drop for a chance to finally wear UFC gold. Aldo again fought a conservative fight as he bested Florian by decision and sent him back to lightweight.
Jose Aldo is an amazing fighter with some of the best stand-up in the game, good wrestling and a good ground game. He is a BJJ black belt and trains with the Nova Uniao team in Brazil where great fighters like Marlo Sandro, Diego Nunes, Eduardo Dantes, among others are his training partners.
The scariest attribute Jose Aldo had was that go-for-broke killer instinct he showed in his fights in the WEC. Who can forget that eight-second KO of Cub Swanson with a double flying knee.
Since he has entered the UFC, Aldo has been fighting more conservative and is fighting to win. There is nothing wrong with that approach as welterweight champion Georges St. Pierre has employed a similar tactic.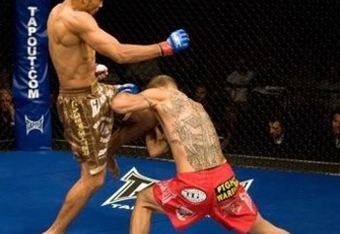 The downfall is fans love fighters who go out and finish fights. GSP has received plenty of criticism along with fighters like Jon Fitch for playing it safe, so to speak. This hurts Aldo's  marketability as he isn't as popular as the Canadian superstar.
Aldo is being introduced to the casual fans in the UFC, and performances like the one against Mark Hominick won't reassure his new audiences of why he is considered a Top 5 pound-for-pound fighter.
Aldo has a tall task in front of him come January 14, 2012, as he will headline UFC 142 in his native Brazil against Team Alpha Male's Chad Mendes, who is a man who can very well dethrone Aldo and probably make the Brazilian's riot with an Aldo loss.
Aldo will have to put on a vintage performance and finish Mendes off in front of his countrymen to establish his supremacy over the division and take a role similar to Anderson Silva, Georges St. Pierre and Jon Jones as an unbeatable force in his respected division.
Mendes will be his toughest test to date as he is a powerful wrestler with good top control. Nonetheless, Aldo has the skills to end this fight within three rounds and end it in devastating fashion. One can only hope that his fear of losing the belt does not interfere with his ability to finish the fight.
This article originally featured at Hurtsbad MMA. Follow us on Twitter @HurtsBad