Manchester United: Starting to Resemble Arsenal, Chelsea and Liverpool
January 4, 2012
Stu Forster/Getty Images
Injuries are no longer enough to explain the wobble that could become a slide. Despite whopping Fulham, QPR and Wigan, inconsistency is creeping into the play of Manchester Untied.
United are showing signs of joining Arsenal, Chelsea and Liverpool in not being the forces they once were.
The new kids on the block are City and Spurs. If Alan Pardew had half the resources United have, Newcastle would be contenders also.
In the words of Gary Pallister on MUTV, United were "abject" against Newcastle United. He and Andy Cole wore faces more dismal than the weather over Christmas.
Sir Alex will have every reason to be concerned at the complete lack of sparkle, which was even more evident than against Blackburn.
Yes, there are still 11 players in the treatment room. Yes, Sir Alex has to cobble together a team every time United take the pitch, but...
United Were Second-Best to Newcastle All Over the Pitch
Newcastle were better organised, had more belief, were technically better and, although they had less of the possession, always looked like winning the match at a canter.
Starting at the back, Lindegaard can be largely absolved, but Jones and Ferdinand struggled to handle Ba and Ameobi as Jones had comfortably his worst match since joining United.
He looked gutted after the Blackburn match, but has to look in the mirror after this shambles culminated in a shocking own goal. The second goal was also indirectly his fault, being scored from the clumsy free kick he gave away.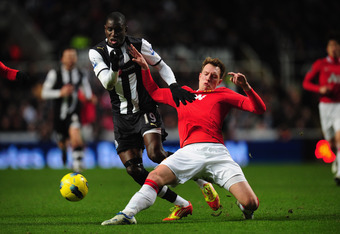 Stu Forster/Getty Images
Ferdinand should have had a penalty given against him. Evra looked unimpressive again, but worst of all, gave no leadership.
But why on earth did Ferguson persist with Valencia at right back with Rafael on the bench, when the Ecuadorian was United's best player on Sunday when he moved onto the wing?
In midfield, they were frankly not at the races. Time and again, passes were misplace—especially by Giggs.
Park looked like he had had one match too many. Again, with Valencia on the right wing, Nani could have been a bigger threat on the left.
Up front, Berbatov was clattered all over the place, but Rooney looked woefully out of form. He also has to take a hard look in the mirror. You have a right to expect more skill and contribution—and especially much more professionalism—from a player paid over £200,000 a week.
As for the rest, Hernandez looks a shadow of the player who burst into Old Trafford since his return from injury. Ferguson should fine him a week's wages every time he is offside, and eventually he might get the point.
Welbeck was a donkey.
No Chance Against City?
In case you are wondering, this is written on calm reflection. Because sadly, I actually expected United to lose this one.
What worries me, is that having lost two on the reel and conceded six goals to much lesser teams—and still having a patched-up team—United could be cannon fodder against City in the Cup.
What will worry many supporters, and maybe Sir Alex himself, is that normally he gets a reaction after a poor performance like Saturday's. Tonight's was actually much worse, despite having Ferdinand, Giggs and Rooney back.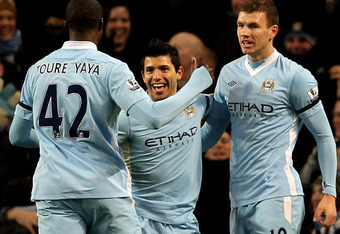 Clive Mason/Getty Images
And What of the Aspiring Youngsters?
Sir Alex is often forgiven for many things, because he can stand on his record and keeps producing the goods, season after season. 
He may not be forgiven, however, if Paul Pogba and Ravel Morrison slip through his fingers. 
Both on Saturday and tonight, the situation was crying out to give Pogba a chance. Frankly, he couldn't possibly have done worse than Giggs, Carrick, Park, Rooney, Hernandez, Welbeck, Berbatov and Jones.
With nothing to lose at 2-0 down, why didn't Ferguson take the opportunity to throw the lad on and say, "Go and get us a result, son"? We would have found out far more about him than we already know about the usual suspects, like Gibson.
And where on earth is Morrison? Within two weeks, the injured players could be pouring back, and once Cleverley, Anderson and Carrick have re-established themselves, Pogba and Morrison will be kicking their heels for the rest of the season because every match is important.
There is a truckload of talent coming through, but when they see the so-called stars producing drivel like this and unable to string three passes together, they must be asking themselves, "What have I got to do to get the chance Rooney and Ronaldo got at 17, and Jones at 19?"
Pogba and Morrison may be two of the best young players United have ever produced, but on this showing, who could forgive them for moving elsewhere to get their chance?
Sunday and the 'Last Chance Saloon'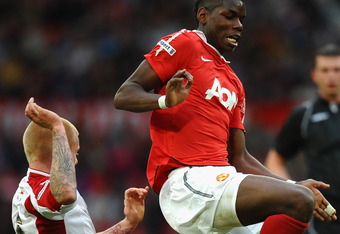 Laurence Griffiths/Getty Images
It's a cliche, but United have a golden opportunity to put everything right on Sunday against City in the Cup.
If they win it, even with a scuffed or disputed goal, tonight will be forgotten. If the result goes the other way, the jungle drums will start to beat for Ferguson.
He deserves so much credit for the last 20-plus years, but he must now take the blame if the wheels come off the trolley.
For the time being, the injury list is a passable excuse, but if he puts out another eclectic team that gets stuffed on Sunday, people will start to think he's lost it.
He has firmly eschewed buying players in January, even though United are said to have been offered Sneijder. If he declines to buy anyone and the trophy cupboard is bare at the end of the season—with Spurs and City finishing higher—he may have to reconsider his assertion of another three years.
As Villas-Boas has found, you can't rely on your track record if you lose the dressing room. By summer, United could be struggling to keep one or two people, let alone sign top players if the world at-large thinks the bubble has burst.
Roll on Sunday, and a season-defining result!