Josh Freeman: Why He Is Still the Tampa Bay Buccaneers Quarterback of the Future
January 5, 2012
Kevin C. Cox/Getty Images
Many people will say that Josh Freeman took a step back in 2011.
While that seems to be true, it is not necessarily fair to the third year quarterback out of Kansas State. Freeman did throw many more interceptions in 2011 than last year and fewer touchdown passes.
The Buccaneers asked a lot more from Freeman than they did last year. Freeman threw 77 more passes in 2011 than 2010. This, honestly, is not a lot more and is probably an expected increase in a young quarterback in his third year.
However, Freeman's Buccaneer teammates did not help him in 2011 like they did in 2010. Part of that is due to injury, but most of the reason is because Freeman's young teammates simply did not step up and take on more responsibility in the offense.
Second year running back LeGarrette Blount regressed a lot this year. He played in 14 games in 2011, one more than 2010 but still ran the ball 17 fewer times. His yards per carry average went from 5.0 to 4.2, down 0.8 yards from a year ago.
I expected the Bucs to depend more on Blount and the running game in 2011, but instead they strayed from running the ball and put more pressure on Freeman and the passing game to carry the Tampa Bay offense.
Another big blow to Freeman and the Bucs' offense was when running back Earnest Graham went down with an injury and had to miss the rest of the year. When Graham went down in Week 7, he was averaging 5.6 yards a carry and was filling in very well while Blount was nursing an injury.
At the point that Graham went down, the Bucs were 4-2 and in a game against Chicago that they ended up losing by less then a touchdown. From that point on, the Buccaneers did not win another game in the 2011 season.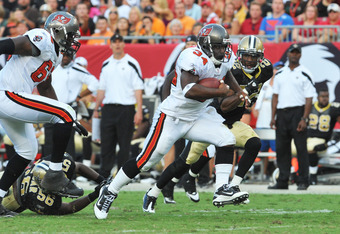 Al Messerschmidt/Getty Images
I am not saying that Graham was the reason Tampa Bay lost 10 straight games, but he is obviously an important part of the offense and can play many different parts. Freeman may have missed him more than anyone.
Freeman's young receivers also did not play as well as they were expected to in 2011. Receiver Mike Williams had a great rookie season, catching 65 passes for 964 yards and 11 touchdowns. However, in 2011 Williams caught 65 passes again, but for only 771 yards and three touchdowns.
Williams is one of the Buccaneers youngest and most talented players, but he needs to improve his game and play more consistently for Tampa Bay. It would help Williams greatly if the Bucs went out and got a true No. 1 receiver because Williams would be a better target as a No. 2 receiver.
Arrelious Been is much the same as Williams. He is playing in a spot that he may not be comfortable in. Been was expected to be the No. 2 wide receiver for the Buccaneers in 2011, but he may actually be a better slot guy for Tampa.
Despite the fact that both of these players may be in an uncomfortable situation, neither one met expectations in 2011, nor did they come to the rescue of quarterback Josh Freeman.
Now that we have played the blame game, and given some slack to Freeman, it is time to turn to the young quarterback and see how he can do better in 2012.
We have to remember that Freeman was only in his second season as a full-time starter this past year. It is surprising how many quarterbacks will actually regress in their second or third year after starting out very well. Most people credit this to defenses figuring out a young quarterback in the time between their first and second years, and that could very well be what happened to Freeman.
Not only did Freeman's weapons not perform as well as the Buccaneers had hoped, but the other teams had a full season of tape to study Freeman and his play. This makes a huge difference in how a defense attacks a quarterback, and it definitely takes some adjustments.
Freeman is undoubtedly still the Buccaneers quarterback of the future. While 2011 was a bad season in most areas, Freeman did improve his completion percentage this season. He was able to stay strong for his team in a disappointing 4-12 season.
Freeman is a leader, strong contender, and athletic quarterback. Tampa Bay should be able to bring a new coach and regime that can help Freeman get back on his feet and the entire Buccaneers team in a better situation for 2012.
I expect Freeman to come in next year and have a much better year, especially if his teammates around him decide to play to their potential and the front office goes out and signs a true No. 1 receiver.
Freeman has the ability to play the quarterback position greatly, and I expect him to be wearing a Tampa Bay uniform for a long, long time.