Detroit Red Wings: Nick Lidstrom and the 5 Most Loyal Players in NHL History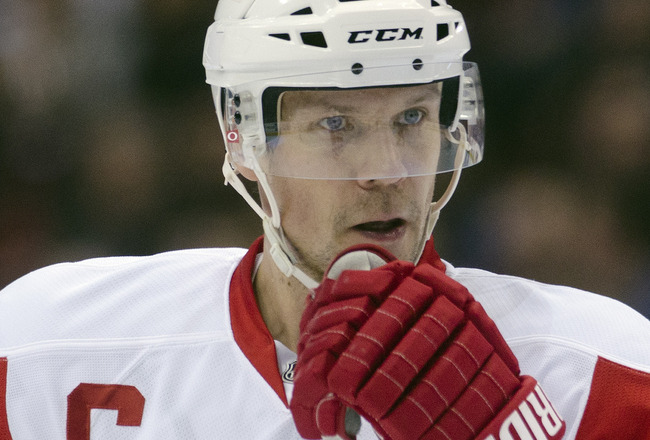 Rich Lam/Getty Images
Over the course of an NHL career, very few players stay with one team for their entire career.
The reasons vary. Some leave through free agency, others leave through trades, others are claimed on waivers.
But those players that do have the luxury of spending their entire career with one team are valued by the teams that they play for as not just players, but more as family. They become fan favorites and often times end up taking a front office position with the team.
Of course, not all of these players want to be with the team they played for, so it is important to recognize that fact.
This slideshow will examine Nick Lidstrom and the five most most prolific loyal hockey players of all time.
6. Nick Lidstrom, Detroit Red Wings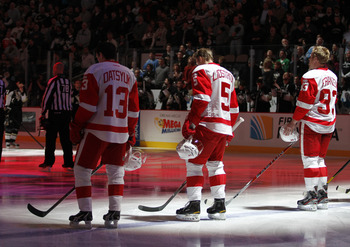 Justin K. Aller/Getty Images
As far as loyalty is concerned, Nick Lidstrom has had just about the easiest time of it playing on the Detroit Red Wings over the past two decades.
Lidstrom has never missed the playoffs in his 20-year NHL career.
This would seem to make it a little bit easier to be "loyal" to a team, but it has still taken a high level of skill and intellect for Lidstrom to make the impact that he has made.
Lidstrom was going to be an electrical engineer—that is until Detroit drafted him in the third round of the 1989 NHL draft.
In 1997, Lidstrom helped bring Detroit its first Stanley Cup in 42 years.
He learned a lot from former great Larry Murphy but has far out played Murphy as far as Norris Trophies, regular season performances and defensive zone coverage.
Lidstrom has four Stanley Cup rings to his name and seven Norris Trophies.
He has been the captain of the Detroit Red Wings since Steve Yzerman retired after the 2005-06 season, and continues to excel as a defenseman even as a 41-year-old.
He has only ever played for Detroit and will likely have his jersey retired when he hangs up his skates in the near future.
5. Steve Yzerman, Detroit Red Wings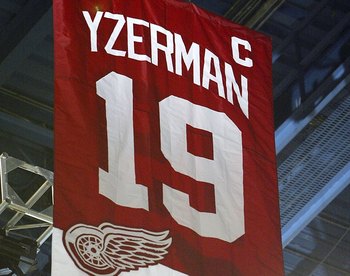 Dave Sandford/Getty Images
Detroit has only had two captains since 1983.
Lidstrom has been one of them, but Yzerman was with Detroit before they were good.
In fact, Yzerman was the reason Detroit ever became good.
He was undersized and undervalued when Detroit drafted him at fourth overall in the 1983 NHL draft, and he did not win his first Stanley Cup until he was well into his NHL career at age 32.
Yzerman was an offensive force as a youngster, putting up over 100 points in six consecutive seasons.
But it was the addition of head coach Scotty Bowman that helped Yzerman develop defensively and brought Detroit to greatness.
Prior to Bowman's arrival, Yzerman was on the trading block and almost traded to the then-newly formed Ottawa Senators.
Yzerman endured the trade talk and continued to put up points, eventually bringing the Stanley Cup to Hockeytown USA in 1997.
Yzerman's loyalty and excellence as a player earned him a position as the assistant general manager for the Red Wings upon his retirement; a position which spring boarded him to his general manager position for the Tampa Bay Lightning.
4. Daniel Alfredsson, Ottawa Senators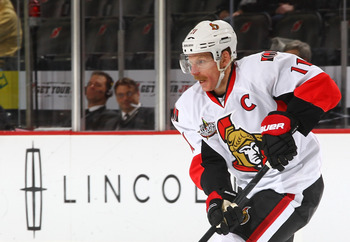 Al Bello/Getty Images
Daniel Alfredsson wasn't drafted at a very high spot, going 133rd overall in the 1994 NHL draft.
But that didn't stop him from winning the Calder Trophy in 1995-96.
Alfredsson missed the first five games of 1997-98 because of a contract dispute, but as a Calder Trophy winner, I think he could ask for a bit more money.
Alfredsson has held the captaincy since the holdout of Alexei Yashin, and he has remained with the Senators despite the fact that he's never won a Stanley Cup championship and has only been to the Stanley Cup Finals once.
Alfredsson has had chances to leave, because his contract expired in 2008-09, and he also could have left during the lockout in 2004-05.
But Alfredsson will likely retire a Senator, as he has one year left on his contract after this season.
3. Jarome Iginla, Calgary Flames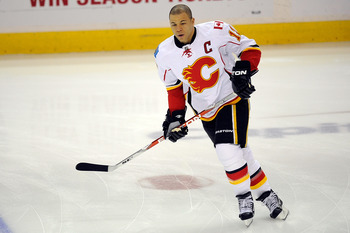 Patrick McDermott/Getty Images
People might argue that Jarome Iginla is not loyal because he makes $7 million a year and he has a "no movement" clause in his contract.
I would turn to them and ask: "ARE YOU CRAZY?"
Jarome Iginla should be playing on any other team other than Calgary.
This guy is one of the most talented players in the league, probably top 15 most talented players in the league.
He has not had any talent to play with since the lockout other than Olli Jokinen, and he isn't in the same league as Iginla.
Iginla broke onto the scene in 1997-98 and put up a 50-point rookie season.
He has since hit 50 goals once, in his 98-point season in 2007-08.
Iginla is one of the best power forwards of all time, and aside from goaltender Mikka Kiprusoff, Iginla is essentially the only great player that Calgary possesses.
And they wonder why they haven't won a Cup since Lanny MacDonald and Mike Vernon played there in 1989.
Good thing Iginla is so loyal to Calgary.
2. Rick Nash, Columbus Blue Jackets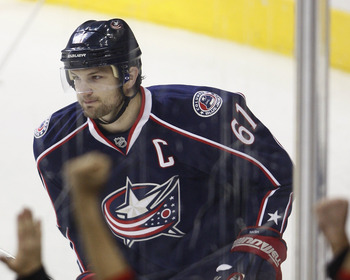 John Grieshop/Getty Images
Since his 2002-03 rookie season in Columbus, Rick Nash has also never had any talented linemates or teammates for that matter.
That changed this season when the Blue Jackets brought in Jeff Carter from the Flyers and James Wisniewski.
Carter broke his foot.
Wisniewski got suspended in the preseason and then was injured after that.
Nash's troubles continued.
The former first overall selection in 2002 had 41 goals and 57 points in his sophomore season, but he has had to pull the rope largely by himself.
That is largely why the Blue Jackets have missed the playoffs four out of the last five seasons; and the season they made the playoffs, they were swept in the first round by the Detroit Red Wings.
It's a good thing Nash has a cap hit of $7.8 million a year (per Cap Geek) and a no trade clause for the duration of his contract which extends through 2018, because if he didn't I'm not sure he would be around the Blue Jackets for much longer.
To stick around through 2018?
Well that's just loyalty right there.
1. Shane Doan, Phoenix Coyotes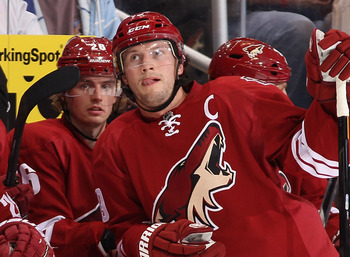 Christian Petersen/Getty Images
Doan has never changed teams in his career.
He has, however, changed cities, moving after playing his rookie season in 1995-96 in Winnipeg, and then moving to Phoenix the year after.
Doan is a free agent after this season, and he has a no movement clause in his contract.
Will the 35-year-old come back to the Coyotes?
Not many would play for the "Desert Dogs" with only 11,423 people showing up per game (per ESPN.com).
That's only 66.7 percent of arena capacity filled.
In terms of loyalty, with no fans, an ownership crisis and a team that cannot afford to go after big name free agents or even keep its own pending free agents (Ilya Bryzgalov), why would someone like Doan want to play in Phoenix?
Because Doan is obviously loyal as anything to his team, and that's why he takes the No. 1 spot on most loyal players in the NHL.
For more article updates, Follow @isaacesmith91
Keep Reading

Detroit Red Wings: Like this team?