Marreese Speights Can't Fill in for Memphis Grizzlies' Injured Zach Randolph
January 4, 2012
Rob Carr/Getty Images
Zach Randolph is reportedly missing eight weeks, and the Grizzlies have traded for Philadelphia 76er power forward/center Marreese Speights.
The former 76er may be be remembered nationally for his minimal role on Florida's second national championship team with Joakim Noah, Ronnie Brewer and Al Horford, or for being a statistical darling about two years ago.
ESPN's John Hollinger ranked the big man 35th in the NBA in his 2009 PER projections, one spot below Zach Randolph and one above Lamarcus Aldridge. 
It makes sense that Speights would look very good in a linear weighted system like PER.  
His rookie year his per 36 minute stats were 17.3 points, .9 assists, 3.5 offensive boards, 1.6 blocks and only 1.3 turnovers. Those per 36 numbers and his shooting percentages have stayed relatively level in his three years, but Speights never got the minutes Hollinger envisioned in his second year and played only 11.5 minutes in his third season last year. 
Largely because he averaged 5.9 fouls per 36 minutes last year. Speights will have to find a way to lower those numbers to be a meaningful contributor in Randolph's absence. The trouble seems to be that Speights' physical defense is one of his strengths. 
His Synergy defensive stats reveal that he allowed only .74 PPP (points per possession) last year, good for 16th in the whole league. And he was particularly good against post-ups, allowing only .71 PPP. 
Marc Gasol is also very good in this area, though, and Speights' skills may be somewhat redundant. Most teams only have one good scorer in the post you need to worry about. Nevertheless, an extra big body that can defend is always nice to have. The Warriors just spent $7 million on someone who might not be any better than Speights.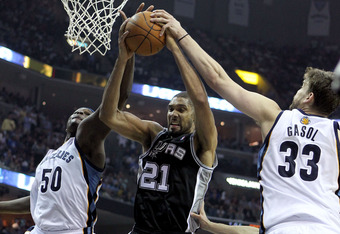 Andy Lyons/Getty Images
While Speights may still be a promising young player with some good scoring stats, we will never mistake him for Randolph. Speights used only 13.4 percent of his possessions on post-ups, scoring .72 PPP, compared to Randolph, who used 39.9 percent of his in the post scoring .89 PPP
As Sports Illustrated's Kevin Lowe pointed out, losing the big part of Memphis' two-man post game throws off their entire unique identity.
Rudy Gay, O.J. Mayo and Mike Conley will be asked to shoulder a greater offensive load and might be able to do so decently, but the Grizz will be different. 
If Speights can not foul and and still play solid defense while scoring a bit, the Grizz should be happy. If there's one thing last year's team taught us, it is that your play going into the playoffs, as long as you make it, is much more important than your play in January.