NFL: Adrian Peterson, Maurice Jones-Drew and Players Who Will Never Win a Title
January 4, 2012
Patrick Smith/Getty Images
The 2012 NFL Playoffs are just a few days away, and, once again, a number of superstars will be watching from their couches and not the sidelines. In the NBA, your legacy can be made with a championship ring because of the small roster size; however, the NFL has superstars that might never have a chance at hoisting the Lombardi Trophy.
Whether they were drafted by an underachieving team or fell victim to injuries or a bad roll of the dice in free agency, there are some talented NFL players who will go down with the likes of Barry Sanders and Charles Barkley.
Adrian Peterson could go down in NFL history as one of the greatest running backs of all time. He has the "never quit" mentality of Jim Brown and the determination of Earl Campbell. The Minnesota Vikings took Peterson in the 2007 draft. Until 2011, he put up at least 1,100 yards every year.
If he didn't have the knee injury this year, Peterson would have compiled another 1,000-yard season easily. When Brett Favre played for the Vikings, they were an interception away from reaching the Super Bowl. Many think that was AP's big chance at the big dance.
Now, without a solid starter at quarterback and with the emergence of the Green Bay Packers and the Detroit Lions in the NFC North, it looks as though the Vikings won't win a Super Bowl with Peterson.
Meanwhile, Maurice Jones-Drew was playing for respect by the end of the 2011 NFL season. He has been the face of the Jacksonville Jaguars franchise since 2006. He won the rushing title this year with 1,606 rushing yards.
Surely he would trade that title in for an NFL title.
The Jaguars recently fired Jack Del Rio and are having issues about the franchise moving to another city. It seems as if the team is in rebuilding mode and doesn't really have an identity.
It's truly sad to see a player who can run and catch out of the backfield and is great on blitz pickup playing for a team that has no other weapons. Teams are stacking the box waiting for Jones-Drew, but he still somehow finds a way to stay upright.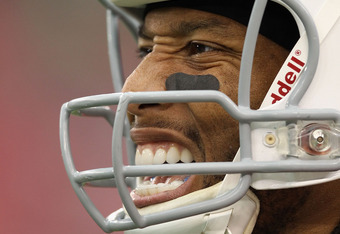 Christian Petersen/Getty Images
Many teams passed on the Jones-Drew in the draft because of his size. If he ever wants a title, he will need to find another team while his knees are still in working order.
Larry Fitzgerald is probably the most refined wide receiver in the NFL. From his time as a ball boy for the Minnesota Vikings during the careers of Randy Moss and Chris Carter to having specialized visual training from his father, everybody knew Fitzgerald would make a splash quickly.
The Arizona Cardinals just didn't have enough to beat the Pittsburgh Steelers in Super Bowl XLIII.
Now that Kurt Warner has retired and the Kevin Kolb experiment is still an experiment, fans wonder if Fitzgerald will stay happy in Arizona. Being in the NFC West might help his chances of playing in February, but that is just one very small piece of the puzzle.
A wide receiver's shelf life is usually longer than a running back's, so maybe the tide will turn for the All-Pro.
One thing that can be noted about all these players' teams is their lack of true franchise quarterbacks. That is the key for any consistent team in this new era of offense in the NFL. If any of these players want a title, they will need to get out of town or find a field general who can lead then in January.
Any team would love to have these weapons at their disposal.