Portland Trail Blazers Are Flying Under the Radar in the Western Conference
January 4, 2012
Lob City. Reining championship Dallas Mavericks. Aging Los Angeles Lakers. The new favorite team to win the West: Oklahoma City Thunder. 
With the beginning of the NBA season on Christmas Day came a lot of hype in the Western Conference surrounded only these topics. These were the big stories that captivated headlines everywhere.
After five games, however, the 4-1 Trail Blazers are the new team making noise. But don't tell anyone—it's seems as if they thrive flying under the radar. The preseason buzz around the Blazers had most analysts picking Portland to finish near the back end of the West playoff teams.
And with the news of Brandon Roy retiring two weeks before the season, Greg Oden still suffering from injuries and a surprising heart surgery on star forward LaMarcus Aldridge, it had seemed as if the Trail Blazers were on the decline. 
But now after their latest 103-93 win in Oklahoma City, it's obvious the Blazers have arrived as a top-tier team, looking to contend for the West crown when playoffs come around in April.
Yes, it is early in the season with many games still to come, but with the West being so wide open, it looks like the Trail Blazers may be a new team to keep an eye on going forward.
The Blazers have a very strong lineup, including a new acquisition in Jamal Crawford, in what seems to be the biggest steal of all free agents signings this past offseason. A nice addition coming off the bench supporting the already solid nucleus of the starting five.
Against the Thunder on Tuesday, the Trail Blazers performed brilliantly getting key contributions from Aldridge and Wesley Matthews (combined for 46 points). But the real story was defense down the stretch getting key stops when it mattered most. The play of Gerald Wallace specifically against MVP favorite Kevin Durant was huge, holding the superstar to 8-for-26 shooting from the field.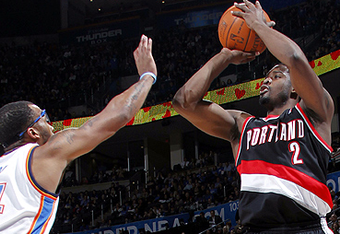 Nicolas Batum also showed up huge without producing huge numbers, but providing a strong defensive performance getting key blocks, rebounds and offensively, hitting threes consistently throughout the game.
This win against Oklahoma City has been their best performance this season playing what seems like the strongest team in the West in the Thunder.
While Portland may not be a contender in the eyes of the media, the Blazers have several play makers that can beat you in so many ways, and are continuing to prove this from the outcome of their early games.
As this shortened 66-game season wears on, it looks as if the all-important team chemistry will only grow for the Trail Blazers, a key factor that should propel the Blazers into the elite teams in the West, and further on into the playoffs.