Nate Robinson: Former Dunk Champion Reportedly Set to Sign With Golden State
January 3, 2012
Elsa/Getty Images
Free agent guard Nate Robinson is set to sign with the Golden State Warriors, multiple sources have confirmed to the Mercury News.
Robinson was bought out of his Oklahoma City Thunder contract before the season started, and it's surprising that it took so long for a team to sign him since he provides a lot of scoring off the bench.
Robinson was traded to the Thunder last season after playing 55 games for the Boston Celtics. After being a big part of Boston's bench, Robinson made only four appearances for the Thunder.
The fiery guard may sign with the Warriors as soon as Wednesday, and would be a fine addition to the Warriors bench.
On Tuesday, Sam Amick of Sports Illustrated tweeted some information about Robinson's contract with the Warriors.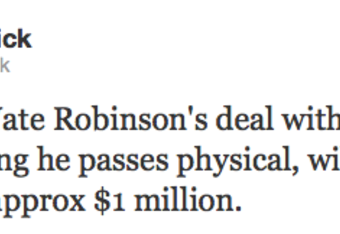 Robinson is a versatile guard who can play either the point guard or shooting guard position on offense, and his passing ability is underrated.
His true value however, is his scoring off the bench. Robinson can change the momentum of games with an offensive spark that energizes his teammates.
He is capable of scoring 10-20 points off the bench, and with an athletic team such as the Warriors, Robinson is a perfect fit.
Golden State is normally one of the highest scoring teams in the NBA, but through five games they are just 2-3 and have only averaged 89.4 points per game, the sixth fewest total in the league.
At the start of the season, franchise point guard Stephen Curry was battling an ankle injury, so Robinson will provide a quality backup to rookie head coach Mark Jackson if Curry misses more time with that injury.
Nicholas Goss is an NBA Featured Columnist at Bleacher Report.