Sugar Bowl 2012: Denard Robinson Will Run the Hokies out of Their Shoes
January 3, 2012
Gregory Shamus/Getty Images
The Virginia Tech Hokies better be careful tonight at the Sugar Bowl because Michigan Wolverines quarterback Denard "Shoelace" Robinson is going to have them coming out of their own shoes in this BCS bowl game.
This season, Robinson has been one of the most elusive players in college football, running for 1,106 yards and punching 16 touchdowns with his feet. While running the ball has become a prominent part of his playing style, he can be a true quarterback as well.
With his arm, he has thrown for 2,056 yards and tossed 18 touchdowns. Robinson has become a true dual-threat quarterback, and the Hokies are going to have their hands full in trying to stop him from all different angles.
The Hokies are only allowing their opponents to gain 116.7 yards per game on the ground, but they haven't faced a passer quite like Robinson this season.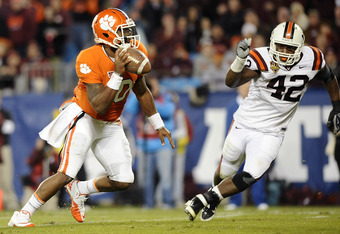 Jared C. Tilton/Getty Images
The only two games where the Hokies got killed on the ground were against the Miami Hurricanes and the Georgia Tech Yellow Jackets. While the Hurricanes didn't have much of a threat with their quarterback, the Yellow Jackets were able to get quarterback Logan Thomas out of the backfield.
In that game, the sophomore quarterback was able to run for 70 yards with two scores on the ground. Thomas wasn't nearly as effective as Robinson this season, so that should fare well for the Wolverines in this game.
Also, the Hokies are coming off a bad performance in terms of stopping the run in their ACC title game against the Clemson Tigers. While they have been pretty effective all year in stopping the pass, they just couldn't slow down the Tigers, who accumulated 217 yards on the ground.
The Hokies will have to hope that they will be able to find their groove once again in this BCS game.
While it remains to be seen how Robinson will fare against a team that has had a few weeks to prepare for him, one can imagine that it is pretty tough to replicate what he can do on the field no matter how much you practice for it.
The Wolverines will have to hope that Robinson will be able to continue to find the magic that he did against the Ohio State Buckeyes in their final game of the season. In that game, he ran for 170 yards while scoring two touchdowns. 
He wasn't bad through the air, either, completing 14 of his 17 passes for 167 yards and three scores. If the Hokies just read all that, they should be shaking in their cleats coming into this game.
It will certainly be a show tonight when Robinson hits the field. Once he receives the snap, there is no telling what he can do. Whether he throws the rock or decides to take it for a stroll, he will make things happen for this Wolverines offense.
Even though Robinson doesn't tie his shoes, it will be the Hokies whose shoes will be falling off in their pursuit to stop the opposition.