Iowa Hawkeyes Basketball: How Big Was the Win in Madison over the Badgers?
January 3, 2012
Andy Lyons/Getty Images
Just hours after the Iowa football team laid an egg at the Insight Bowl in Arizona, the Iowa basketball team came through by giving Iowa fans something to cheer about.
Iowa went into Madison and beat Bo Ryan's Wisconsin team. This does not happen to Wisconsin. Iowa is only the second unranked team to beat Wisconsin at home in Bo Ryan's tenure.
This was also Iowa's first win over a ranked opponent on the road since 2006.
Fran McCaffery called it a "statement win". It was indeed.
Iowa came in to the Kohl Center Saturday unafraid of the 11th ranked Badgers. After the way Iowa played against Campbell, Clemson, Creighton and Iowa State, maybe they should have been a little afraid.
Iowa forced Wisconsin into an abysmal shooting day. The Badgers were just 3-28 from 3-point land. This is a far cry from the games against Creighton and Clemson, where the Hawks were absolutely lit up from downtown.
The defense also stepped up late in the game when needed. After Melsahn Basabe's untimely technical foul, which allowed Wisconsin to cut the Iowa lead to six points, the Hawkeyes responded. Devyn Marble, who has quietly become one of the top players in the Big Ten thus far, stepped up his game on the defensive end by stifling Jordan Taylor.
Taylor continually tried to get around Marble for a drive into the lane, and attempted to get Marble off his feet. Marble wouldn't bite on the fakes. This was a huge change from the crunch time defense displayed in Iowa's loss to Purdue last week, which saw Iowa's perimeter defenders being left in the dust, and the bigs not helping out when needed. Defensively, Iowa was a different team.
The game is not the whole story here though. The story is what this win does for Iowa's future, this season and beyond.
For starters, it gives Iowa confidence going forward that they have not really had in years. Last season's big win, over Purdue at home, came on the regular season finale. They had a nice win in Bloomington against Indiana, but that Indiana team was not this year's Indiana team. This is the signature win to date for Fran McCaffery as the Iowa head coach.
Secondly, this games showed a couple things personnel wise. One, is that Basabe looks just fine. The early season worries about him are not real concerns anymore. Two, Bryce Cartwright finally looked like Bryce Cartwright again. This is huge for the Hawks. With the emergence of Marble, along with a healthy and attacking Cartwright, the Hawkeyes have a very dangerous backcourt. Also, we learned Aaron White is a big time player with big time balls. He took shots that a lot of freshmen would be scared to death to take.
The third major thing that came out of this game is the revelation of who can not be in the game during crunch time. The Devon Archie experiment seems to be over. Josh Oglesby is looking every bit the freshman he is. Eric May still looks lost at times, and Zach McCabe just can't seem to string two good possessions in a row together.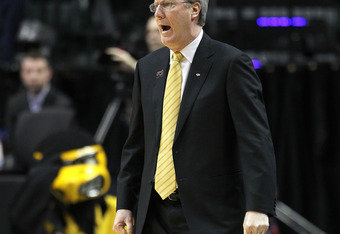 Andy Lyons/Getty Images
Fourth, the Hawkeyes have a great recruiting class coming in next year. I do not for a second wish to say that any of their incoming freshmen are not as honorable as me and you, but who knows? A winless Big Ten season, which was a real possibility after the rough non-conference games, wouldn't have looked too good to them. It would have been very easy to jump ship for greener pastures. Now, this Iowa team has shown it can make adjustments, handle adversity and can play some top notch basketball. This just gets those recruits more energized to be a Hawkeye.
Finally, a win like this will help put butts in the seats at Carver. Iowa saw fans coming back towards the end of last season. So far this season, there are a lot of empty seats visible on TV. The Hawkeyes start showing they can not only hang with, but beat, the best teams in the Big Ten, and suddenly those seats are not so empty.
One win is one win, but this win meant a little more. Iowa goes to Minnesota tomorrow night, which is always a tough place to play. They then come home to play Jared Sullinger and Ohio State. Both of those games are extremely tough, but the Hawkeyes now have some confidence.
Iowa has a lot to gain in the next two games and not a lot to lose. This win over Wisconsin was a great confidence builder and will stay with the Hawkeyes for the remainder of the Big Ten season.
Let's hope the Hawkeyes can build on the win in Madison, instead of resting on their success. I have a feeling with the fiery Fran McCaffery running the show, we won't have to worry about being satisfied.