Manchester City Transfer Rumours: Mario Balotelli and Players Who Must Be Sold
November 7, 2016
Michael Regan/Getty Images
Manchester City must sell Mario Balotelli and Carlos Tevez In the January transfer window because the troubled forward duo are not worth the headache to manager Roberto Mancini. It appears that Serie A club AC Milan are willing to make a move for both players.
Mancini needs to get rid of players who bring the club down with their unneeded distractions. He would also be smart to get rid of players who don't get a lot of playing time that desperate clubs would overpay for, such as Wayne Bridge.
Let's look at four players Mancini must sell in the January transfer window to raise some funds and eliminate distractions.
Mario Balotelli
The Italian forward has played well for Manchester City this year and has scored eight goals, with two of them coming in a spectacular performance at Old Trafford during a 6-1 win against Manchester United on October 23.
However, Balotelli has given the club too many distractions. He's had his issues with teammates and managers throughout his career.
Manchester City knew about Balotelli's maturity issues before they bought him from Inter Milan. Balotelli and former Inter manager Jose Mourinho didn't always see eye-to-eye either.
Balotelli's former Inter teammate Davide Santon recently spoke about Mario, via Soccernet:
"We often speak and sometimes we meet up," Santon told Sky Sport Italia. "He doesn't have a proper smoking habit, he is just a quiet boy who wants to have fun.

"I do not know what he wants to do in the future because sometimes he says he wants to return to Italy and sometimes he says he wants to stay a long time with City."
Balotelli does have immense talent, but his distractions simply aren't worth it for City, especially when the club has enough attacking talent to score enough goals without him.
Carlos Tevez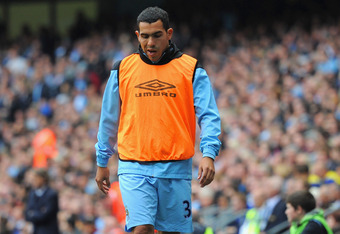 Michael Regan/Getty Images
The troubled Argentinian forward has been an absolute nightmare for Roberto Mancini this season after he refused to go into a Champions League match earlier in the year.
City wants to sell Tevez on a permanent deal, but they have been unable to find many clubs looking to do that because a loan would allow his new club to determine if he's worth purchasing long-term.
Mancini seems set on selling Tevez in January, and it's a move he has no choice but to make. Tevez is still a world-class forward, and City should be able to get a handsome transfer fee for him.
AC Milan looks like a possible destination for Tevez, and Mancini should make this opportunity with the Italian side work at all costs.
Samir Nasri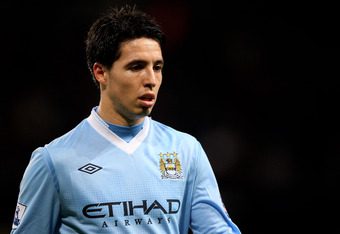 Alex Livesey/Getty Images
The Frenchman is rarely used in Mancini's squad in important matches, so there's really no point in having such a talented midfielder ride the bench.
Nasri is a good player, but he's not a world-class player—not yet anyway—and with teams such as Manchester United very desperate for players like Nasri in the midfield, City could sell the Frenchman for a big transfer fee.
Gareth Barry and James Milner are more valuable to Mancini in the midfield than Nasri because those two players have solid defensive abilities.
With Yaya Toure and David Silva excelling as playmakers, the club doesn't need Nasri to play consistently to win matches.
Wayne Bridge
The center back is not a regular part of Mancini's starting XI, and the club would be wise to sell him to Premier League team desperate for defense, such as Arsenal.
The Daily Mail has reported that Bridge is on Arsene Wenger's list of possible targets. The Mail is also reporting that Bridge is free to depart from the club:
Former England international Bridge has been told he can leave Manchester City whenever he wants and could make a loan return to London, seven months after completing six-month spell with West Ham.
City isn't going to use Bridge this season with Kolo Toure, Vincent Kompany and Joleon Lescott proving to be capable center backs.
Mancini might as well get something for Bridge in the January transfer window, because there are several English clubs in dire need of defense.