Mississippi State: Vick Ballard Is the Most Underrated Player in the SEC
January 3, 2012
College football is the greatest sport in the United States, but it also has the most flawed system as well. The current system of rewarding teams and players is built more on the popularity of the football program than the overall resume.
Because of this flawed system, each season there are football programs and individual players who fly under the radar because of this corrupt system.
A prime example of this injustice is Mississippi State running back Vick Ballard. Ballard has been one of the most consistent running backs in the SEC over the past two seasons but rarely gets the exposure he deserves.
Ballard has rushed for 2,157 yards and 31 total touchdowns over the past two seasons but with little fanfare outside of the state of Mississippi.
This past weekend I watched from the press box as the senior rushed for 180 yards and two touchdowns on 14 carries against Wake Forest in the Franklin American Mortgage Music City Bowl.
After the game I had a chance to speak with Ballard and I asked him if he used the lack of respect he got from the media as a motivating factor. His face lit up with that question and he responded: "Absolutely. When you know you are as good as other players but don't get the same respect it motivates you. It makes you work that much harder."
For those who do not follow the Bulldogs closely, you might think that is a stretch. However, compare his stats to the other top running backs in the league and you might be surprised.
| | | | |
| --- | --- | --- | --- |
| Name | Attempts | Yards | TDs |
| Vick Ballard | 379 | 2,157 | 29 |
| Trent Richardson | 375 | 2,283 | 26 |
| Michael Dyer | 424 | 2,335 | 15 |
| Zac Stacy | 267 | 1,524 | 17 |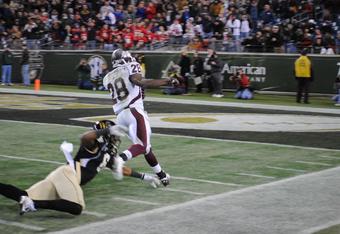 The stats back up Ballard's claim that he is one of the top running backs in college football.  Ballard didn't have Cam Newton like Dyer or a run-oriented offense like Trent Richardson. Yet his numbers have been on par with those running backs.
Don't think for a moment that Ballard is prideful or arrogant. In fact, he is one of the most humble young men I have ever interviewed. For example, when asked him about his two big runs in the Music City Bowl and what he seen, he said: "To tell the truth, I really don't remember. I just know the other 10 guys on the team did a great job to get me open."
Outside of his humility, the other thing that stood out to me about Ballard was his love for Mississippi State and the state of Mississippi in general.
Ballard came to Mississippi State after two years at Gulf Coast Community College. Rivals had him as a 3-star running back, and he only had offers from Mississippi State and Troy.
The lack of offers did not matter to Ballard because no college in the United States could have lured him from his home state of Mississippi, and as far as Ballard is concerned there is only one D1 college in Mississippi and it is located in Starkville.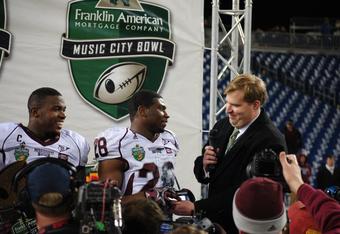 Ballard came to Mississippi State with little fanfare, and despite two great seasons he will leave with very little personal hardware. But mark my words, you have not seen the last of Vick Ballard.
After his big bowl game he accepted an invitation to the Senior Bowl. I will be in Mobile, Ala. to cover the whole week of activities during Senior Bowl week. However, I already know Ballard will show up and show out.
Several NFL teams will pass on the 5'11 and 220-pound running back. However, someone will take a shot and they will never regret that decision.
His career is not over, but his time in the SEC is. However, the league is a better place because Ballard was in it.