NFL Wild-Card Round: Matt Ryan and the Weekend's Underrated Stars
January 3, 2012
Kevin C. Cox/Getty Images
The NFL Wild Card Round is always a weekend for unsung heroes to shine. We saw it last year with Marshawn Lynch's insane run against the New Orleans Saints and we will see something special in at least one of this weekend's four playoff games. 
The trick is to find the player that has not been given the chance to shine on a consistent basis and the matchup that will allow him to flourish. 
So which under-the-radar players will shine brightest when the postseason starts?
Matt Ryan, QB, Atlanta Falcons
It is not everyday you find a quarterback that threw for over 4,000 yards and 29 touchdowns flying under the radar, but Ryan does not play a flashy style that is going to get him a lot of attention. 
Instead, Ryan is content to be a solid producer that allows the playmakers around him the chance to show what they can do. 
The Falcons need him to play like an elite quarterback against the New York Giants. He has played in two playoff games in his career with nothing to show for it. He has just 385 yards and three touchdowns so far. 
He has never had as many weapons at his disposal as he has right now, so there will be no excuses for him not to put up big numbers. 
Pierre Thomas, RB, New Orleans Saints
Thomas has never been given his due as an all-around running back because he gets overshadowed by Drew Brees and all of the big plays he produces. 
The Saints are never going to be a running team, which is why Thomas' value lies in his ability to catch passes and defend against the blitz. 
Going up against the Detroit Lions' anemic run defense should be enough to get Sean Payton to call a couple more runs and Thomas will find a way to break at least one big play in this game. In a high-scoring affair, which this game promises to be, the smallest hole can make the biggest difference. 
Isaac Redman, RB, Pittsburgh Steelers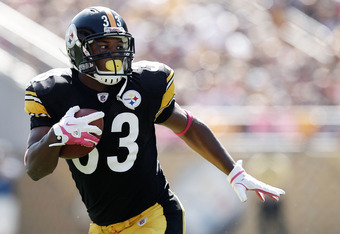 Jared Wickerham/Getty Images
The Steelers lost Rashard Mendenhall to a knee injury in the final week of the season, which means Redman will get the lion's share of the carries for the rest of the year. 
Redman might actually be an upgrade for them, though. He is a faster runner than Mendenhall, so he is capable of going around a corner to break a run. 
The Steelers seem to be flying under the radar, though it is possible that's because they are playing the 8-8 Denver Broncos this week. 
When the Steelers go into Sports Authority Field and win by three touchdowns, Redman's performance will be all anyone will talk about. 
Jerome Simpson, WR, Cincinnati Bengals
If it weren't for his Superman front-flip into the end zone against the Arizona Cardinals two weeks ago, a lot of fans might not be aware of Simpson's existence. 
But don't think that he is just a one-trick pony. He has a tremendous amount of talent that he has just been waiting to unleash on the playoff stage. 
Simpson was a non-factor when the Bengals played the Houston Texans earlier this season with just two catches for 38 yards, but he will learn from that game and add a few more highlights to his reel when all is said and done.