Oregon Football Helmets: Ducks Bring Swagger to Rose Bowl
January 2, 2012
Harry How/Getty Images
The Oregon Ducks made sure that the steak and the sizzle would be displayed in full glory as they played with new helmets at the 2012 Rose Bowl. 
The Ducks and Wisconsin Badgers came in with new uniforms on Monday afternoon in Pasadena. In a rare turn, both teams knocked it out of the park. Wisconsin made sure to tweak tradition by simply adding small touches to the classic jersey. 
Their helmet had a rose embedded into the "W" and was something that only a close observer would notice. Subtle goes a long way in the cool department. Now that we got our love for the Badgers out of the way, it's time to discuss the real star of the Rose Bowl.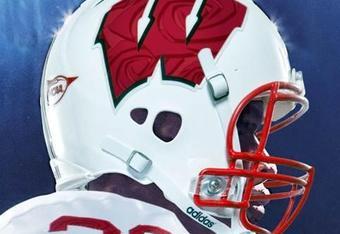 The Oregon Ducks are always thinking fashion forward, and January 2nd was no different. Their helmets are a shiny metallic that has silver Ducks wings adorning either side of the helmet. Here is a picture of the helmet that while beautiful, is no doubt polarizing.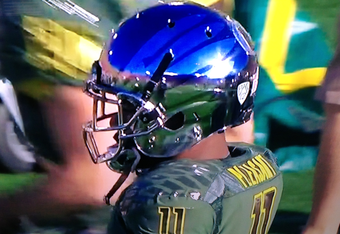 When you come on the field with something flashy like that, you better back that up with equally flashy play. That is what I love most about the helmets. Sure they may be futuristic looking, but they fit a team that is all flash and bang. 
Oregon isn't going to beat you with nuanced defense. They are going to run and pass their way to an enormous score. They are the most entertaining team in the nation to watch. So, the best show in the nation needs uniforms that fit the mold. 
Obviously, there are going to be those that hate the sight of these in your face helmets. Oregon has never shied away from pushing the envelope of what is good taste. I will be the first to admit that they have failed miserably before. 
These helmets are pure swagger, though. 
Some might even contend that this team is far too interested in looking good on the field. Well, you are damn right they do, and every team should follow suit. 
I am not about to say that dressing well makes you play better, but it certainly doesn't hurt. And at the very least, the program gets a great deal of run with fans. 
Oregon and Wisconsin may still be duking it out at the Rose Bow, but the Ducks already won the battle of uniform swagger.