Rose Bowl 2012: Check Out Oregon's Funky New Helmet
January 2, 2012
Oregon has always been the leader of exciting new apparel, but this new helmet takes the cake.
For the 2012 Rose Bowl, the Ducks will unveil a shiny new helmet that looks more like you are staring into a mirror.
Aesthetically, the helmets look great. Although it does not seem to include the normal green that Oregon is used to using, it will do what the team always likes to do: surprise people.
Nike founder Phil Knight, an Oregon alum, has been the leading force behind Oregon's ability to come out with new uniform combinations every week. Each one seems to be noteworthy, but the team always seems to really impress in the bowl games.
Under Armour tried to get into the game this season with the highly controversial flag jerseys at the University of Maryland, but they could not repeat the same buzz throughout the season.
Oregon, on the other hand, has been at the forefront of the jersey game for years.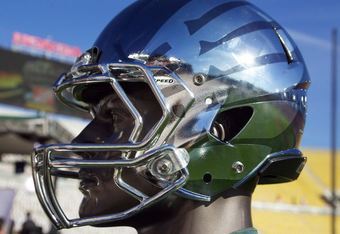 These helmets will be sure to generate some interest and probably cause Twitter to explode, spurring a debate that might last as long as the game itself.
The only question that remains is how the helmets will function on the field.
As the sun goes down, the lights might reflect off the mirror image and cause some vision problems for the players on the field.
Either that or the Wisconsin players might want to stop and see how good they look.