The Top 10 WWE Matches of The 21st Century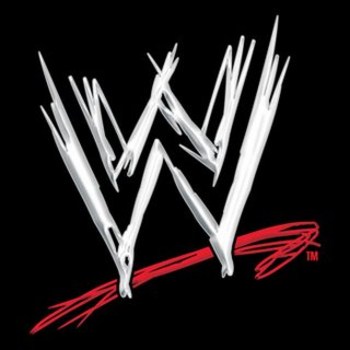 This only my fourth Bleacher Report article so if there are a couple of mistakes I apologize in advance.
I would have loved to have made this a best of all time list but I'm only 14, so I haven't been around long enough to be able to witness some of the supposed all time greats such as Steamboat vs. Flair so I felt it would be unfair and wouldn't be a proper list if I called it an all time list and didn't include some of these matches.
So playing it safe I thought I'd stick to just a 21st century list and include the best WWE matches. I would have also liked to include WCW (remember them!) but considering WCW was only good in the 90's and since the turn of the millenium could only offer us a 300-year-old Hogan vs. Buff Bagwell, I made the list WWE exclusive.
There were about 20 matches that could have made the list so in the end I choose to pick the ones I enjoyed the most rather than the ones that were technically the best (well one match got in the list for precisely that though).
Remember, this is my own opinion so if you don't agree leave a comment offering your views, plus if you feel I've ranked the matches in the wrong order of just completely left them of the list (I'll have probably forget a few off here) leave a comment for that too.
There have been many matches that I've enjoyed this century so I thought it would only be fair to give a couple of matches a mention that just missed the list:
Elimination Chamber (Survivor Series 2002)
Royal Rumble 2000
Royal Rumble 2008
HBK v Y2J Ladder match(No Mercy 2008)
HBK v HHH Last Man Standing (Royal Rumble 2004)
HBK v Kurt Angle (Wrestlemania 21)
So don't expect to see these on the list, all that's left to write now is read, enjoy and comment...
10. Shawn Michaels v John Cena - Iron Man Match (RAW)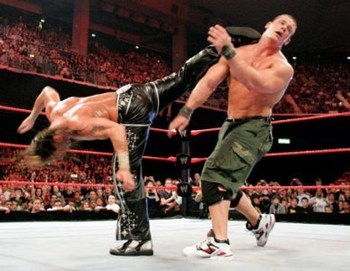 The only RAW match to make the list and it had to include HBK, the most consistently great performer on RAW. This match is more of a testament to the talent of Michaels than two of the biggest superstars in WWE battling it out.
Cena a man of limited wrestling capabilities managed to put on the match of 2007 while working with the showstopper.
Together they thrashed it out for 60 minutes before a brilliant finish (writing about doesn't do it justice) where HBK landed on his feet after an F-U and hit the Super Kick out of nowhere.
9. Money In the Bank IV (Wrestlemania 24)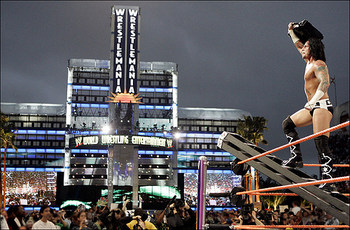 After two good attempts at the previous two Mania's, I was still hoping for something that could better the first match at WM 21 and I got what I wanted and more.
Reduced to 7 participants rather than 8 after Jeff's suspension (it could have been in the top 5 if Jeff had been in the match), the match included some of the best spots in ladder match history (I don't know how to describe it but the Shelton Benjimen sunset flip off a ladder leading to power bombing Mr. Kennedy who was on a ladder who then superplexed Morrison—I think it was Kennedy and Morrison, anyway —off the same ladder comes to mind as one of the highlights).
The only slight disappointment was the ending with CM Punk winning, which I expected a something a little more breathtaking, but it still makes the list.
8. HHH vs. HBK vs. Chris Benoit (Wrestlemania XX)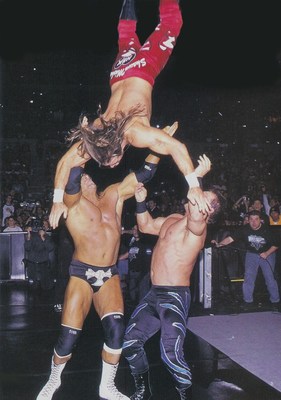 At a Wrestlemania that relied more on who was in the matches rather than the actual matches themselves, the only thing that could save it from being a disaster was the main event, and boy did it deliver!
And for once it used the triple threat stipulation to it's advantage, rather than the clutter of rubbish we see usually.
We saw two men team on ome person with HBK,HHH and Benoit constantly changing roles and then towards the end, two men in the ring at the same time, and just as you thought it was about to end a person previously laid out wrestler on the outside would run in and break up a pin or submission maneuver.
When it did end Benoit made HHH tap out with a fast paced and great finish.
It was awful what Benoit did but you can't say he couldn't put on a good match.
7. Ric Flair vs. Shawn Michales (Wrestlemania 24)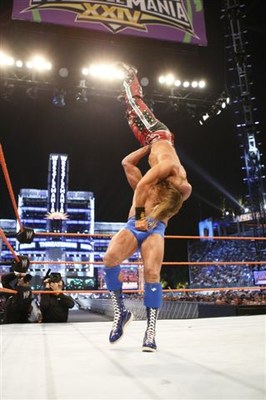 On sheer emotion alone this match would make the list.
An Aging Flair, whose list of maneuvers was made up of the chop and figure four leg lock, put on a match that wouldn't have looked out of place in his A-day.
The HBK victory at the end will be remembered forever and hopefully Flair will stay retired otherwise this memory will be tarnished.
6. HHH vs. Steve Austin - Best of 3 Falls (No Way Out 2001)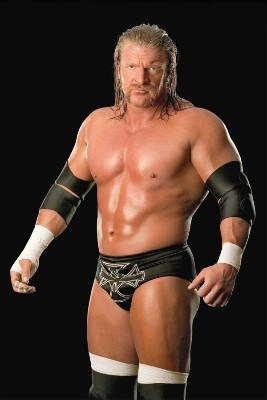 One of few rare occasions where the best of three falls rule was used and worked as three separate matches, the ending was a bit disappointing and far fetched but the rest of the match makes up for it with some good old hardcore moments.
HHH picked up the victory at the end after Austin and HHH each connected with a separate weapons, but HHH landed on top of Austin in the cage match at the end.
6. Chris Benoit v Chris Jericho - Ladder Match (Royal Rumble 2001)
5. Chris Benoit vs. Chris Jericho - Ladder Match (Royal Rumble 2001)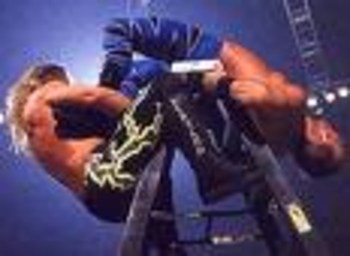 The best one-on-one ladder match in the 21st century (closley followed by HBK vs. Jericho No Mercy 08 which would be no.11 if the list was longer).
The two did everything possible with the ladder and included the iconic Walls of Jericho at the top of the ladder, a move that Jericho pulls off in nearly every ladder match since then.
Jericho was the victor when the dust had settled but Benoit held his own too, taking a contender for most brutal WWE moment of the 21st century when he was hit with a chair while in mid air, OUCH!.
4. Chris Benoit v Kurt Angle (Royal Rumble 2003)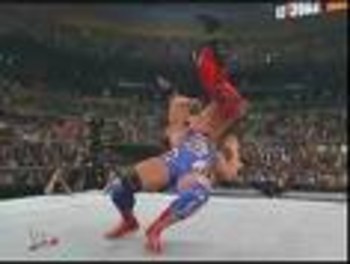 If it was a list of old school 'wrestling' this would come in at No. 1 easily, the best pure wrestling match ever in my opinion.
The two gave it everything they had and put on a match for the ages. Reversal after reversal followed by counter after counter and in the end, it could have come higher, but Benoit was never going to win the title.
Angle won in the end, but one of my favorite wrestling moments occurred in this match when the two traded German suplexes for about four minutes.
3. Dudley's vs. Hardy's vs. Edge & Chrsitian - TLC 2 (Wrestlemania 17)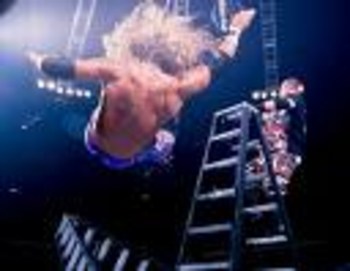 After Summerslam 2001, I couldn't think how they could better the previous performance but it succeded on every level.
This match included the spear off the ladder by Edge on Jeff while hanging on the belts in the air.
The ending was messy, but in the good kind of way where an extra person helped each team Rhino for Chrsitian and Edge, Spike for the Dudleys and Lita for the Hardy Boys.
The amount of times I thought someone had broken their neck in this match was to many too count.
Oh yeah, Edge and Christian won, but that didn't matter after such a great match.
2. HHH vs. Cactus Jack - Street Fight (Royal Rumble 2000)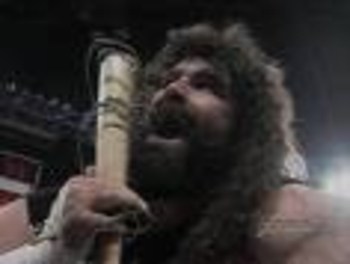 The most gruesome match ever in the WWE (even beating the Mankind vs. Undertaker Hell in a Cell match).
Back in the days when the WWE was fun to watch, the biggest heel in the company faced the crazy Cactus Jack.
It's a shame they stopped the hardcore style matches so 5-year-olds could watch, but its their loss becuase while they are watching matches like Batista vs. Cena, we got to watch matches like this where barbed wire was used and people got shoved into thumbtacks.
HHH beat Cactus after going through hell and everything looked so real (you can't really fake thumbtack in the face).
Mick Foley was the best at putting on matches like this and it's a shame just like the hardcore style matches, Mick Foley is no longer at the WWE.
1. Shawn Michaels vs. HHH - Street Fight (Summerslam 2002)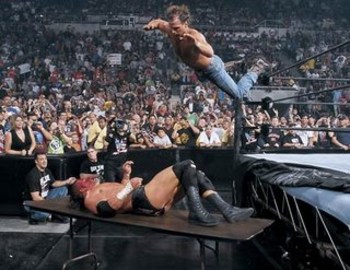 After a broken back and four years on the sidelines, HBK returned and showed us why they called him the Showstopper, my personal favorite match of all-time and not just in the 21st century.
At about half an hour in length, it was amazing to watch a guy who hadn't wrestled in the 21st century come back back and put on the best match of it by jumping off ladders taking huge bumps.
No one expected him to win, usually when a legend returns he puts up a great fight but gets beaten in the end and he was facing the top guy in the company.
The end was brilliant with HBK reversing the pedigree into a roll up and suprising HHH and the fans by doing the impossible.
Throughout the match HBK was hit with chairs and then dropped onto them he was pushed through announcers table, but still, at the age of 40, he carried on and showed us why, in my opinion he is the greatest of all time.
Plus, at the end, there was something no one else saw coming, HBK had done the impossible and beaten his former friend.
Everyone expected HHH to stand up and shake HBK's hand after such a grueling match, but instead, while HBK was celebrating HHH came out of nowhere and took a sledgehammer to HBK's back repeatedly.
HHH had lost but he was the one to walk out of the arena by himself and that last sadistic and bloody grin by HHH said it all.
Keep Reading