Racing Roundup: Tony Kanaan, Jeff Gordon Drive to Wins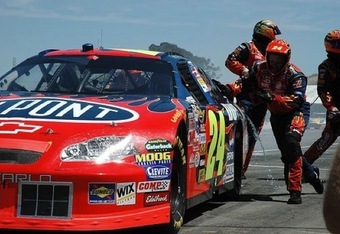 It was a weekend of milestones for Jeff Gordon, who drove to victory in Nextel Cup action at Phoenix International Raceway. Here, Adam Amick of the Rubbin's Racing Show catches you up on all that and more with his weekly Racing Roundup.
Indy Car — Kanaan No "Fuel" at Indy Japan 300
The Twin Ring Motegi oval sees one race a year, when the Indy Car series journeys to Japan. It's a track players of the Gran Turismo family of racing games will be familiar with—a high-speed, egg-shaped course somewhat reminiscent of Darlington, but with low-banked turns.
Tony Kanaan ran up front most of the race, and an abbreviated late fuel stop facilitated by a throttling-back strategy was enough to give him a half-second win over Ganassi driver Dan Wheldon. Kanaan's AGR teammate Dario Franchitti was third overall, with Scott Dixon and Sam Hornish Jr. rounding out the top five.
Wheldon has a three-point lead over Kanaan and a six-point edge over teammate Dixon in the Indy Car points standings. The teams will make the quick trip back home for a race at Kansas Speedway next weekend, where we'll see the debut of sports-car driver Milka Duno in the Indy series.
Champ Car World Series — Bourdais Takes Win, Rahal Impresses
Sebastien Bourdais may have stumbled in the first race of the season, but he's jumped back on his horse and ridden to consecutive wins'at Long Beach last weekend and Houston on Sunday.
Both victories came from the pole for Bourdais. The three-time champion is showing the kind of dominance that could put him on the fast track to a fourth title in a row.
Bourdais' rookie teammate Graham Rahal may emerge as a challenger before too long. The Newman/Haas/Lanigan Racing teammates took the top two spots on the street course around Houston's Reliant Stadium, and Rahal has shown great improvement in three races—from last to ninth to second.
Rookie Robert Doornbos finished a strong third, and Oriol Servia, driving the Forsythe car in place of the injured Paul Tracy, was fourth. Bourdais now has a five-point lead over Will Power, who was 11th at Houston, and has more than six weeks to rest before the next Champ Car race in Portland on June 10th.
American LeMans Series — Houston, This IS a Recording
The ALMS Grand Prix of Houston was a virtual repeat of last week's race at Long Beach.
The Penske Porsche P2 Spyder of Romain Dumas and Timo Bernhard finished first overall for the second race in a row, besting Marino Franchitti and Bryan Herta's P2 Acura by a half-second. The P1 Class Audi R10 of Allan McNish and Rinaldo Capello was third.
The next P1 car in the field, the second Audi, finished 12th overall—behind the two GT1 Class Corvette C6-Rs. And for the fourth time in four races, Ferrari teammates Mika Salo and Jaime Melo won the GT2 Class, outrunning the Porsche of Jorg Bergmeister and Johannes van Overbeek.
The ALMS circuit will visit Miller Motorsports Park outside Salt Lake City May 17th-19th.
Motorcycle Racing — For the Crotch-Rocket Fans
A confession: I have never ridden a motorcycle, and you couldn't pay me to own one. I have a simple theory—if it's me versus the pavement, the pavement is going to win.
The guys who race these things at 150 MPH and scrape the ground in high-speed turns are nuts...to say nothing of the high-fliers from the Supercross world. To quote Tom Arnold from True Lies: "Ballsy. Stupid, but ballsy."
And awfully cool to watch.
My apologies for not paying enough homage to the two-wheelers and their fans. Check SPEED Channel listings or the series home pages to catch up on all the latest from the bike racing world.
Casey Stoner of Australia won the Moto GP Grand Prix of Turkey this weekend, the second win of the season for Ducati in the Middle East (Stoner won Round 1 at Qatar on March 10th). Stoner now has has a 10-point lead over Valentino Rossi of Italy, and is 25 points ahead of Dani Pedrosa of Spain.
The AMA Superbike Series ran a doubleheader at Barber Motorsports Park outside Birmingham, AL—a beautiful, twisting, elevation-changing road course. After appearing to jump the start, Matthew Mladin won the first race on Saturday, with Ben Spies second and Honda rider Miguel Duhamel third.
The same order of finish would hold in the second race on Sunday, as the Yoshimura Suzuki teammates completed the 1-2 weekend sweep.
Formula XTreme saw Honda riders take the top two spots, with Joshua Hayes averaging just shy of 94 MPH to get the win ahead of teammate Aaron Gilbert on his CBR600RR. Steve Rapp of California was third on his Kawasaki ZX-6R.
Detroit hosted Round 11 of the Amp'd Mobile AMA Supercross Series this weekend, and Kawasaki rider James Stewart won his seventh race of the year—putting him in position to wrap up the championship next weekend at Seattle.
NASCAR — Busch and Nextel Cup at Phoenix International Raceway
Friday night found the Busch Series drivers on the flat but fast "Diamond in the Desert" at PIR for the Bashas' Supermarkets 200.
Kyle Busch hadn't had much luck on the mile-long track, but was looking to reverse his fortunes after starting on the pole. Unfortunately, team spotters positioned high above the first turn often have a hard time tracking the cars along PIR's front straight—and Busch's premature attempt to clear Ryan Newman's 12 car put both drivers in the wall.
Clint Bowyer dominated the race after starting second, leading the most laps en route to his first Busch victory of 2007. Matt Kenseth was second and Bowyer's RCR teammate Jeff Burton was third, with Denny Hamlin and points leader Carl Edwards rounding out the top five.
Timothy Peters was the highest-finishing non-Cup driver at 12th. Juan Pablo Montoya led a lap and finished a spot ahead of Marcos Ambrose to close the gap in the rookie standings.
Edwards now leads the Busch standings by 424 points over Dave Blaney, who finished 10th in Phoenix. The teams head east this weekend for the high-banked thrills at Talladega Superspeedway and Saturday's Aaron's 312.
The Nextel Cup Series ran its third "Car Of Tomorrow" race at Phoenix on Saturday night. The one-mile PIR was a transitional test for the COT, as the new machines progress from the half-miles at Bristol and Martinsville to the 1.366-mile Darlington Raceway in two weeks.
Joe Gibbs Racing cars dominated the first two COT races...only to ultimately cede the wins to Hendrick teammates Kyle Busch and Jimmie Johnson. Jeff Gordon finished third and second, respectively, at Bristol and Martinsville.
Gordon took the Phoenix pole Thursday before shining in final practice on Friday. Jamie McMurray started second, quietly continuing the impressive run of the No. 26 Crown Royal Ford.
Once again, the Gibbs cars of Denny Hamlin and Tony Stewart excelled early. A speed violation entering the pits dropped Hamlin from first to thirty-first—and his frustration was evident in post-race interviews, even though he rallied to finish third.
Stewart, on the other hand, led the most laps, and was well ahead of Gordon until a late-race caution jumbled the field. The 24 car was on pit road when a collision between Dave Blaney and J.J. Yeley brought out the caution flag, and some quick work by Gordon's team allowed him to get out ahead of the pace car—and to resume the point after the leaders pitted.
Stewart passed Gordon as the latter was held up by Martin Truex Jr., but the four-time champ battled back to drive away with his 76th career victory.
It was a watershed weekend for Gordon: He tied Darrell Waltrip for fourth all-time with 59 poles, scored his first Cup win at Phoenix, became the first driver to win from the pole at PIR, and tied the late Dale Earnhardt Sr. in career wins.
Gordon flew a "3" flag as he made his victory lap, paying tribute to the man who was a mentor and friend.
Gordon's win extended his points lead to 74 over Jeff Burton, who finished 13th, and 160 over Matt Kenseth, who placed third. Defending Champion Jimmie Johnson came in fourth to maintain that spot in the standings.
The Nextel Cup Series will pull the "Car Of Yesterday" out of mothballs next Sunday for the Aaron's 499 at Talladega Superspeedway.
For more on all things racing, check out
The Rubbin's Racing Show
online at www.rubbinsracingshow.com. The Rubbin's Racing Show: Your Home for Racing Talk—
By
Race Fans,
For
Race Fans.
This article is
What is the duplicate article?
Why is this article offensive?
Where is this article plagiarized from?
Why is this article poorly edited?