How Far-Za Should Detroit Tigers Go for Matt Garza?
January 2, 2012
Denis Poroy/Getty Images
Over the weekend, news broke that the Detroit Tigers were interested in pursuing Cubs starting pitcher Matt Garza, who is better known to Tigers fans as the Tampa Bay Ray who no-hit Detroit in 2010.
The Tigers certainly aren't the only team interested, as Garza rumors have circulated throughout the AL East, with respect to Toronto and the usual suspects in Boston and New York.
The Miami Marlins also appear to be interested. Yet again, they've been interested in pretty much everyone whose name has popped up this Hot Stove League and have indeed managed to land some top level talent.
Will that keep the overly tanned masses of South Beach coming out to Miami's new ballpark, a ballpark that may topple over at any moment, beyond year one? Probably not, but you can't fault the man who single-handedly killed the Montreal Expos for trying.
According to Ken Rosenthal over at Fox Sports, though, the Tigers…
"…might rate the upper hand for Garza if they are willing to include right-hander Jacob Turner in a deal."
In fact, it would appear that the Tigers dealing Turner wouldn't be strictly for a Matt Garza deal, as according to ESPN's Buster Olney, via Twitter, the…
"…Tigers have made it known to other teams that they are willing to trade Jacob Turner in a deal for the right pitcher."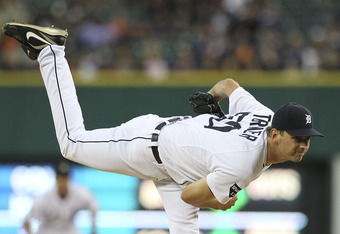 Leon Halip/Getty Images
The fact that the Tigers would be willing to part with their biggest pitching prospect seems a bit peculiar as reports last week had them trying to get back Jair Jurrjens, whom they dealt to Atlanta back in 2007 for error-prone Edgar Renteria in one of the worst trades in recent memory.
While at least in this new deal you would be trading a pitcher for a pitcher, it still appears the Tigers' front office is once again willing to bet the farm (system, that is) on middle grade talent.
Why don't the Tigers give Turner a spot in the rotation? At the very worst, he doesn't work out and they have to go to Plan B. Sure, they destroy his trade value and they're left once again with a hole in the five spot but, as GM Dave Dombrowski has shown himself more adept at making deals/moves in-season than in the off-season (Doug Fister, anyone?), would that be so terrible a predicament?
Or, hey, they could always give Phil Coke another try.
(Yes, that was sarcasm.)