NFL Free Agents 2012: Matt Forte, DeSean Jackson and More Stars on the Move
January 2, 2012
Jonathan Daniel/Getty Images
With the NFL regular season over, it's time to talk draft and the 2012 NFL free agency class.
Stars like Matt Forte and DeSean Jackson may be finding their ways to new teams and shaking up the potential landscape of the NFL.
All of the following players will be moving this offseason, and the NFL as we know it may never be the same.
Matt Forte
The Chicago Bears will be trying to re-sign the stellar running back, but hard feelings developed this season and a knee injury will have Matt Forte taking his talents elsewhere.
The back is needed in Chicago and letting him walk out the door would cause a public relations nightmare, but the divide in the salary asked for could be enough for Forte to take a more lucrative deal with a team looking to improve at the running back spot.
As good as Forte was on the Bears, a move to a team like the Cincinnati Bengals that will be looking for a back with the departure of Cedric Benson would cause a seismic shift in the AFC North.
DeSean Jackson
The Philadelphia Eagles proved that they need some more help, and it will not be by signing troubled wide receiver DeSean Jackson to a long-term deal.
Jackson needs to get out of Philadelphia and get the big paycheck he desires so much. While the Eagles would love to keep him, the trouble he caused this season was too much to make a long-term contract worth it.
I imagine DeSean Jackson walking into the offices of the Oakland Raiders and signing a contract within 15 minutes. He is the burner the Raiders love, and he has the attitude and swagger that Al Davis always loved.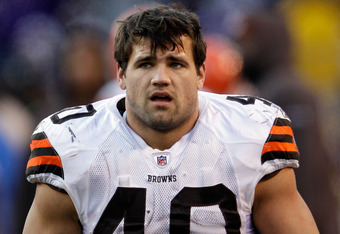 Rob Carr/Getty Images
Peyton Hillis
The Cleveland Browns are picking at No. 4 in the 2012 NFL draft, and they will look to take Alabama running back Trent Richardson. That means Peyton Hillis will hit the open market.
While his stock is far below where it was last season, there are plenty of teams that would love to have the powerful running back. As long as his attitude stays positive and there is a sound backup plan, Hillis would be a great addition to any team.
If Matt Forte does indeed leave the Bears this offseason, I could see Chicago taking the risk and bringing Hillis in on a short-term deal. Worth the shot if they lose one of the best backs in the NFL.
Check back for more on the National Football League as it comes, and check out Bleacher Report's NFL Page to get your fill of all things football.