Tottenham's Title Hopes: Can Spurs Really Win the Premier League?
January 4, 2012
Julian Finney/Getty Images
It is easy in football to assign significance to any one game. It's easy to look ahead and pinpoint a certain fixture as crucial, or to look back and highlight a result as influencing the end of a game.
Truthfully, anyone can designate a certain value to any match, coming up with their own reasons as to why it holds importance in the context of the season. With all this said, for now at least, Tottenham Hotspur's 1-0 victory over West Bromwich Albion felt like an important one in their prospective challenge for the Premier League title.
Going into the game, results over the New Year's weekend had meant three points would give Spurs a healthy cushion over the teams below them and keep them in touching distance of the two above. Of course, there was also the knowledge that this could then be built on a week later, should Everton be defeated in the game in hand.
Why this victory has a sense of significance to it is partly because, knowing the overall benefit of the win, it was a game Spurs might have been inclined to slip up on.
Losses by Manchester United and Chelsea on the weekend, in games they were both favourites to win knowing the boost they would have given to their own campaigns, only too well demonstrated the ease in which a 'sure-thing' can blow up in your face.
Tottenham were naturally tired at the end of a busy Christmas period. Harry Redknapp admitted as much post-match, revealing Luka Modric had said he had "never felt so tired in there."
The injuries to Sandro and William Gallas, as well as Scott Parker prior to the game, probably revealed as much in showing the increased susceptibility to such injuries after such an intense period of fixtures.
Coming away with that 1-0 victory in the face of potential excuses is perhaps a telling sign of the growing determination of the Tottenham players to make the most of a strong first half to the season.
Julian Finney/Getty Images
Emmanuel Adebayor gave the verbal declaration of intent a day prior to the game, telling the club's official website "we have three league matches at home and we have to take it game at a time and try to take maximum points."
On the pitch, this determination was notably shown in the gut-busting display of Rafael Van Der Vaart, demonstrating a veteran sense of responsibility by pitching in a tireless defensive contribution in addition to a typically tidy attacking involvement.
Then of course there was Jermain Defoe. A player rejuvenated this season with greater work-ethic and more intelligent forward play, the striker picked up where he left off prior to his recent injury with a timely winner that spoke volumes of his restored confidence in front of goal.
So Spurs did what they needed to do for now, and indeed over the Christmas period as a whole.
If the home draw against Chelsea felt like an opportunity not taken, the point secured away at Swansea does not feel so bad when considering their strong home form and the further nine points Tottenham took in and around these games in the wins against Sunderland, Norwich and West Brom.
Unbeaten then, taking 11 points and for the time being consolidating third place. No season-long ambitions can be achieved this early, but Tottenham have set themselves up nicely for what comes next.
And what does 'next' mean for Tottenham? Well, Everton is in many ways a similar game to West Brom. A well-organised opponent with the ability to stifle you creatively while giving you a game of it, a victory over the Toffees will create the same sense of gathering momentum as that over the Baggies has.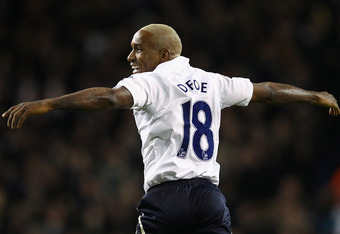 Julian Finney/Getty Images
This is no easy-fixture, but should Spurs take all three points, it will prepare them nicely for a two-month period in which Tottenham's health in the league table will firmly be measured by their own results.
If this sounds blatantly obvious, then consider that with games against Manchester City, Liverpool, Arsenal and Manchester United in this spell, Tottenham will not be so reliant on results elsewhere to hurt their rivals as much as they will be on themselves to do the damage.
Games against Wolves, Wigan and Newcastle come too in this period, and results in these games are just as vital.
But to take points in games against the teams they are competing with for Champions League places and the Premier League title, well the psychological boost alone for Spurs could make the pivotal difference in just how successful they are in the final stretch.
Beating their rivals is easier said than done, and just whether Tottenham can come through this stretch with the advantage in the title race seems doubtful.
Spurs have shown already this season they can beat Liverpool and Arsenal, but away from home they offer sterner tests. Man City are even harder to beat at their place and, while Man United visit White Hart Lane, Spurs arguably have played even worse against them there than they have at Old Trafford in recent times.
This is not to say Tottenham will not pick up one win, perhaps even two or three, against these sides. But even so it is hard to imagine a consistency of victories here and elsewhere that will come close to what City in particular are able to put together.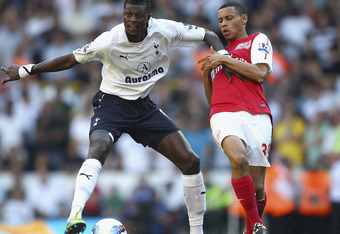 Julian Finney/Getty Images
A top-three finish is a more realistic aim for Spurs, and not one to be sniffed at.
What the Christmas period has helped show is that Tottenham have a resilience about them, and there is little to suggest that this will disappear beyond (at most) a one or two game lapse.
Truly, they have not been comprehensively beaten since August. That is mightily impressive. The one league loss since then against Stoke was disappointing, but one that a more focused Spurs side would have avoided, and indeed one they might have but for refereeing incompetence.
The injury problems that have arisen from the West Brom win will necessitate that Spurs have to readjust from the side that has played mostly since September, but this is not an altogether bad thing.
In fact, Redknapp has already this season made changes and substitutes that have proved beneficial—see Sandro's own recent starting role or the carefully managed use of Defoe and King this season (although for differing reasons).
The sudden lack of defensive midfield steel is a concern, but on the whole using different players can help to freshen up a side, stopping it from growing overly stagnant and keeping players on their toes. Swansea did as much against Spurs on New Year's Eve, making six changes, and those fresher legs earned a good point for the Welsh side.
Spurs can look to quality players such as Michael Dawson, Aaron Lennon, Niko Kranjcar, Roman Pavlyuchenko and Steven Pienaar to come in and make a valuable contribution. They might not offer the overall quality that a King, Modric or Gareth Bale at their best might, but they are good enough to keep Spurs playing the way they like to play.
It is this relative squad depth and quality that makes Tottenham a good bet for the top three. It betters, or at least equals, that at Arsenal, Chelsea and Liverpool; it is enough to make them capable of finishing ahead of them.
City, though, look all but out of reach here, and if United's squad is looking a little bare, the combined experience of their players and a certain Scotsman in charge makes up for this.
Can Spurs really win the Premier League? It is unlikely this year, but the fact that they are capable of challenging is something for all at Tottenham to cherish.