MLB Fantasy Predictions: Ten 2011 Duds to Pick Up in 2012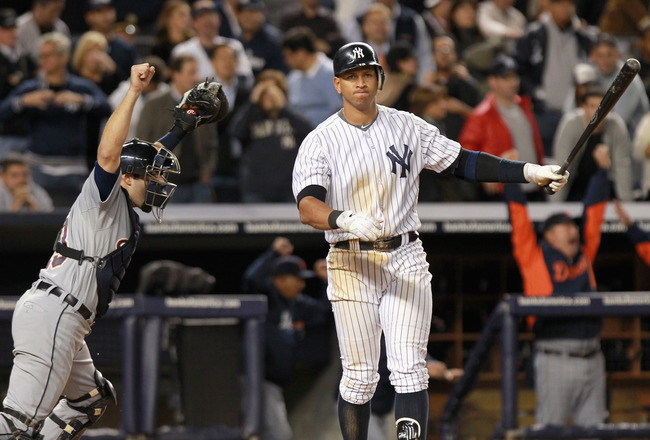 Will A-Rod lead the charge back to success in 2012?
Nick Laham/Getty Images
The 2011 baseball season produced many players having fantastic seasons, putting up monster numbers to help their teams win and to give fantasy owners a tremendous treat, with players like Justin Verlander, Prince Fielder and Jose Reyes lighting up the stat sheet.
It was also full of players that fantasy players invested good picks into, but were sorely disappointed with the outcome. Even with sub-par performances, some players shouldn't be discounted for future leagues. Here are 10 players to look forward to owning in 2012.
Josh Hamilton
Hamilton has not been disappointing, but could certainly be better in 2012.
Ezra Shaw/Getty Images
When healthy and focused, Josh Hamilton can be one of the most electrifying players in baseball, showing natural skills that seem to make the game effortless. Now cleaned up from drug use, his focus is there, but his health has been sporadic, making him a fantasy nightmare.
Hamilton's stats were respectable in 2011, hitting .298 with 25 home runs and 94 RBI in just 121 games. His draft position, however, was not comparable to his performance, making him an essential bust for fantasy players.
It will be tough to ignore Hamilton early in drafts for 2012, and rightly so. He is worth the injury risk, especially if you can hold him off until a middle round. Even if he does miss games, the Texas Rangers' star will still put up sufficient numbers. Expect a rise in all statistics for Hamilton.
Hanley Ramirez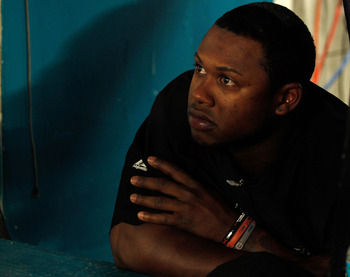 Ramirez will be ready to perform with a re-tooled Marlins team in 2012.
Mike Ehrmann/Getty Images
The term "under the radar" could not fit most players better than Miami Marlins' stud Hanley Ramirez, a shortstop with good power and hitting skill sets. His last two seasons have been very disappointing after an outstanding 2009.
With the rejuvenation of the team with the additions of Jose Reyes and Mark Buehrle, Ramirez may be more inspired, even with a position switch as Reyes comes in to play shortstop.
Look for Ramirez to stay healthy and focused, and put up numbers closer to his career year in '09, where he put up 24 home runs and 106 RBI while batting .342. He might not be worth a first round pick, but he'll be worth a roster spot in 2012.
Carl Crawford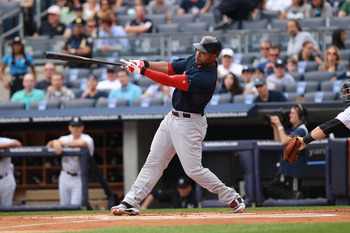 Crawford disappointed in his first season in Boston.
Nick Laham/Getty Images
Overwhelmed doesn't begin to describe the explanation of Carl Crawford's first year for the Boston Red Sox in 2011. After an enormous, seven-year, $142 million contract, fantasy players were restless to draft the 30-year-old outfielder early with thoughts of a high average and countless steals.
Instead, Crawford produced a ghost of his former self in Tampa Bay. Before joining the Red Sox, he missed 40 steals just once (25, 2008) since 2003. He stole only 18 bases in Boston, batting just .255 with 11 home runs and 56 RBI.
He is no stranger to the pressure of the AL East, however, and will be the focal point of a new regime for the Boston Red Sox. With Bobby Valentine at the helm taking pressure off of his team, Crawford should increase his numbers across the board as he comfortably fits back on top of the lineup next season.
Matt Holliday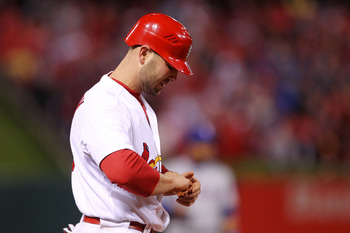 Holliday will feel more pressure to perform with the absence of Albert Pujols.
Ezra Shaw/Getty Images
Since coming to St. Louis from the thin air of Denver in 2009, Matt Holliday has been a slight disappointment. His 2011 season was shortened to 124 games, where he managed 22 home runs and 75 RBI.
With the departure of Albert Pujols, the Cardinals will hope to fill a nearly bottomless pit of missing offense with the likes of Holliday, Lance Berkman, and a newly-acquired Carlos Beltran. If the pitching can hold up, the offense will have less pressure and should perform.
Therefore, Holliday will be the anchor in the middle of the lineup, and will deliver his best season as a Cardinal. He's not worth a first-round pick, but definitely deserves a spot higher than his play has suggested in recent seasons.
Alex Rodriguez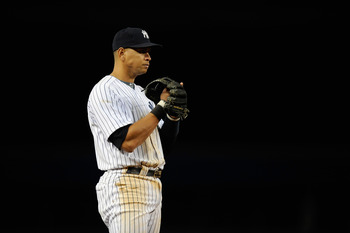 Look for A-Rod to return to something close to his former self in 2012.
Patrick McDermott/Getty Images
No player in baseball has been microscopically scrutinized like Alex Rodriguez, whose combination of all-time talent and repetitive failure has made him an enigma in New York. He has not, however, disappointed his fantasy owners, putting up monster numbers for even his early-round picks.
That is, of course, before his injury-plagued 2011 season, where he failed to hit 30 home runs and knock in 100 runs for the first time since 1997. Once healthy, there is no reason to believe A-Rod's numbers won't return to something close to his old self.
Picking Rodriguez first might be difficult at his age, but he is still worth an early pick, especially at the third base position. If he can stay in shape, A-Rod will have no problem putting up great fantasy points while playing in the middle of a destructive New York Yankees' offense.
Evan Longoria
Longoria still needs to reach his heightened expectations in 2012.
Mike Ehrmann/Getty Images
Similar to that of David Wright in New York, Evan Longoria's immediate rise to stardom at a young age has propelled him to the forefront of baseball, linking his face to many of the most popular moments in baseball. His statistics certainly backed him up, elevating him to what many believed to be an elite status as a third baseman, potentially the best in the game.
Last season, though a good one, did not live up to those higher expectations. His 31 home runs and 99 RBI were, of course, very respectable, but his .244 average put a bit of doubt into fantasy owners as to whether or not he can hold up to a newly-awarded superstar level.
Longoria will not fall to the pressure in 2012. He proved his will to succeed in his dramatic, walk-off home run into the 2011 postseason, a testament to his potential. There aren't many third baseman that will put up the stats that Longoria will, making him an easy choice to rebound this coming year.
Joe Nathan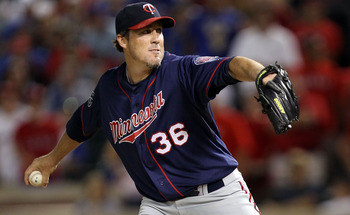 Nathan has had a great career, and will end it with a good performance in Texas.
Ronald Martinez/Getty Images
Even though he is aging, that doesn't mean closer Joe Nathan can't perform. Coming off of season-ending surgery in 2010 and a struggling 2011 season, Nathan has moved from his long-time home in Minnesota to the bandbox in Texas, looking to rejuvenate the latter part of what could be a Hall-of-Fame career.
A pitcher in Arlington needs either velocity or sinking action to survive. Nathan has had one of the better sinkers for a long time, putting him in a comfortable position on a very good team. He is not worth a very high pick, but Nathan can provide decent points in the closer role for 2012.
Roy Oswalt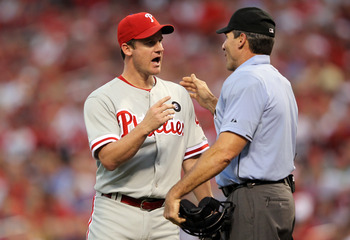 Oswalt's stay in Philly has been good, but not as great as he can be.
Jamie Squire/Getty Images
A change in location inevitably transformed into a change of heart for Roy Oswalt, who has put together a good career between Houston and Philadelphia. After five decent years in Philly, the right-hander will be looking for a new home. Unlike most moves this offseason, the usual suspects like the Yankees and Red Sox are both interested in signing him for a one-year deal, if possible.
If he lands on either team, Oswalt will have a very good year. The knowledge that he will have offensive support on a consistent basis, while also being in a middle-of-the-rotation will allow him to relax, putting in a year closer to his outstanding ones of the past. Oswalt will be worth his middle-round pick for this season.
B.J. Upton
Upton hasn't lived up to expectations, but will finally come through in a contract season.
J. Meric/Getty Images
Entering his final year of arbitration, B.J. Upton's lack of focus will sharpen in his first big contract season. The wildly-talented outfielder has shown an ability of effortless speed and hitting, but has also displayed poor concentration and effort over his seasons in Tampa Bay.
With his career on the line, Upton will deliver for the first time in his career. With what will probably be a surprisingly low pick, the 27-year-old could potentially turn in a 30-30 performance in 2012 (30 home runs and 30 stolen bases), an absolute steal for fantasy owners.
Felix Hernandez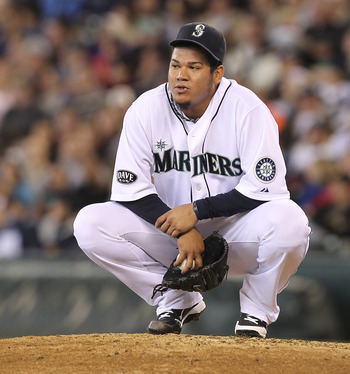 King Felix has been great, but could be a lot better in 2012.
Otto Greule Jr/Getty Images
It is finally time for King Felix to become a superstar, and for fantasy owners, it is the best season to pick him up. After two consecutive seasons near .500, Hernandez will finally drop off of the top of the fantasy board, even though his seasons have been very good point-wise.
Don't let it be fooling, as he will be looking to put himself on showcase for the summer trading block. It has become obvious that many teams have been trying to pry him from the great Northwest, and it will most likely happen sooner than later. Seattle is going nowhere, and hasn't been for a long time, meaning it is time for Hernandez to be on the move.
With a contender waiting in the wings, look for King Felix to deliver a huge first half in 2012.
Keep Reading

New York Yankees: Like this team?