Penn State vs. Houston: Live Score, Analysis and Highlights for TicketCity Bowl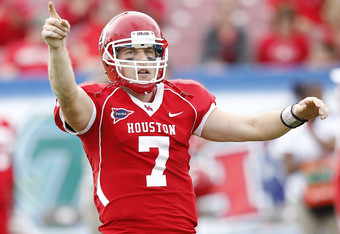 Case Keenum and Houston present a tough offensive challenge for Penn State.
Bob Levey/Getty Images
Houston 30, Penn State 14, Final
Rob Bolden will look to lead the Penn State Nittany Lions to a win Monday afternoon and get 2012 started on the right foot for a football program that has been through a roller coaster like no other in 2011.
Bolden will be Penn State's starting quarterback for the TicketCity Bowl against the Houston Cougars today in Dallas, as the Nittany Lions return to the old Cotton Bowl stadium. Matt McGloin has been ruled out for the game after continuing to fail concussion tests following an altercation with teammate and wide receiver Curtis Drake a couple weeks ago after practice.
McGloin had become the full-time quarterback since Tom Bradley was named the interim head coach, although the team also utilized the wildcat offense as well, using Drake as the key wildcat quarterback. Drake, a Philadelphia native, did not make the trip to the bowl game and Bradley has not commented on how much they will actually use the wildcat offense.
Penn State's offense could have a tough day ahead of them, because they will have to keep up pace against the nation's top offense. Houston is a very pass-happy team, with sixth-year senior Case Keenum looking to finish his storied college career on a high note.
After losing the Conference USA championship game at home, Keenum and the Cougars dropped out of the high-profile bowl scenarios, similar to the way Penn State dropped (although for much different reasons). This makes for a quality matchup in the TicketCity Bowl, and it should be one of the better matchups when you look at Houston's offense and Penn State's defense.
Stick with us all afternoon as Penn State and Houston go head-to-head in the TicketCity Bowl, the first bowl game to be played today. We will be providing live updates, analysis and thoughts throughout the game, as well as keep you updated on some of the other action going on around the country.
Kevin McGuire is a featured columnist for Bleacher Report. Follow him on Twitter, like him on Facebook and add him to your Google+ circle.
It's a done deal. Penn State drops to Houston, 30-14 in the Ticket City Bowl. Stay tuned for more updates and analysis when they become available on Bleacher Report.
Thanks for following along today, and feel free to share your thoughts in the comment section below!
Case Keenum is now the ninth player to pass for 500 yards in a college football bowl game.
Rob Bolden goes deep for Derek Moye but the throw is under thrown and intercepted. Houston can pretty much slam the door shut on this by running some clock, but that's not how the Cougars roll. Look for more Keenum passes coming up.
On a previous play, Silas Redd limped off the field and the medical staff started to examine him on a bench. Possible knee injury, but does not appear to be an significant ACL injury at first glance. He walked off the field on his own power.
At the end of the third quarter, Houston has quickly moved in to scoring position, and will have a third and goal after the break, leading 27-14.
Rob Bolden, one play after having the ball knocked out as he went to pass and taking a good licking from a pair of Houston defenders, throws a strike to Justin Brown on a post-route and Brown hauls it in and runs the distance, stretching for a touchdown.
The Big Ten is on the losing end everywhere you look right now.
Houston just went up 27-7 on Penn Satte, Georgia is shutting out Michigan State 16-0, Florida is ahead of Ohio State 14-7 and Nebraska trails South Carolina 16-13 after a hail mary touchdown from Connor Shaw to Alshon Jeffrey.
The third quarter is slipping away form Penn State, and Houston tacks on another field goal to build a 20-point lead, 27-7.
Devon Still is not at 100% and was seen limping around pretty noticeable on the sidelines and going in and heading out of the tunnel for halftime. If he is not at full strength, Penn State will need someone else to step it up and bring some kind of pressure on Case Keenum, which is easier said than done of course.
Right out of the gate, some wildcat offense with Bill Belton taking the snap under center and running for a first down.
Penn State will begin the second half with the football, and will need to dig deep for a big rally against Houston, who does not figure to be done scoring today.
The last time Penn State lost bowl games in consecutive seasons was 1975 and 1976 ('75 Sugar, '76 Gator).
Flipped over to the Gator Bowl to catch Ohio State tie the Florida Gators, only to see Florida return the ensuing kickoff 99-yards for a touchdown to retake the lead with SEC speed. That is a new Gator Bowl record.
After Penn State failed to take advantage of a late half possession and punted, Case Keenum connected on a 75-yard pass to a wide open Patrick Edwards down the middle of the field for a touchdown. Nobody seemed to be covering Edwards on the play, and Houston builds a 24-7 lead with 1:43 to play in the first half.
Gerald Hodges breaks up a Case Keenum fourth and one pass to force a turnover on downs. Penn State offense looking to get another score before the half.
Houston with a 4th and one coming up after the break. The Cougars have been moving right down field on Penn State after the Nittany Lions got on the scoreboard and are probably thinking field goal here, but I would not be shocked if they try to pick up a yard here to extend the drive with the first half nearing a close.
And here is a link to the Capital One Bowl live blog, covering Nebraska vs. South Carolina.
We have some other live blogs going on right now, for the Outback Bowl and Capital One Bowl. Here is a link to the Outback Bowl, between Michigan State and Georgia...
A direct snap to Stephfon Green, who made his presence known on this offensive possession, gets Penn State on the scoreboard. Rob Bolden made a beautiful pas to Devon Smith for a huge gain, which more than doubled Penn State's offensive production, and later faked a high snap as Green plunged in for the touchdown.
Penn State getting some momentum, giving the defense a rest. Now can the defense do it again?
Justin Brown had a long punt return for a touchdown, but it was called back after a video review showed he stepped out of bounds. still, Penn State seems to be gaining some form of momentum. It is up to the offense to capitalize.
Penn State finally picks up a first down as Rob Bolden completes a pass. But they follow with an abysmal trick play with a hand off to Devon Smith. A deep pass to Derek Moye then falls incomplete.
Houston looked for a 20-0 lead but a 37-yard field goal clanked off the goal post to keep the score at 17-0. It was another fine drive by Case Keenum and the Houston offense, but now Penn State absolutely needs to find a way to get things to change up the momentum.
Is this the shift?
Wisconsin's 21 second quarter points against Penn State is a season high for PSU opponents. Houston looking to top it.
Case Keenum, who has yet to hand the football off, has taken a 17-0 lead and is making it look easy. Penn State is getting absolutely no pressure on him from the line, and the secondary is all over the place trying to catch up.
Houston already has six first downs. Penn State still looking for their first.
Drew Astorino with a costly punt recovery, lets the ball go over his head and he falls on it at the Penn State six-yard line.
For the defense, that was the defensive series they needed to try and slow down Houston. Houston has gone from a touchdown, to a field goal, to a punt.
Rob Bolden called for a timeout on 3rd and 11 and then nearly scrambled for a first down but he was just a yard short of the first down. Anthony Fera punted in to the end zone to give Houston their third possession of the quarter. Penn State's defense desperately needs to find a way to stop Houston, because the offense is quickly digging a hole, already down 10-0.
This article is
What is the duplicate article?
Why is this article offensive?
Where is this article plagiarized from?
Why is this article poorly edited?

Penn State Football: Like this team?