College Basketball: Madison Square Garden Date for Iona and Siena
January 2, 2012
The Iona Gaels and Siena Saints get back to Metro Atlantic Athletic Conference play Tuesday at 9 p.m. EST on the big stage of Madison Square Garden in New York City.
Technically, this is a home game for the 10-3 Gaels who are playing their ninth straight game away from their Hynes Center home in New Rochelle, New York. 
Their first eight games were a road trip in which they won six, including conference wins at Canisius and Niagara, then victories at Denver, Richmond, Vermont and William and Mary.
The lone loss in that stretch was at Marshall, following the thrilling overtime win in Colorado.
Last Wednesday night, the Gaels struggled in a bus trip to Hofstra on Long Island, looking like a team playing their eighth straight game on the road.  
Point guard Scott Machado sat on the bench in foul trouble for much of the second half before fouling out.   Hofstra took a 19-point lead with 14:33 left in the second. 
The Gaels made a 19-7 run to get the margin down to seven with 7:46 left, but that would be as close as they would come.
"Quick" was how the play of Hofstra was described by WFAN afternoon host Mike Francesa, who was in attendance, on his show the next day. 
Hofstra's Mike Moore scored 24 points, David Imes had 16 points and 15 rebounds and Nathaniel Lester had 10 rebounds for Mo Cassara's club, which is now 6-7 on the year.
Iona was led by a strong game from power forward Mike Glover who had 20 points and 13 rebounds.  Forward Kyle Smyth returned to the Iona lineup after missing games with an injury, scoring 12 points in 23 minutes. 
Lamont "Momo" Jones had 20 points, but forced shots, going six of 20 from the field and one of six on three-point attempts.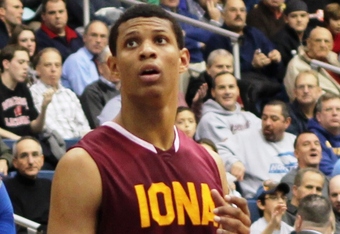 Point guard Scott Machado struggled throughout with fouls, so he sat on the bench for a portion of the first half.  He sat again in the second half with his fourth foul at 15:19. 
Machado had ten assists, but just five points and five turnovers, fouling out with 2:37 left.
Not scoring in the game was sophomore starter Sean Armand.  Guard Jermel Jenkins also continued to struggle finding his shooting touch, going pointless in seven minutes. 
Both Jenkins and Armand tend to be streaky shooters; if they make early shots, they can be in double figures, otherwise Iona coach Tim Cluess will limit their time.
Siena comes into the Garden off a 67-60 road win in Boca Raton, Florida, against Florida International. 
The Saints' junior center, 6-foot-8, 232-pound OD Anosike from Staten Island scored 17 points and had 13 rebounds.  
Four Saints were in double figures: Along with Anosike's 17, Kyle Downey and Evan Hymes had 14 points  and Rob Poole scored 11.
Machado continues to lead the entire NCAA with 10.4 assists per game; Iona is also No. 1 on a team basis. 
The Gaels' up-tempo offense is producing 85 points per game, fifth best in the NCAA, and they have a field goal percentage of .505, which is also fifth best at the highest level of college basketball.
Saturday I was at the Providence-Georgetown game in Washington, a 49-40 win by the Hoyas.  What a difference in the slow, half court style of play in the Big East vs. the fast-paced, full court pressure game played by Iona.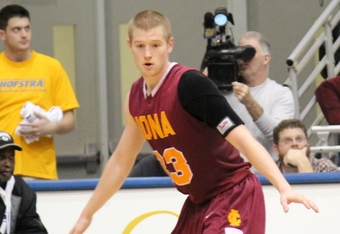 Ed Cooley is the new Friars coach coming back home to his native Rhode Island from a successful run at Fairfield.  PC is my undergraduate alma mater and I'll always bleed Friar black and white, but they are a year away. 
Junior Guard Vincent Council averages 16 points per game and 6.6 assists, but the Friars could not come close to matching the inside game of Georgetown, led by 6-foot-10, 240-pound senior Henry Sims.
Providence, now 11-4, goes into a tough stretch that only the current version of the Big East can produce with home games coming up Wednesday against Syracuse, then Seton Hall, Louisville, a road trip to Syracuse and then a home game against Marquette. 
Ed Cooley will have the team playing hard while waiting for a strong recruiting class to join them next year.
Ken Kraetzer covers Iona basketball and West Point football for WVOX 1460 AM in New Rochelle, New York, and Sons of the American Legion Radio.  Watch for his report from the Orange Bowl this week. Twitter: @SAL50NYRadio.