Are the Pittsburgh Steelers Trending in the Right Direction?
January 2, 2012
Matt Sullivan/Getty Images
Football is a game of trends. One win or loss doesn't make a season. It's the direction a team is heading in that can sell out a game—just ask the Cincinnati Bengals and their two-for-one ticket offer with division rival Baltimore in the house. Trending in the wrong direction can get a coach like Steve Spagnuolo fired, or have a team captain like Santonio Holmes benched in the last two minutes of a must-win game. Trending a team in the right direction, in the right time of year, is as hard as writing a brilliant screenplay or performing an amazing guitar solo.
It's difficult and delicate, but when it's right, the Lombardi is hoisted high.
On Sunday, the Pittsburgh Steelers and Cleveland Browns fell into their yearly trends, with Pittsburgh winning a defensive slugfest with its neighbor-state rivals. The win puts the banged-up Steelers into the playoffs as a fifth seed wild card, taking on a Denver Broncos squad that failed upwards into the AFC West champion position.
Defensively, the Steelers played up to their No. 1 overall ranking, holding the Browns to nine points and 240 total yards under what turned into a typically cold and nasty outing in the city on Lake Erie.
Rashard Mendenhall went down early in the first half with a potential ACL injury to his right knee that would keep him out through the remainder of Pittsburgh's 2012 playoff run. He was replaced by practice squad player John Clay, a rookie Wisconsin runner, who did a fine job banging through the line and protecting the ball—something that can't be said for another ball carrier wearing black and gold.
Normally reliable, Isaac Redman, who had 92 tough yards on 19 carries and a touchdown, also had a pair of fumbles in the fourth quarter to instill a dash of doubt as to his dependability in a postseason that had Mendenhall fumble the ball away in last year's Super Bowl.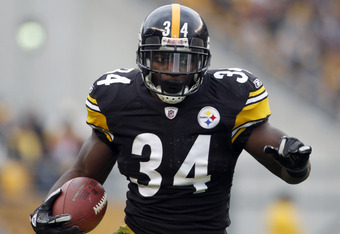 Justin K. Aller/Getty Images
The Black and Gold looked ragged on offense throughout the game, with Ben Roethlisberger overthrowing and underthrowing receivers throughout the evening. Big Ben went 23-of-40 for 199 yards with the most significant play being a shovel pass for a three-yard loss to Hines Ward. The pass gave Ward 100 catches for his career, putting him with only seven other men in an ultra-elite club.
Though the Steelers gained 161 in the grass, there were few "splash plays" Coach Mike Tomlin has so desperately craved through the first half of the season to make it all work. It's Tomlin's pursuit and attainment of "splash plays" and a "statement game" that reveals the currency in which Tomlin really trades. 
Common wisdom would dictate that a win is a win, "splash plays" or no. With or without a dominating "statement game," a team's record should reflect how many times it scored more points than its opponents on a given day, but Coach Tomlin knows better. A master manipulator of his men's emotions, he knows there's more to winning than winning and losing. 
Tomlin understands the value of, and therefore searches for, the emotional pick points that can give his team a mental edge. It's these "splash plays" and "statement games" that help stoke swagger and breed confidence in a team heading into the win-or-go-home environment of January football. This magic elixir soothes aches and pains and can bind a team in an us-versus-the-world mass of focused fury.  As good an Xs and Os coach as Tomlin is, his real gift is in this emotional alchemy. 
The Steelers are accelerating into a competitive January playing a downtrodden Broncos team that has lost its final three games. Should the Steelers win in Mile High, they'll face a Ravens team that has beaten the Steelers in both matchups this season and has a bit of momentum coming out of its first-round bye. Only time will tell if their victory against the Browns was a step towards another Super Bowl or if we just witnessed their peak performance.