Nebraska in the Capital One Bowl: My Favorite Cornhusker Bowl Memory
January 2, 2012
Simon Bruty/Getty Images
How many times had it been? How many times had I sat down on New Year's Day, waiting for the Orange Bowl to watch Nebraska play for that elusive national title? How many times had ultimate glory been waiting on the other side of a warm, south Florida night, with only a football game in between?
Growing up as a Nebraska fan in the 80s and 90s, I got to witness all the heartache without any of the glory. I was too young to experience Bob Devaney's titles in 1970 and 1971. But I was old enough in 1984 to cry when Turner Gill's pass was tipped away and the Miami dynasty was born. And I vividly remembered Byron Bennett' s kick sailing wide as the clock expired, denying Nebraska a chance to shock the world and knock off Florida State for Tom Osborne's first title and leaving me with a numb, blank stare at the television screen for at least an hour after the game.
So the stage was set on the first day of 1995. Nebraska came to the Orange Bowl again. "Unfinished Business" was the team's motto, and that motto (along with a stifling Blackshirts defense and Tommie Frazier's genius under center) kept NU perfect during the 1994 regular season. But to claim the trophy, Nebraska had to beat Miami. In Miami. The dragon had to be slain in its own den.
Frazier, still suffering the effects of a blood clot that kept him out of a great deal of the regular season, started the game and struggled. Backup quarterback Brook Berringer spelled Frazier and kept Nebraska close. But as the fourth quarter started, Miami led 17-7, and Nebraska fans feared the worst yet again.
And yet, strangely enough, I wasn't worried. I was watching the game with my wife, a friend and his wife at my parents' house, and I distinctly remember a calm assurance that Nebraska would win the game. I had no business being that confident, of course, given Nebraska's history at the Orange Bowl. But, as irrational as it was, the confidence was there.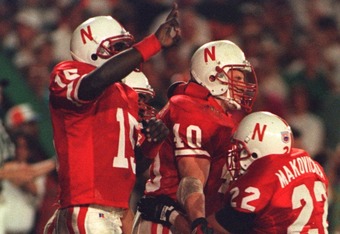 Simon Bruty/Getty Images
And then it happened. Dwayne Harris sacked Frank Costa for a safety to cut Miami's lead to 17-9. Cory Schlesinger capped off a drive and powered his way into the end zone, trimming the Miami lead to 17-15. Tommie Frazier hit Eric Alford with a pass for the two point conversion to tie the score. The Blackshirts ramped up their defensive effort to get the ball back.
And then, in what felt like the ultimate vindication of Osborne's smash-mouth offensive philosophy, Schlesinger, the fullback, took the ball again on a trap play, planted a foot on the chest of a gassed Warren Sapp, and rolled into the end zone to give Nebraska the lead.
Miami took the ball back with one final chance to steal the game back from Nebraska, but the Blackshirts sacked Costa. Then they sacked him again. Then they forced him into a fluttering throw on fourth down, which fell into the hands of NU defensive back Kareem Moss to seal Nebraska's victory.
What happened next was something I never really thought I would see. Frazier, Nebraska's quarterback, took the snap, took a knee and began hugging everyone he could find. It didn't sink in for a moment what had just happened.
It was over. That lifetime of waiting had finally paid off. All those agonizing nights of emptiness, watching someone else celebrate, were over.
The four of us screamed like madmen, calling everyone we knew to share in our excitement. In the course of those conversations, we heard that a group of people were gathered at 72nd and Dodge Streets, right in the middle of Omaha, to celebrate. We piled into my Civic and headed there. We were greeted with throngs of gleeful Nebraska fans, dancing through the streets on a cold January night and sharing the same rapturous feeling of pent-up frustration released into joy.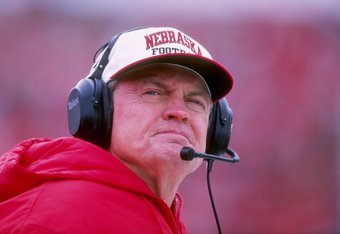 Brian Bahr/Getty Images
Over the course of the next few years, I realized that the events of that January evening changed how I felt about Nebraska football. Of course, I always wanted more glory and more trophies, and seeing NU win two in the next three years did much to spoil me and all Nebraska fans. But even when leaner times came to Nebraska, the experience of seeing NU win a national title meant that the aching emptiness left by those seasons of heartbreak never returned. Sure, seeing Nebraska lose still hurts, and close losses would still gnaw at me for months to come. But knowing that national championship was in my brain's trophy case meant that, at some level, I had been given a gift that could never be taken away from me.
Even now, the words of Bob Costas on the NBC broadcast from that night still bring chills to my spine and a tear of joy to my eyes. When I need a booster shot of Nebraska glory, or just want to tap into memories of days gone by, I play them again to re-live that night, just for a moment.
It has finally happened for Nebraska. Three times, Nebraska coach Tom Osborne has brought and unbeaten, untied team to this game. His reputation for losing here still ringing in his ears. Now he's trying to get the water out of his ears.
He has borne all of it with a dignified, self-effacing manner, and now his great coaching resume is complete. While those of us in network television aren't supposed to root, I think we can allow ourselves a chance to smile and some words of appreciation for a man who has avoided self-aggrandizement in an age all too devoted to style over substance.
As we leave you now, try to imagine what it must be like right now in Nebraska. (In the background, the NU band begins playing "Hail Varsity".) A state with no professional sports team, and no other major university within its borders. And in Lincoln now, and across the Nebraska plains, this first national title in a generation is a wonderful way to start this new year, and a great and crowning achievement in the career of Tom Osborne.
Nebraska, national champs, 24-17.
Like what you read? Follow me on Twitter @patrickrunge to track my thoughts and observations about college football—and one or two other topics—throughout the year!
And if you would like to contact me directly to schedule an interview, ask a question or to get my recipe for a killer peach cobbler, you can send an e-mail to patrickrunge@gmail.com. (DISCLAIMER: Peach cobbler recipe might not be all that killer.)