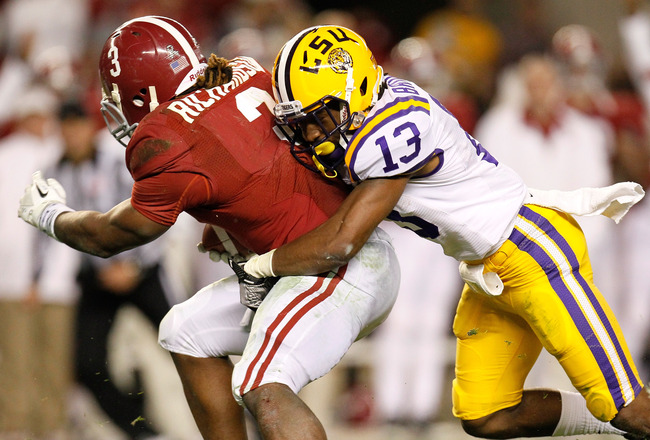 Kevin C. Cox/Getty Images
The BCS games have been filled with excitement and entertainment in years past, but there is always a game that is disappointing.
This bowl season we should be safe from possible snooze fests or possible blowouts.
I rank the five major bowls based on expected excitement and entertainment. Now, many have different opinions of what an exciting game entails. The Baylor-Washington was one of the top games of the bowl season, but I cannot say it was without any defense or a thrilling finish.
Florida State-Notre Dame was abysmal to watch in the first half, but the fourth quarter was one of the best finishes we have seen thus far in the bowl season.
Hopefully these five BCS bowls give us a great start to 2012 as I rank (in order, worst to first) which ones should be the most exciting.
Discover Orange Bowl: Clemson vs. West Virginia (Jan. 4, 8:30 ET)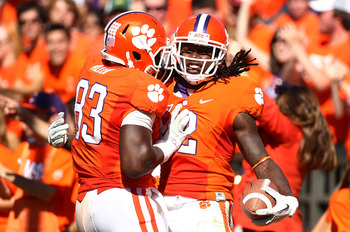 Scott Halleran/Getty Images
Sammy Watkins against the 30th-ranked West Virginia pass defense. Tajh Boyd at quarterback alongside tight end Dwayne Allen, Andre Ellington and DeAndre Hopkins (concussion) is tough for any defense to prepare for.
Offensively for the Mountaineers, they will be without their leading rusher, Dustin Garrison. Geno Smith must have big games from Stedman Bailey, Tavon Austin and Ivan McCartney.
Those three receivers are the only ones on the team with 30 or more receptions, so it will be key for the Tigers to put relentless pressure on the Mountaineers.
The defenses may not be great, but expect a ton of points in Miami Gardens with both quarterbacks combining to throw for over 600 yards.
Excitement Level: 7 of 10
Allstate Sugar Bowl: Michigan vs. Virginia Tech (Jan. 5, 8:30 ET)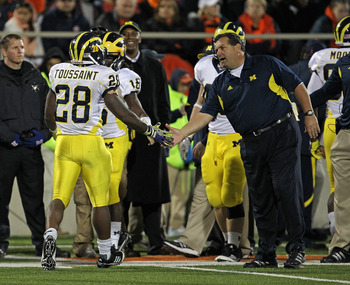 Jonathan Daniel/Getty Images
Whenever Michigan plays in a BCS bowl it will always be must-see television because they are the winningest program in the history of college football.
Brady Hoke and the Mazie and Blue seem to be back with Denard Robinson running circles around the defense. His defense has been impressive this season and they will have quite the matchup against David Wilson and Logan Thomas.
Plus, the game is at the Louisiana Superdome, which is one of the best venues to watch a sporting event. Virginia Tech was told the entire month of December on how they had no business playing in the BCS, and even Michigan had some whispers.
However, the true matchup that is intriguing will be on the sidelines. Both coaching staffs this past season were among the best in the country. Frank Beamer and Bud Foster against Brady Hoke and Al Borges is entertainment in itself. Plus, seeing Shoelace go up against the Hokies' underrated defense should be some fun as well.
Excitement Level: 8.5 of 10
Rose Bowl Pres. by Vizio: Oregon vs. Wisconsin (Jan. 2, 5:00 ET)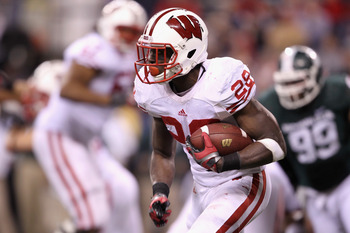 Andy Lyons/Getty Images
The grand daddy of them all will always rank high on my list, and this year's game has me even more pumped. The Badgers and Ducks should give us one of the most thrilling and exciting Rose Bowls we have ever seen.
If you blink, you may miss an explosive play leading to immediate points, and you simply cannot go wrong with the two best backs in the country not named Trent Richardson.
Montee Ball and LaMichael James are the premier guys in the sport, and this may very well be their final games in college, although they are just juniors (James is a redshirt junior).
The "experts" down in Vegas have over 70 points being scored, which only means touchdowns, touchdowns, touchdowns and some more touchdowns!
The Ducks and Badgers have the third and fifth-best scoring offenses in the country, respectively, with underrated defenses that may surprise us early on. However, these offenses will rule at the end of the day, as both teams should be in the mid-to-high 30s barring a potential blowout in Pasadena.
Excitement Level: 9 of 10
Tostitos Fiesta Bowl: Stanford vs. Oklahoma State (Jan. 2, 8:30 ET)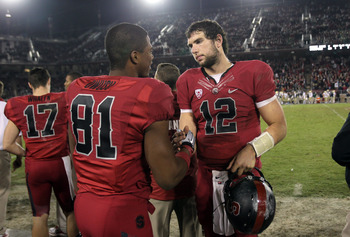 Ezra Shaw/Getty Images
The Oklahoma State Cowboys have a big beef with extra juice right now because they felt they were left out of the BCS national championship because of the SEC bias that they feel the BCS has given to the conference.
However, most (including myself) feel that arguably the next two best teams are playing in a bowl that has the possibility to giving us even more fireworks than the Rose Bowl.
Andrew Luck and his plethora of weapons must find a way to match the Cowboys' exceptional skill players. Joseph Randle is the one guy that can make a big difference, but we know Brandon Weeden will be looking towards Justin Blackmon more times than not.
This is expected to be the highest-scoring BCS game, though, it will be thrilling to see if Stanford tries to control the line of scrimmage with what they believe is the best offensive line on the country.
Excitement Level: 9.5 of 10
Allstate BCS National Championship: Alabama vs LSU (Jan. 9, 8:30 ET)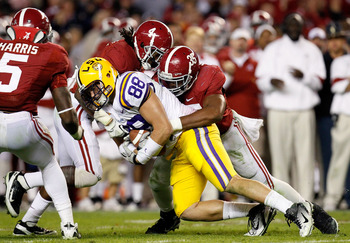 Kevin C. Cox/Getty Images
The Crimson Tide and the Bayou Bengals should give us a bunch of heat-seeking missiles on defense and special teams.
Plus, it is not like these offenses are bad by any means. Both rank in the top 20, and Trent Richardson is arguably the best in the game at breaking tackles behind the line of scrimmage and turning them into huge chunks of yards.
LSU totes the rock with four different backs and has a talented group of receivers. Though both offensive lines are among the best in the nation they, will be going up against even better talent.
The two secondaries are filled with future stars, but LSU looks like they have the slight edge. At the linebacker position, Alabama is easily the best in the nation and the same can be said for the defensive line of LSU.
Most will say this game should come down to turnovers and special teams, which is the most annoying saying in all of sports, but this one is worth stating it. However, in my book, this game comes down to one simple factor.
The play from A.J. McCarron will decide the Crimson Tide's fate because he struggled miserably in the first game against LSU. If he can step it up and hit open receivers in stride, the running game should start to slowly open up. LSU is not going to let "The Freak" beat them, so McCarron is the only guy that can make them pay dearly.
Excitement Level: 10 of 10
Keep Reading