AFC Playoff Picture: Players Who Need to Play Well to Advance Past First Round
January 1, 2012
Andy Lyons/Getty Images
Every year in the NFL playoffs, there are guys like James Starks of the Green Bay Packers who come from nowhere and help their team to the Super Bowl.
But, every year there are also star players who falter on the big stage and cost their team a victory.
Let's take a look at three guys who are going to need to have huge games, if their teams are going to advance in the playoffs.
Joe Flacco, QB, Baltimore Ravens
Flacco is about as inconsistent as an NFL quarterback can get. Some games he's great, other games he single-handedly causes the Ravens to lose.
He's also much better at home than he is on the road, which is why it will be important for the Ravens to beat the Bengals on Sunday.
If Flacco can play at home, he stands a little better shot of having a good game and leading the Ravens to a playoff victory.
If Anquan Boldin is ready to come back from his injury, he'll help Flacco even more than playing at home will help him.
Jake Delhomme, QB, Houston Texans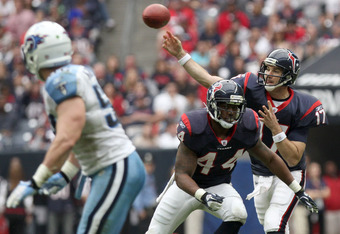 Thomas B. Shea/Getty Images
If T.J. Yates isn't ready to play next weekend after suffering a shoulder injury in Sunday's loss to the Tennessee Titans, Delhomme is going to have to have a big game.
If he doesn't, the Texans' first-ever trip to the playoffs will end in a disappointing loss.
Fortunately for Delhomme, he has one of the best running backs in the league to hand the ball to.
He should rely heavily on Arian Foster and make safe passes. Then, the stout defense can do what they do and the Texans might be able to squeak out a victory.
Rashard Mendenhall, RB, Pittsburgh Steelers
After losing a costly fumble in last year's Super Bowl, Mendenhall should have a chip on his shoulder this postseason.
And that's something the Steelers are definitely going to need, since Ben Roethlisberger might still be slowed down by an ankle injury suffered a couple weeks ago.
Mendenhall is going to have to carry an even bigger load this postseason, so he needs to make sure he's ready for that responsibility. If he can carry the ball 20-25 times per game, the Steelers should be in a good position to win.
Also, the more first downs Mendenhall gets with his legs, the longer the aging Steelers defense can stay on the sidelines resting.