Michigan Wolverines: Most Undeserving BCS Team Ever
January 1, 2012
Gregory Shamus/Getty Images
Michigan making a BCS bowl game and Michigan State being left out of the conversation is just another glaring example of how the BSC system is tomfoolery.
The Wolverines are the most undeserving BCS team since BCS began in 1998. Put your bias aside and realize a major mistake was made.
It's not Michigan's fault that they are in a BCS Bowl game and Michigan State isn't, so this doesn't really involve the Wolverines being overrated or anything like that. However, how can you explain the reasoning behind why they are playing in the Allstate Sugar Bowl against Virginia Tech and the Spartans are not?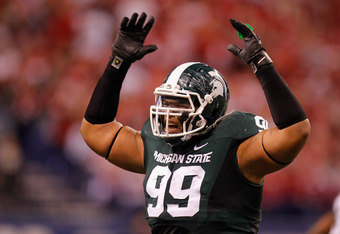 Gregory Shamus/Getty Images
Regardless of their final BCS rankings, take a look at the schedule and what happened this season. College football loves to point out that the regular season is more important than college basketball; that's why a playoff system isn't needed.
Oh really?
Explain what happened on October 15 when Michigan State defeated Michigan by 14 points when the Wolverines were playing some of their best football of the season at 6-0. The Spartans clearly proved they were the better team that day.
Well, Michigan must have won the Legends side of the Big 10, right? Nope. Michigan State won that side of the conference at 10-2, tied with the Wolverines.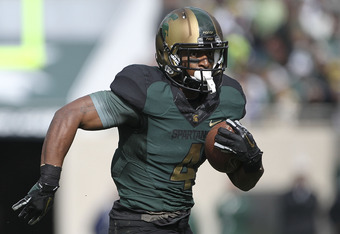 Leon Halip/Getty Images
How can you punish a team for winning their side of the conference? It's not like they were destroyed by Wisconsin in the Big 10 Championship game. They fell 42-39 to a team they defeated 37-31 earlier in the season.
This has nothing to do with what happened during the season and everything to do with the name on the jersey. Michigan is a staple of college football, a team that is known for a great fan base and an extremely deep and rich tradition. They and Virginia Tech will have plenty of support at the Sugar Bowl which is what college football wants.
Is it right? Of course not. That's life, I guess.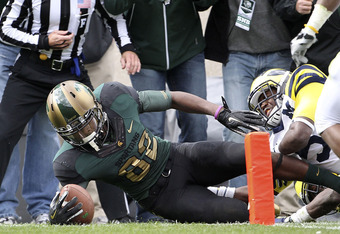 Leon Halip/Getty Images
Why do players like Kobe Bryant, Dwyane Wade, Sidney Crosby, Tom Brady and Peyton Manning get calls during games that others probably wouldn't get? It's sports, it happens all the time.
It's not how sports should be played, but that is exactly what happens. Sometimes your career resume is more important than your yearly resume.
In this case, the richer tradition gets the better end result.
College football has plenty of issues to deal with in the future. The bowl system needs to be fixed as soon as possible.
Rewarding teams for mediocrity by inviting them to bowl games? What a joke.
Look at UCLA vs. Illinois for a prime example of why the BCS system is laughable. Both teams were .500 or worse; in the case of UCLA (who finished 6-8), both coaches had already been fired and Illinois lost six-straight before defeated UCLA.
Seriously? And there are no issues with the bowl system?
When you are watching Michigan play Virginia Tech, just think of what should have been. The Spartans deserved the glorious opportunity that Michigan was rewarded.
Thanks to BCS, Michigan is this year's most undeserving team in the history of the horrific invention.