Liverpool FC: How the Luis Suarez Racism Report Fails to Resolve the Matter
January 1, 2012
Clive Brunskill/Getty Images
Now that the details of Luis Suarez's racial abuse charge have come to light, the sporting world can finally dissect the outcome. 
And the fallout of the lengthy 115-page document does not read for pretty reading. Various references to the comments made by the Uruguayan international to Manchester United's Patrice Evra point to the inability for them to be construed as friendly banter.
Yet what seems most shocking from the report is the constant doubt that still surrounds the whole event. 
It is even as if the appropriate body is not able to make up their own minds about the argument between the two players, despite being perfectly happy to make an example of Suarez in punishing the Liverpool forward with an eight-match ban and £40,000 fine.
As the BBC reports, the commissioner for the report concluded that "this case is not about whether Suarez is in fact a racist," whilst adding that "there are some indications that he is not."
So hang on, does this mean that a player has been accused of something derogatory, when at the same time there is a general opinion given that he is not capable of such behaviour?
We also have the use of many half-hearted attempts at validation for the punishment. Firstly, it is noted that neither player was "unable to remember every detail" of the incident, further adding that Evra's evidence was only "for the most part consistent."
If Suarez was not consistent with his story, then this is fair enough, but only providing that the other party can be. To sum it perfectly, a comment is made that Suarez has been "found guilty on the balance of probability," something which is a step down from being charged "beyond all reasonable doubt."
Now I would never claim to be a lawyer or someone who has an in-depth knowledge of how legal proceedings work, but we are all aware of the term "innocent until proven guilty."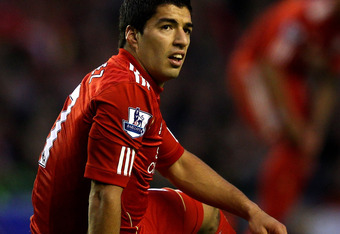 Richard Heathcote/Getty Images
Therefore, unless there is an overwhelming and confident backing for a guilty verdict, there should have been no charge at all. Surely, the accusations should have been thrown out, considering in usual legal cases this would be the outcome.
It seems surprising that Evra's character has remained intact when it has emerged that the incident began after the United player made insulting remarks about Luis Suarez's sister. 
In the end, with all of the maybes included, the punishment handed to Suarez now only appears as an example-setting punishment that does not care entirely for the factual elements.
You would expect that the appeal being lodged by Liverpool will focus on the uncertainty surrounding the incident. You can't help but think that until there is a definitive and confirming verdict made, we still cannot assess if Suarez is the disgrace to English football that many have labelled him to be.