Los Angeles Angels
LA Angels Should Rehire Broadcaster Rex Hudler to Revitalize the New-Look Squad
Rex Hudler broadcast his last Angels game in October 2009. Since then, Angels baseball just hasn't been the same.
Scott Halleran/Getty Images
January 1, 2012
When Fox Sports West and the Los Angeles Angels of Anaheim announced they had dismissed broadcasters Rex Hudler and Steve Physioc following the 2009 season, fan reaction ranged from consummate joy to muddled misery.
For every thought of, "Best news I've heard in a while," there were several sentiments resembling, "It's sad to see [Hudler and/or Physioc] leave."
Protests and petitions sprung up overnight: Fans clearly wanted Hudler back far before his absence was even felt.
Weeks into the 2010 season and thanks to overwhelming feedback, Hudler was partially reinstated. He was back speaking his mind about all things Angels, but his role was severely limited to Tuesday home games for just 1.5 hours during pre-game radio shows on AM 830. 
With Hudler and Physioc, the Angels had won the AL West in 2004, '05, '07, '08 and '09 after winning their first and only World Series in 2002. Hudler and Physioc had been with the team for all of that excitement.
When Arte Moreno bought the club from the Walt Disney Company in May of 2003, he kept the broadcast team intact, making blockbuster move after creative metamorphosis to preserve the club's unique brand of excitement.
In late November of 2009, the hammer was dropped, and the duo were let go. The FSW-Angels press release issued at the time cited a desire for "greater consistency on [Angels] telecasts, as well as a deeper familiarity with fans and viewers."
Unfortunately, there is nothing less consistent than completely restructuring the television broadcasting lineup.
What followed were two disappointing seasons without Hudler and Physioc: The Angels missed the playoffs in both 2010 and 2011, trailing the AL West champion Texas Rangers by 10 games each time.
The departure of the dynamic yet quirky twosome also coincided with a period that saw the Angels lose almost six percent of their television ratings share, recording just a 1.14 rating in 2011, second lowest in all of baseball.
The Angels had secured a 1.22 rating in 2009 as the cross-town Dodgers recorded a 2.15.
In 2010, the Angels recorded a 1.21 RSN while the Dodgers reported a 1.63.
It is important to note the Angels were helped in 2010 and 2011 by a series of unfortunate events surrounding the NL club up the interstate, bolstering LAA's 2010 and 2011 numbers. 
Now that the Angels have negotiated a landmark $3 billion, 20-year television deal with Fox Sports, it is high time to complete the revitalization project and bring back Hudler and possibly Physioc, too.
The Angels have struggled to draw a television audience ever since Hudler and Physioc were unceremoniously canned—during the 2010 and 2011 seasons in which the Angels should have seen a ratings increase as the Dodgers saw a dramatic ratings decrease, the Angels failed to capitalize.
With the excitement of Albert Pujols, C.J. Wilson and the return of Kendrys Morales as 2012 gets underway, the Angels can complete the grand slam deal by rehiring their World Series broadcast team.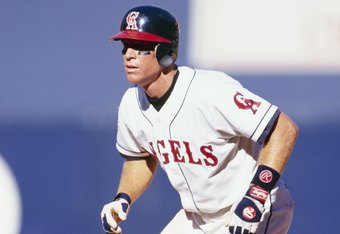 Prior to his broadcasting career, Hudler played professionally for several clubs, including the California Angels franchise
J.D. Cuban/Getty Images
When it comes to promoting the franchise, no personality was as enthusiastic and no luminary generated as great a level of sheer exhilaration and absurd hilarity as Hudler.
No broadcaster possessed such unadulterated jubilation in the booth as Hudler. He was the manifestation of that child in all of us, that innocent love for the game of baseball.
The San Francisco Giants have an All-Star cast of Jon Miller, Mike Krukow and Duane Kuiper sharing time on the tube, and their fans absolutely love their entertaining banter, especially between Kruk and Kuip.
The Angels should take a page from the Giants and throw Hudler back into the mix with Victor Rojas and Mark Gubicza.
Think of it as a return to the mid-2000s, a great time to be an Angels fan.
When Pujols, Wilson and company lead the Halos to the 2012 postseason, I can think of no greater pep rally emcee than Rex Hudler.
For the sake of recapturing their World Series and AL West championship magic, the Angels must allow that to happen.
They must bring back our very own Wonder Dog, Rex Hudler.
Like the new article format? Send us feedback!