Atlanta Braves Trade Rumors: Should Jair Jurrjens Be Dealt Back to the Tigers?
January 1, 2012
Mike Zarrilli/Getty Images
The Detroit Tigers are reportedly interested in Atlanta Braves starting pitcher Jair Jurrjens.
The Tigers, who traded Jurrjens to the Braves in 2007 for Edgar Renteria, would now like to have him back on their staff.
Last season, Jurrjens was an All-Star, posting a 13-6 record and an ERA of 2.96.
Having been one of the best pitchers in baseball for much of the season, he will be fairly expensive. His injuries, however, have limited his success, which may cause teams to be wary of trading for him.
The Tigers were very interested in Oakland Athletics starting pitcher Gio Gonzalez before he was traded to the Washington Nationals.
The A's reportedly asked the Tigers for top pitching prospects Jacob Turner and Drew Smyly, as well as top hitting prospect Nick Castellanos.
The Tigers were unwilling to give up such a large amount of young talent for Gonzalez; however, the Braves may be able to make a more tempting offer.
The Braves and Tigers should discuss a trade of Jair Jurrjens for Delmon Young and Nick Castellanos.
Last season in the minors, Castellanos had a batting average of .312 and hit seven home runs and 76 RBI.
He plays third base, though, his defense is not overly impressive. If he was traded to the Braves, he could probably be moved to the outfield without much difficulty.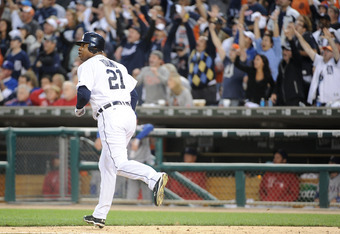 Harry How/Getty Images
Young could be the impact bat in left field the Braves have been hoping to acquire. Last season, he played for the Twins and was traded to the Tigers, and he had a batting average of .268.
With Young on the team, the Braves would be able to move Martin Prado into a super utility role instead of having him start at left field, which would be very helpful to them.
The Tigers, however, would be very reluctant to give up these two players, even for a pitcher who could soon be one of the best in baseball.
They have enough offense on their team, though, and with Jurrjens pitching alongside Justin Verlander and Doug Fister, the Tigers would be very close to a World Series title.
The Braves would probably take this deal, because with the amount of young pitching in their organization, they can afford to trade away Jurrjens.
Receiving Young and Castellanos should be enough compensation for what they would give up.